Email benchmarking report 2018
17 May 2019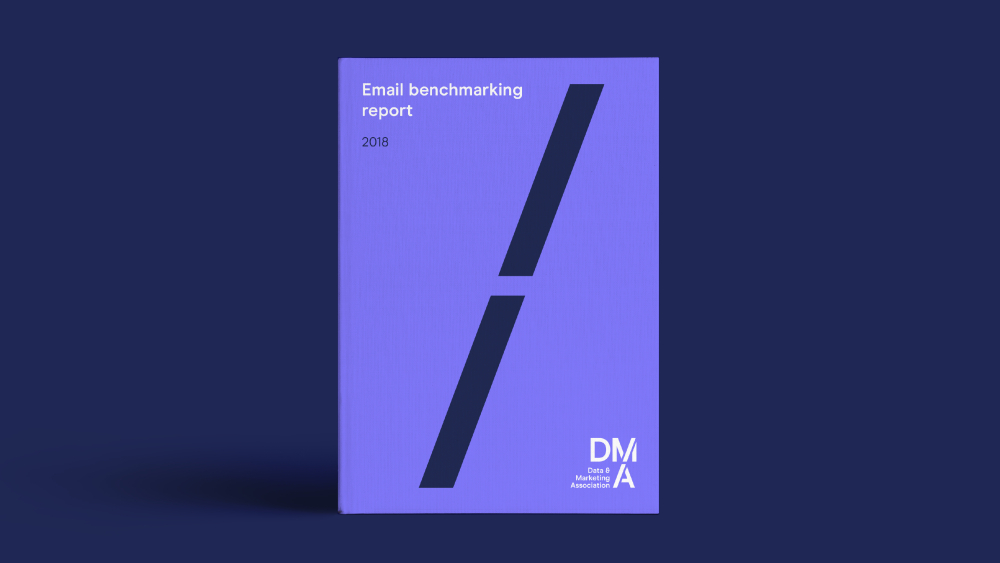 Welcome to the DMA's email benchmarking report, sponsored by dotmailer.
Here we examine the state of the industry, to give organisations the chance to compare their email campaigns against industry averages.
We've calculated the combined delivery, open, click-through (CTR) and click-to-open (CTO) rates of more than 23 billion emails sent during 2017. By comparing this year's figures to samples from 2016 and 2015, we can track the relative performance of email year-on-year.
Marcus Gearey, Chair of the DMA email council's research hub and analytics manager at Zeta Global, said:
"This is the third iteration of the re-launched email benchmarking report showcasing the DMA's unique ability to corral the support of a section of its membership to provide valuable insight for the benefit of all.
The challenge around sourcing, checking and aggregating this data is considerable and it's thanks to the efforts of the DMA and the Research Hub that this report has consolidated its status as the only multi-sourced ESP benchmark in the industry.
Considering the flux in contributors over the 3 year period - and subsequent volumes of email being analysed - it is doubly pleasing not only to see consistency in the metrics generally, but to be able to report a robust buoyancy in response rates in particular, especially in such uncertain GDPR times."
To download the report, click here.
Skip Fidura, Strategy & Insight Director at dotmailer & Chair of the DMA's Responsible marketing committee, adds:
"With open rates up and click-through rates consistent, there are two key takeaways from this year's Email benchmarking report. The first is that the email channel is still a favourite of consumers for developing and maintaining relationships with brands, and is still the best performing channel for marketers. Digging into these numbers in a bit more detail reveals the second takeaway: that clicks are still driven by relevance, but opens are driven by interest. The top three sectors for opens (finance, NFP and retail) are no surprise as consumers are naturally engaged with these types of companies, but the top three for clicks (utilities, NFP and travel) deliver more relevant content, which then generate more clicks. It will be interesting to see how these stats change in the coming year with the roll-out of GDPR. While list sizes may decrease, we should see each of these lists become more engaged in the short term. It is down to marketers to up their game and deliver more relevant content to keep this engagement up in the long term."
Email benchmarking data
Delivery rates remain extremely high at 97.5%, despite a slight decline year on year. While this may seem high, this equates to over 500 million emails missing their intended target. Behind the scenes there is more to consider – this is just the tip of the deliverability iceberg. In 2017 a report from Return Path estimated inbox placement at around 84%, and Gmail and Outlook's multi-tab approach clouds the issue further.
Open rates have risen - this year 18.1% of marketing emails were opened, compared to 17.6% for the previous year. This is still lower than consumers' own estimates, as we found in the Consumer Email Tracker 2017 that most people say they open over half of the emails they receive.
CTRs have remained steady at 1.9%. From our consumer research we found over half (56%) of consumers say they are likely to click links in interesting emails. This suggests that email marketers have been consistent in the relevance of the emails they send for the past few years.
Since opens have risen and clicks have remained steady, the overall click-to-open ratio (CTO) has fallen very slightly from 11.0% to 10.7%. This means that while emails are being clicked roughly the same amount, they are being opened more often – increasing the likelihood of consumers interacting with the brand.
There is further data on the relative performance of B2B vs B2C emails, and emails from different industry sectors, below.
B2B vs. B2C
Comparing these key metrics for emails sent as business-to-business against business-to-consumer, we see a reversal from last years' figures. This year B2C emails are more likely to be opened (15.1% for B2B compared to 19.7% for B2C). However, B2B emails received 52% more clicks than their B2C counterparts (2.1% for B2C vs 3.2% for B2B).
Guy Hansen, senior director of professional services at Return Path, said:
"There is an onus on B2B senders to ensure that the products and services being promoted are aligned with the recipients' organisation and their role, which implicitly means greater relevance."
Sector analysis
This year's data is also available by sector, which includes: finance, retail, publishing, travel, not-for-profit (NFP), and utilities. In 2017 the top sectors for most opened emails were from finance (25.0%) and NFP (21.8%) organisations. The least opened were emails relating to utilities (14.9%) and travel (16.5%).
Jenna Tiffany, founder and strategy director at Let'sTalk Strategy, said:
"Financial emails are most likely to be bank statements or pre-statement advice, which will be important for a recipient to open. The same for utilities email, but in a more actionable way – these type of account based update emails will drive action from the recipient, whether that's to login into their account and see their monthly statement or summary or for them to take action in their account."
Those sectors generating most clicks from their emails were utilities (3.4%) and NFP (2.7%), while other sectors are relatively in line with the overall average of 2.2%.
CTOs are more highly polarised, with utilities taking the top spot with 23.2%. At the other end of the scale, finance is far lower with a mere 8.9% CTO.
Marcus Gearey concludes:
"This report reflects on the emails sent pre-GDPR, but may well contain clues around the growing awareness of both marketers and consumers to the issues early policy adopters were propagating. As my colleague, Chair of the Email Council Guy Hanson has pointed out, the flurry of panicked last minute GDPR comms (and bad PR it generated for everyone in email), deflected attention from the success properly prepared organisations have already reported using GDPR as the conduit to gaining greater trust with their base. The important thing to bear in mind is that overall open and click rates remain stubbornly poised at around 1 in 6 and 1 in 50, respectively: remarkably similar to anything seen in the last decade and an incredibly robust level of interest considering the competing digital communication mediums email is now up against.
We know from the DMA's Marketer email tracker 2018 of the ongoing struggles with implementing basic technologies and practices that demonstrably boost engagement around segmentation and personalisation; offer targeting; sales cycle leveraging; behavioural analysis and testing. Though 2018 and beyond offers unique challenges around technology and privacy, these results should encourage all marketers that the correct use of the tools available makes these – already strong – benchmarks, eminently beatable."
If you would like to add your data to future editions of this report, please email research@dma.org.uk and we will let you know how you can get involved.
Methodology
Data were kindly provided voluntarily by DMA members. The sample covers over 23 billion emails sent by 9 different ESPs: Adestra, Communicator, Connect Direct, dotmailer, Emarsys, Instiller, Pure360, Redeye, and Zeta. These participants have a wide range of clients across various industries at disparate volumes; this report should be used as a guideline only for email performance. Only aggregate figures are reported.
Analysis was carried out by the DMA insight team. The report was written by the DMA insight and marketing teams, and the DMAs email research hub.
Sponsored by:
To read the latest versions of our Email benchmarking report, head to the links below:
Email benchmarking report 2022
Email benchmarking report 2021
Email benchmarking report 2020
Email benchmarking report 2019
Email benchmarking report 2017
Ready to harness the power of email marketing? Check out our range of courses here.
Hear more from the DMA