Pandemic Mail Engagement Triggers Jump in Digital
02 Dec 2020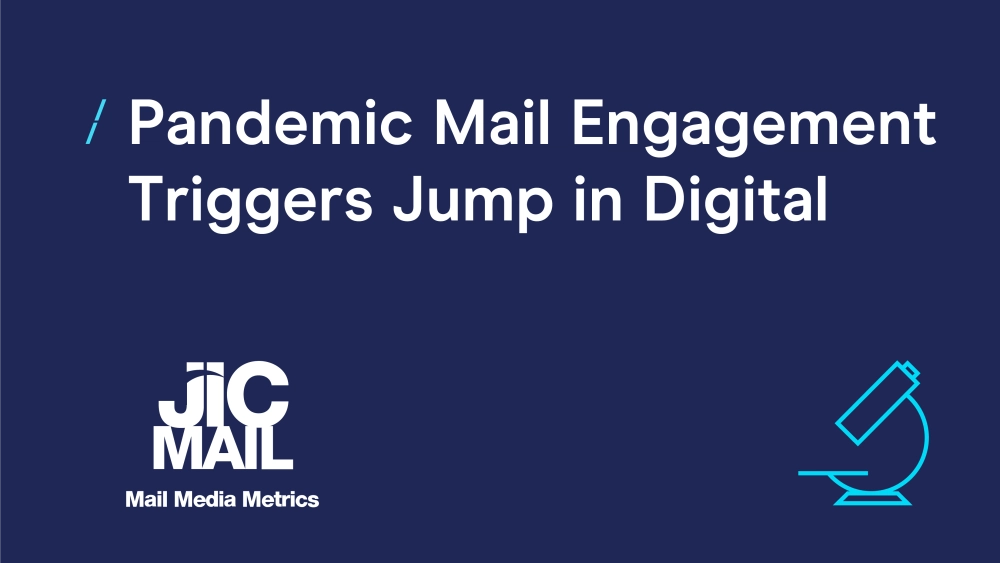 The latest figures from JICMAIL for Q3 2020 reveal that during the most recent period of the coronavirus pandemic consumer engagement with mail has improved. Most notably, its' impact as an effective trigger for digital campaigns and engagement has increased significantly.
The diary-based data from over a thousand households each month shows 8.7% of all advertising mail (including Direct Mail, Door Drops and Business Mail) prompted recipients to visit the brand's website. This is up from 6.5% for the same period a year ago, which represents a 33% increase in this response.
Furthermore, there was a 41% increase in ad mail driving people online to find out more information more generally – up from 4.1% a year ago to 5.8%. While mail interaction rates didn't quite see the same record highs in Q3, they were still notably higher year-on-year.
"It's no secret that marketing budgets have come under more scrutiny than ever during the pandemic driven economic downturn. At the same time the nation's thirst for online shopping has continued to grow unabated. This makes the measurement of digital effects and the correct attribution of digital traffic to offline channels such as advertising mail, all the more important as marketers look for an accurate read on advertising efficiency and effectiveness," said Ian Gibbs, Director of Data Leadership and Learning at JICMAIL.
The latest UK lockdown (in November) will be covered in JICMAIL's Q4 data, which is set to be released in February 2021. So, we'll have to wait and see just how further restrictions have impacted the ways consumers engage with mail.
For more information on the latest JICMAIL findings, including a full range of charts and additional sector insight, click here.
To find out about the DMA's most recent customer engagement research, including insights on the impact of the pandemic, read the 'How to Win Trust and Loyalty' report.
Hear more from the DMA