Coronavirus: The Daily Digest
22 Sep 2020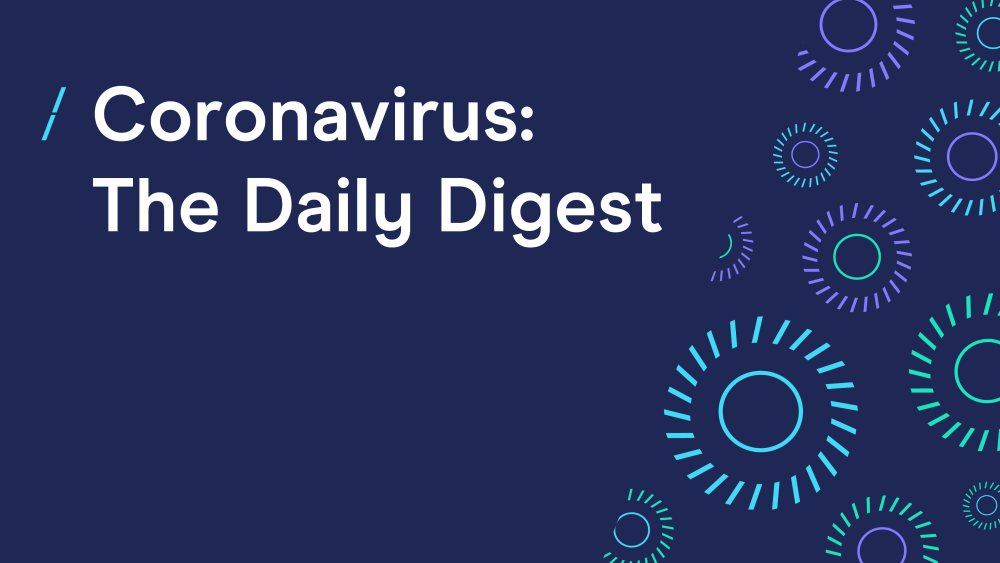 Stay up-to-date: browse the latest links to news regarding the coronavirus that could impact your business. DMA's Public Affairs Manager Michael Sturrock is keeping our data and marketing community connected.
22.09.20: Coronavirus: September 2020 – The Impacts on Business
Our survey into the impact of the coronavirus, now in its sixth phase, reveals concerns about cashflows and jobs remaining, leading the DMA's CEO to call for further support to help protect people's health and livelihoods. Find out what the latest Government restrictions could mean for you.
08.06.20: Coronavirus: Final Days to Enrol Employees on Furlough Scheme
The deadline for employers to put staff on the Coronavirus Job Retention Scheme (furlough) is fast approaching. Employers must register employees by 10 June to be able to claim earnings under the new phase. Read more about the updated version of the scheme.
27.05.20: Coronavirus: Furlough Cut-Off Date Expected to be Announced
This week, it's expected that the Chancellor will announce a cut-off date for the furlough scheme. Learn more about the changes set to occur from August onwards.
14.05.20: Coronavirus: Government Guarantees Trade Credit Insurance
The Government has announced it will guarantee trade credit insurance. Find out more about the move that would allow business-to-business transactions to continue in lieu of lost income.
12.05.20: Coronavirus: Government Issues Guidance on Working Safely During Coronavirus Pandemic
Following the first phase of easing lockdown in England, the Government produced guidance for employers to make workplaces safe. Learn more, including who should return to the workplace and who should continue working from home.
11.05.20: Coronavirus: Government Launches 50-Page Guidance Document for Easing Lockdown
The UK Government has produced a 50-page guidance document outlining the steps they will take to ease the lockdown measures. Read a summary, statement by DMA CEO Chris Combemale, and access the full guide.
07.05.20: Coronavirus: What Business Needs from Government Now
The DMA has been continually lobbying for changes to the Government's coronavirus help schemes for the benefit of our industry. Discover the latest research and what the DMA will be lobbying Government for going forward, as well a list of our successes to date.
04.05.20: Coronavirus: £600m Small Business Grant Extension Announced
Following our lobbying on gaps in the Small Business Grant Scheme, the Government has announced over £600m of funding to top up the grant. Find out what makes businesses eligible, and why some have been excluded.
28.04.20: Coronavirus: Chancellor Announces 100%-Backed 'Microloans'
'Bounce Back Loans' will offer up to £50k or 25% of turnover. Read about the new type of 'microloan' for businesses, which will be 100% backed by the Government.
27.04.2020: Coronavirus: PM Back, CBILS Developments, DMA and Partners Call for Support for SME Directors
See coverage of Boris Johnson's first speech since contacting the coronavirus, CBILS developments, and the letter we signed with seven other trade bodies to call for greater support for self-employed and company directors.
20.04.2020: Coronavirus: DMA Pushes for 100% Coronavirus Loan Guarantees from Government
The DMA is pressing the UK Government to offer 100% guarantees to the Coronavirus Business Interruption Loans Scheme (CBILS), offered to aid businesses throughout the coronavirus pandemic. Learn what's been done and what's still needed to help organisations access cashflow to survive.
20.04.2020: Coronavirus: New Government Future Fund to Help Start-Ups
The additional £1.25bn funds will help high-growth companies and those focused on research and development. Find out what the package includes and why businesses are concerned.
17.04.2020: Rishi Sunak announces extension of CBILS scheme to larger companies
Earlier today the chancellor announced further details of the Coronavirus Large Business Interruption Loan Scheme (CLBILS), an expansion of the CBILS scheme to cover all viable firms with a turnover of more than £45 million and less than £245 million.
15.04.2020: UK Government announces extension to Furlough Scheme
Chancellor Rishi Sunak MP announced an extension to the furlough scheme, meaning employees hired on or before 19 March can now be furloughed. Previously, only employees hired from 28 February.
15.04.2020: Scottish Government announce changes to business rates scheme
Cabinet Secretary for Finance Kate Forbes MSP announced an extension of the business rates relief. In England and Wales, the business rates relief scheme allowed businesses of rateable value over 18k to claim up to £25k per premises. In Scotland, the £25k relief was offered on a per-business level rather than per premises, but accessible to a greater number of businesses of rateable value of £16K and above. However, after sustained criticism, the Scottish Government is now offering support to each premises, though at a 75% rate for the second and every additional premises.
09.04.2020: The DMA Politics Podcast
This week, Public Affairs Manager Michael Sturrock chats to senior Conservative backbencher and former Chair of the Digital, Culture, Media and Sport Committee, Damian Collins MP; founder of Iconic Labs and co-founder of one of the world's most visited Facebook pages, Unilad, Liam Harrington; and SNP Shadow Secretary for DCMS and renowned journalist and Broadcaster, John Nicolson MP.
As well as discussing infotagion, the new fact-checking service designed to tackle the wave of misinformation that has grown out of the coronavirus pandemic co-founded by Damian and Liam and supported by John, they discuss:
Was parliament too slow in responding to Coronavirus?
Why do people keep sharing 'my friend in the government says...' stories about coronavirus?
When the science around coronavirus keeps changing, is that having an effect on misinformation?
How does the mainstream media weed out misinformation?
How do we deal with our allies, neighbours and enemies who use misinformation as a weapon?
How will infotagion combat the coronavirus misinformation pandemic?
09.04.2020: DMA Continues to push for CBILS improvements via government contact (click to read where things currently stand)
HM Treasury will be going live on twitter at 1500 to answer questions on accessing the Coronavirus Business Interruption Loan Scheme. While the rate of loan approval is doubling, there remain access issues regarding proof of business viability and banks not responding quickly to non-customers. The DMA has had meetings this week with the Government to push for further changes.
08.04.2020: Chancellor Rishi Sunak Announces Funding for Charities
The chancellor announces £750m and says his plan will support "the unsung heroes" who are providing services "we all rely on". Ministers will hand £360m directly to charities providing essential services to vulnerable people – such as hospices – and £370m to small and medium-sized charities.
Further details about how this money will be announced
03.04.2020: Government Announces Overhaul of Coronavirus Business Interruption Loan Scheme
Dozens of DMA members wrote to share their negative experiences with their banks when applying for the Coronavirus Business Interruption Scheme. The Government has announced changes after continued criticism. Find out what measures will be used to overhaul the CBILS.
02.04.2020: Government Announces Overhaul of Coronavirus Business Interruption Loan Scheme
The Government will announce changes to the Coronavirus Business Interruption Scheme (CBILS) after continued criticism. See predictions for what measures will be taken.
30.03.2020: DMA and Partners Change Big Banks' Position on Owner Personal Guarantees for CBILS
Learn about the Coronavirus Business Interruption Loan Scheme (CBILS) for small- and medium-sized businesses, changes the four big banks have made surrounding it and why, plus the requirements that continue holding back SME's from staying afloat during this challenging time.
27.03.2020: DMA Calls for Banks to Rethink Their Approach to CBILs
Read about the personal guarantees and interest rates that have shocked small- and medium-sized businesses when applying for a Coronavirus Interruption Loan Scheme (CBILS). Get a glimpse of how the guarantee works and the ways we're working to protect SME's from failure.
25.03.2020: Coronavirus: Advice for Apprenticeship Intermediary Ambassadors
The Government is committed to supporting apprentices and employers continuing to build their skills capabilities. Take a look at steps the Education and Skills Funding Agency is taking to ensure apprenticeships are completed and to support providers.
23.03.2020: Coronavirus: Government Offers £500k to Tech Businesses for Isolation Innovation
Discover the 'Techforce19' challenge, a programme looking for digital solutions that was introduced by the Department for Health and Social Care. See the plans in place to aid businesses that can help people who're self-isolating.
23.03.2020: Coronavirus: Government Support Initiatives
Find a list of the measures announced by the Government from March 16 onwards to aid the economy during the coronavirus outbreak. Keep up-to-date on the support schemes available for various businesses.
11.03.2020: Coronavirus: What is the Government Doing for Business and Employees?
New Chancellor Rishi Sunak has dedicated their budget to outlining the economic support available from the government during the coronavirus. Take note of the extra measures taken to help businesses and individuals support themselves.
---
For more information, access the DMA's coronavirus help and advice page or other announcements by the Government.
Hear more from the DMA