Apple's Mail Privacy Protection: What Does it Mean for Marketers?
13 Oct 2021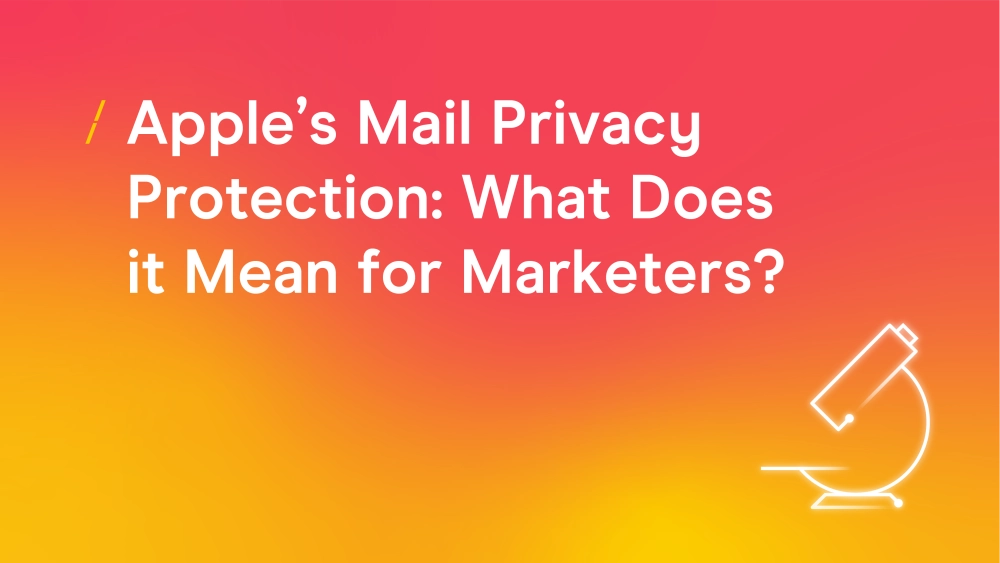 This article is written by Saravanan Subburam who is part of the Email Council and its Research Hub.
The latest DMA Email Benchmarking Report 2021 highlighted that average open rates saw a small year-on-year decline (19.2% vs 20% in 2019), albeit the pandemic-driven increase in volume of emails sent (17%). Furthermore, as found in the DMA's Marketer Email Tracker 2021, while 59% of marketers believed consumers open & read more than half of the emails brands send them, only 15% of subscribers report engaging at this level.
This discrepancy highlights the fact that open rate has become an increasingly flawed metric due to its own nature – a transparent image pixels in the email's HTML that gets downloaded when recipients open the message which counts as an open.
Th effectiveness of this tactic can be skewed by factors such as image pre-fetching, image caching, image auto-enablement/blocking, spam filter testing and bot sign-ups. They all create inaccuracies in the metric. Verizon Media's report that pixel-based open rates are 3x higher than the true rates they see as a mailbox provider.
Possibly, marketers are already aware of these inaccuracies – indeed, the 'Marketer Email Tracker 2021' showed email professionals ranked 'Opens' as the fifth most important/relevant metric (31%). However, despite the acknowledgement of such limitations, marketers have become even more reliant on open rates to measure the engagement of their email programmes beyond just subject lines.


Apple's Mail Privacy Protection: The main features
The roll-out of Apple's recent Mail Privacy Protection (MPP) in September 2021 as part of its iOS15 release had created new challenges for this metric.
Here a list of the main features and changes:
• Apple will pre-fetch all images including tracking pixels – therefore Apple's Mail users will report near-100% open rates
• Use of live content – such as countdown-timers had been impacted because the time will be "frozen" at the point the image is first fetched
• Location (IP address) will be hidden, preventing identification of where users are engaging with their emails – affecting, for instance, real-time weather updates
• 'Hide My Email' provides anonymity to recipients by letting them receive emails without sharing their real email address with senders
MPP affects all users of Apple's Mail app (regardless of which email service is used).
A recent study from Litmus highlighted Apple's total share of email opens is around 40%, so the impact will be significant. Whilst users are presented with the option of using MPP, most were expected to have opted-in and therefore opens for these users were likely to increase significantly over time.


Major Implications for marketers
Early studies from Validity found initial adoption have climbed strongly (close to 20%) with mobile devices being the most impacted. Global email open rates are trending upwards. Validity's data shows the year-to-date trend of around 25% has suddenly risen to 27% over the past two weeks – meaning that the MPP effect for Apple Mail's users (representative of 35-40% of total) will already be ± 2.5% greater.
With such a strong traction it's easy to anticipate the uptake of this new update will be a gradual process during the coming months.
What are the main implications brought by MPP especially in the context of personalisation?
• Automated journey flows & re-engagement programmes that rely on 'last open date' may not be accurate and should move to other data points such as clicks, last purchase or website activity
• A/B split tests where winning version is determined by open rate will become less reliable, and senders should exclude Apple's Mail users from these tests
• Send-time optimisation based on opens will become less accurate for these users, as the open time will be based on when the images are pre-fetched
As the Marketer Email Tracker showed, clicks, conversions, brand metrics, and sales are all prized as indicators of relevance, and senders should embrace them – along with factors from outside their email programmes like enquiries, renewals, and loyalty status.
It also presents an opportunity to acquire zero-party data (such as age, preferences, purchase history) and re-focus their strategies and tactics on building email programmes around transparency and the main campaign objectives.
At a recent DMA Email Council's meeting, members and guests discussed how marketers would identify other data points thus replacing the role currently served by open tracking.
There are shared concerns among email professionals over whether Apple had made a mistake by eliminating a data point that enables best practices such as recency management and data hygiene
Therefore, the DMA Email Council's top suggestion for marketers is to focus on the objectives of their email programmes and promote them as desired outcomes (i.e. email replies, event registration, redeemed discount codes, downloaded article, etc.) to measure the real effectiveness of the sent message.
Furthermore, to gauge better levels of customer engagement, marketers should start using progressive profiling, acquiring more zero-party data at regular intervals that will lead to more targeted and personalised emails


Conclusion
MPP reinforces a growing awareness around consumers' privacy and is alerting marketers to think more strategically about the channel's influence further down the customer journey.
As we saw when GDPR came into force, the introduction of the MPP with iOS15 poses challenges, but also creates new opportunities. Brands are encouraged to be more creative and smarter with their emails, from both a strategic and tactical context.
Overall, email marketers should view this change with optimism, helping them build trust and nurture relationships with their customers through better data practices.
Hear more from the DMA