Relevance of the Email Open Rate Metric after Apple MPP
20 Jul 2023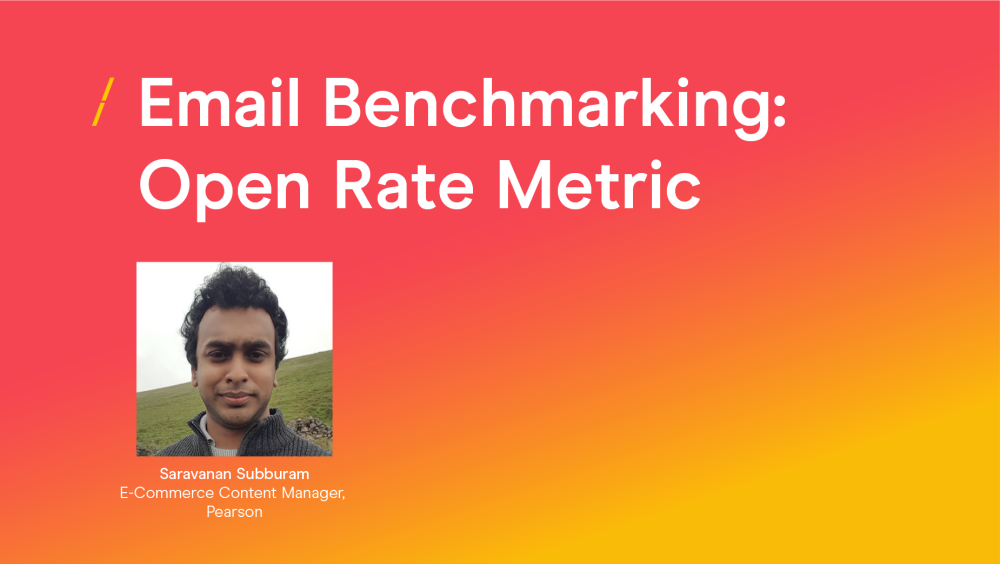 This article is written by Saravanan Subburam, E-Commerce Content Manager at Pearson, who is part of the Email Council and its Research Hub.
Can the email open-rate metric still be considered relevant to marketers in a post MPP world?
The DMA Email Benchmarking Report 2023 highlighted a significant spike in open rates (up from 19% in 2021 to 31.83% in 2022), a reflection of the impact that Apple's 'Mail Privacy Protection' has exerted in the first full year since it was released back in September 2021.
Indeed, the adoption of 'Mail Privacy Protection' is now greater than 95% with the high number of fake auto-generated opens by subscribers according to Chad. S White which can affect brands' email programs in different ways. Similarly, the click-through rate has remained stable at 1.5%, this can largely be attributed to consumers having only a finite ability to respond to an ever-growing volume of emails, particularly evident when global email volume is up 20% year-on-year (significant growth on the doubling of volumes already seen during the pandemic).
However, when it comes to emails' and what aspects are valued the most, this can be positioned in the context of small basket of ten "best friend" brands that consumers refer where this has seen engagement and clicks improved as reported in the DMA Consumer Email Tracker 2023.
Marketers are now asking if the open rate metric is still relevant. How do senders address the skews/biases introduced into their reporting? Also, should senders be more transparent about use of open tracking technology before other mailbox providers go down Apple's route?
About Mail Privacy Protection
Apple's MPP has caused opens to become a flawed and unreliable measure of email engagement, mainly due to the fake auto-generated opens generated by Apple for the purpose of obscuring real opens. This is because it allows Apple Mail users to block sharing of their IP address, location/device information, and open tracking. 18+ months after its introduction, Litmus reported opens affected by MPP exceeding 50%, and this figure now exceeds 95%. To refresh your knowledge of how MPP works in practice and its implications, my previous article on this topic is a good place to start!
Email marketers have historically over relied on opens as their key measure of campaign performance, yet studies have questioned their actual marketing effectiveness. Email services like Gmail and Yahoo have been using image caching for years. Other factors reducing open tracking reliability include auto-enabled images, pre-fetching of content, bot sign-ups, and spam filters previewing URLs (read Nicky Copland's article on open rate inflation for more details). This re-evaluation of open tracking's actual value is driving changes not only in the way data is but also how it is being used as data privacy awareness continues to evolve.
Traditionally, marketers have focused on opens for two primary reasons:
Vehicle to measure performance & success.
Measure whether the email is landing in the inbox or spam folder (validation that an email address is deliverable).
But MPP has also impacted other important email tactics, including:
A/B Testing: Subject line testing should now exclude Apple mail users, deploying clicks and/or conversions as the winning metric to identify the best performing variant.
Location Tracking: With MPP meaning more limited visibility of location, email marketers should be proactive in sourcing alternative data points (postcode for example).
Countdown Timers: Times are now based on when the image caching happened, not when the email was opened.
These impacts have acted as a 'wake up' call for email marketers to re-evaluate their strategies and shift attention to more accurate email KPIs.
So – Are Email Opens Completely Dead?
Not quite! Opens still carry some useful insights, even if they are less valuable compared with other high-level metrics. As Chad White stated in an article on how MPP has changed the way email marketing performance is measured, open rates shouldn't be underestimated especially if senders identify and create segments using real openers to deliver better engaging emails.
Auto-generated opens still exist to create many other uses:
Media/publishing organisations can use them to track ad impressions.
Highlight that an email exists and that messages were delivered to the inbox.
If the objective of the campaign is to drive engagement not conversions.
New Tactics for Engagement Measurement
The opportunity for marketers is to now form an action plan where email metrics tie together with wider business goals:
Click-throughs: Identify and create audience segments that have clicked an email within the last six months as opposed to 'opens', especially if these subscribers can be identified as Apple Mail users.
Conversions: Analyse other forms of online/offline actions that may take users away from the website i.e., signed up to an event, redeemed a code in-store, query to customer service, initiated in a live-chat (within the last 6 months). These are all equally impactful in driving conversions as we saw from the recent DMA Consumer Email Tracker, representing an active and engaged customers who want to hear from you.
Email Subscriber Lifetime Value: Identify the lifetime of the email subscriber and the additional revenue this will generate during the lifetime of the email program. Focus on high-value subscribers
by sending exclusive content/offers as a reward for their continued loyalty.
Web/App Sessions: Connect your web analytics tool with other touchpoints to track subscriber behaviour using UTM parameters. You can use UTM tracking to identify pages/specific products being browed, form completion, event sign ups, which can then be used to serve personalised cross-channel experiences.
In a post MPP era, email marketers should adopt a smarter approach to using the open-rate metric when it's aligned to campaign objectives for instance – identifying an audience segment that will create reliable opens which can be used as proxy for all subscribers. Brands should be more transparent about using open-tracking technology before other mailbox providers follow the same route. It would be interesting to see how the emergence of new privacy and security features will continue to impact the way brands measure and track email behaviour and engagement.
---
Want to read more great insights from the Email Benchmarking Report 2023? Grab a copy here.
If you'd like to view the insights from the Consumer Email Tracker 2023? You can view the research here.
If you're interested in the work the DMA's Email Council does and would like to get involved, drop us a line at councils@dma.org.uk – we'd love to hear from you!
Hear more from the DMA