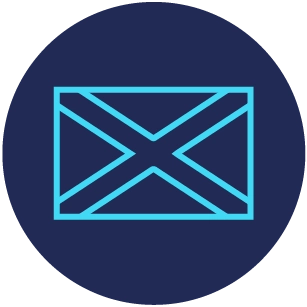 DMA Scotland is the authority for data driven marketing in Scotland. Scotland is a hub of data expertise, fintech firms and start-ups thanks to government investment, and close collaboration between private, public and educational institutions. It has strong links with key business influencers, local government and other local trade bodies/associations in order to promote and support competitive advantages for DMA members north of the border.
In early 2018 our newly appointed DMA Scotland Chair Firas Khnaisser launched the Value of Data campaign. Now in 2021 with the rise of AI and machine learning, we have taken a deeper dive into data ethics.
The Value of Data Campaign strives to elevate and champion the role of data - from the classroom to the boardroom - and help organisations responsibly deliver value to their customers.
We have created an engaging, navigable campaign through a challenging ethical and legal landscape to allow bold, innovative and data-led approaches to customer engagement to thrive. And we'll do it all with a future-focus: nurturing approach to local and young talent.
The DMA Scotland Talent Hub, led by Council Deputy Chair Howard Barber, published Democratising Scotland's Data Talent whitepaper in November 2020. The Talent hub is now working on the paper's action plan, so if you have a passion for helping emerging talent and want to get involved, please contact Lisa McLauchlan below.
DMA Scotland welcomes member input on all regional and national issues. We welcome suggestions for event ideas, speakers, PR opportunities, research and event sponsorship.
To promote and support the data driven marketing industry in Scotland, book into upcoming events and watch on demand webinars. Get in touch with Lisa McLauchlan, Scotland Community Manager, to find out more about the Scottish council, its hubs and its work.
Lisa.McLauchlan@dma.org.uk
07802 885704
Meet the DMA Scotland council below.
Find content from the Council here.
Members