Notes from: Customer Engagement 2019
27 Sep 2019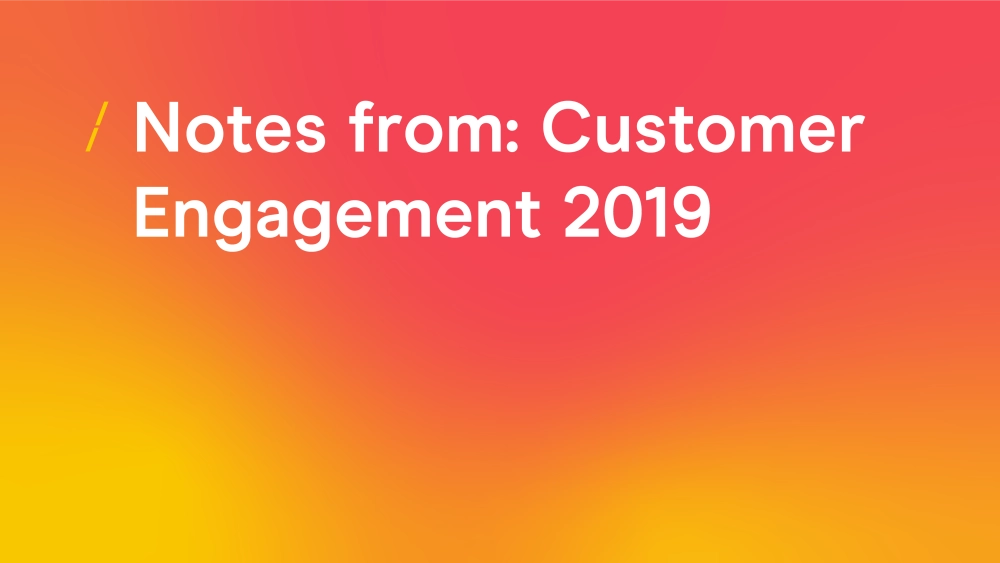 Delegates packed into the conference room in the City of London on a day when even an autumn deluge couldn't dampen their spirits.
Customer Engagement Committee Chair Scott Logie kicked off proceedings with a reminder of their mission: to champion the combined strength of creative, data and technology in driving great customer experiences.
Scott introduced opening speaker Tim Bond, DMA Head of Insight.
Tim shared research developed and executed in association with event sponsor Paragon Customer Communications and Foresight Factory.
The rapid rise of podcast consumption made delegates sit up and listen.
Some six million people downloaded a podcast in 2018, almost double 2013's total.
In addition, 59% of consumers find podcast ads relevant, highlighting the effectiveness of marketing that's aligned with content.
Tim revealed the truth behind 'serial switchers' and their growing propensity to sign up with innovative start-up brands.
He then joined Customer Kind founder Janet Snedden and Chris Pearce - CEO of MRM//McCann - to be quizzed by Scott and the audience.
The panel reflected on 66% of consumers who find email marketing relevant.
Janet argued email's superiority was justified - but only worked best when stress-tested with marketing mix modelling.
The panel also highlighted post's enduring engagement credentials, with Chris advocating an approach that combines mail with other channels for the best results.
Next up was an entertaining discussion about customer strategy from Andrew Mann of M&S.
Andrew literally had delegates in a spin as they stood, closed their eyes, rotated and tried - but failed - to all point the same way; indicating that organisations have difficulty identifying the right direction for customer strategy.
Andrew offered tips on developing winning digital and data marketing strategies that are "personal at scale", saying: "How to make it simple to shop but also deliver a great customer experience is the key battleground."
Thirst quenched by a quick break, WaterAid's strategic projects manager Nicholas Spandagos stepped onto the stage alongside Reuben Turner, founder and creative partner of GOOD Agency. The duo took the audience on a journey to the Sierra Leone community of Tombohuaun, the focus of its DMA Gold Award-winning campaign: #Untapped.
The initiative smashed the lofty target of garnering £4m in three months - which Nicholas jokingly described as "a simple brief" - by disrupting the traditional fundraising model.
Supporters and target donors were invited to 'join' the community during the campaign to digitally immerse themselves in village life.
The event then explored the power of print in a digital age. Lisa Edwards-Webb, marketing director of Titan Travel, revealed retired holidaymakers can't live without the brand's brochures.
They were even more engaged by an updated marketing strategy when Lisa's team took a deep dive into their customer database.
Finally, applied futurist Tom Cheesewright gave delegates a glimpse into his crystal call. He revealed a potential "churn apocalypse" driven by infinite consumer choice.
But he added Mixed Reality could be the answer for both brands and consumers, as AI will help marketers - and virtual personal assistants - more easily glean which products and services best suit someone.
With much to discuss, the audience pondered all of the day's themes - not least the churn apocalypse - over lunch before heading outside, where the weather was thankfully in a less end-of-the-world state.
For more from our Customer Engagement campaign, click here.
To check out and book on more Customer Engagement events, click here.
Hear more from the DMA