Micro-upskilling: Media & member reaction
20 Jul 2022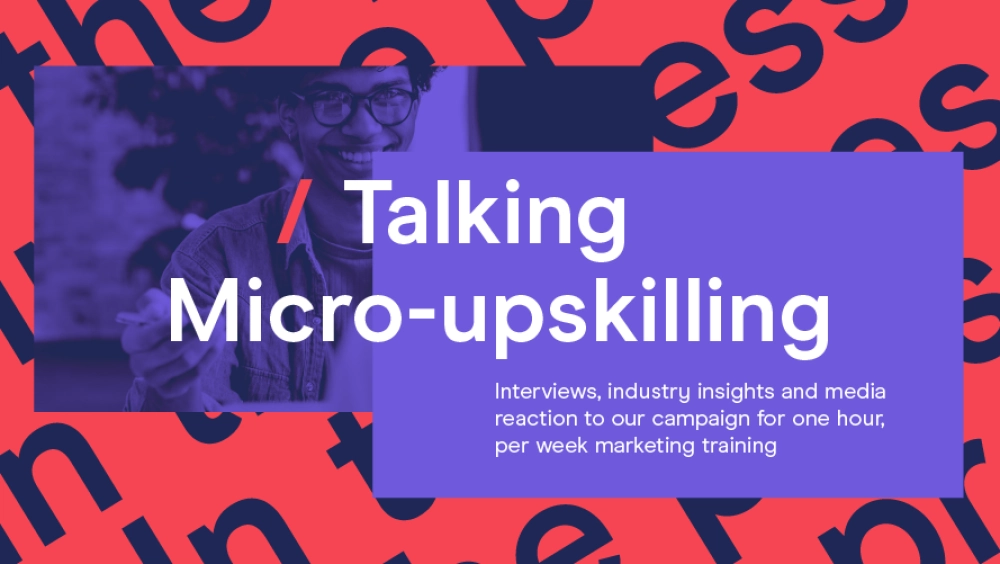 A core tenet of our mission as the driving force of intelligent marketing is to have a data and marketing industry commited to the development of the people who power it: a commitment to the creation of cultures of excellence and continuous, structured learning across the industry.
That's what powers our call for DMA Members to pledge an hour a week for marketers to upskill and learn - and why we feel this micro-upskilling approach is so vital.
We've certainly set tongues wagging.
On this page we'll collect news, views and reactions to our campaign to have constant improvement a key pillar of the working week in data and marketing:
Marketing
Marketing Week: DMA's plan to tackle the digital skills shortage
The Drum: DMA pilot to tackle industry's digital skills gap
Peformance Marketing World: DMA campaign tackles digital skills gap by prioritising talent
HR
HR Magazine: Micro-upskilling will help HR teams improve talent retention
Personnel Today: Why 'micro-upskilling' is key for productivity

Business
The Scotsman: Get Scottish business back on track through 'micro-upskilling'
Newsweek - Ask Your Employer About Micro-Upskilling
Charity
UK Fundraising: DMA launches campaign to tackle skills shortages
Who has signed up to the pilot so far?
WW (WeightWatchers UK): Tony Miller, VP Growth & Performance Marketing, WW, said: "We are joining the pilot that the DMA is championing and are really excited to be part of this movement".
RSPCA (Royal Society for the Prevention of Cruelty to Animals)
Ricoh
Complex Creative
Mailing Expert
Great2 & TPX Impact
Webmart
---
To learn more about how micro-upskilling will help you and your business to thrive, head here.
Are you a DMA Member? Commit to one hour, per week to keep your people sharp, your best talent happy and attract a new generation of superstars. Get involved, here.
To discuss DMA Membership, head here.
Hear more from the DMA