Introducing: Micro-upskilling
11 Jul 2022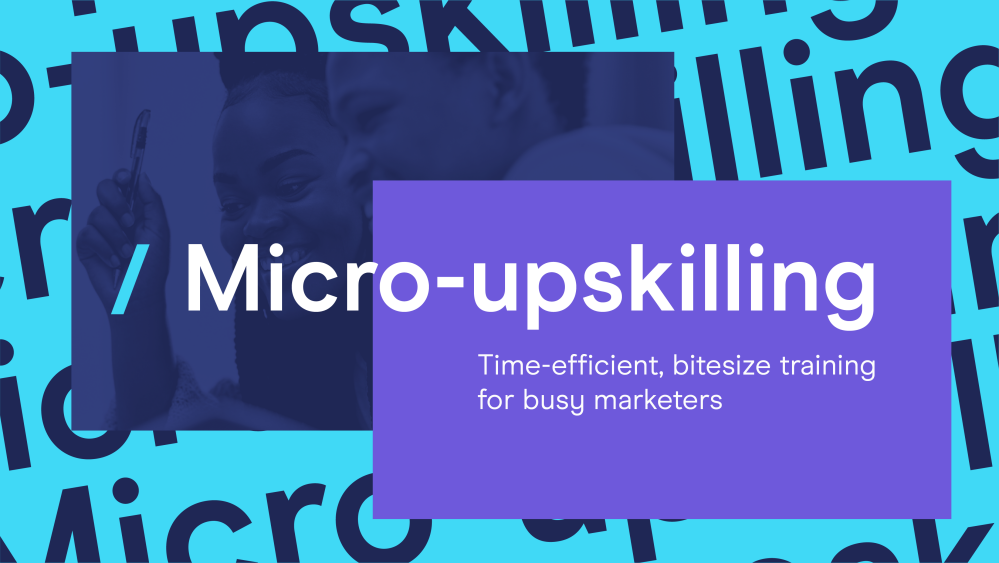 The current skills crisis will only worsen if the marketing and creative industries do not seek a culture change – towards continuous, structured learning.
Direction, support and structure are the essential building blocks of a learning culture yet are also often the main barriers to professional development.
For that reason, the DMA advocates for: Micro-upskilling
With as little as one hour a week spent per employee to structured online learning and professional development, we think we can:
Evolve skillsets and supercharge marketing output
Help businesses retain key talent
Give marketers the tools to grow what they know, enchancing CVs and allowing for the creation of better work
70% of professionals currently upskill less than an hour a week, according to a recent DMA poll.
It's time, then, for change, as DMA MD Rachel Aldighieri explains:
"Our community needs to act now to help reduce creative, data and digital skills gaps and talent shortages seen across the UK's digital economy. We want to futureproof the data-driven marketing industry and fuel economic growth by addressing the current skills crises,"
Micro-upskilling is one of the key solutions, with potential for short- and long-term benefits.
"A little and often mentality creates a habit that can fit around other responsibilities without damaging productivity – that's important as technology evolves and professionals increasingly struggle to find the time to upskill.
It can also allow skills acquisition in the short-term, while instilling a long-term learning habit that benefits the employee and employer," added Rachel.
Business and government must invest in talent development
Businesses need to invest in talent and professional development. For upskilling to become more effective, leadership teams need to create a culture of continuous learning and give direction, support, and structure.
Leadership teams must take note as upskilling is also key for talent retention.
Recent research found that 32% of UK employees changed jobs in last 12 months because their employer didn't offer upskilling or training opportunities.
"The DMA is working with our community to introduce micro-upskilling as a key element of membership, to help marketing personnel enhance their skillsets and drive responsible business growth.
We believe micro-upskilling will help to expand the digital and data-driven marketing skills of the current workforce," stated DMA MD Rachel Aldigheirii.
However, this crisis isn't just the responsibility of business leaders.
The UK Government must deliver a more joined-up, unified National Data Strategy – to showcase the respected careers in marketing that talent with creative, data or digital skills can thrive in.
Contrary to the UK Government's recent comments, which allude to a new campaign getting brands to reduce prices by cutting marketing budgets.
Why should businesses invest less time and resource in marketing when there is a skills crisis impacting the UK digital economy?
Rachel wraps up:
"We'd like the UK Government, supported by industry bodies like the DMA, to take a more proactive role in upskilling and reskilling the nation with core creative, data and digital skills.
Utilising government and industry initiatives such as apprenticeship and retraining schemes.
We want to drive responsible growth through the professionalisation of our industry."
Hear more from the DMA