How to strategically use intelligent personalisation in your email marketing?
05 Mar 2018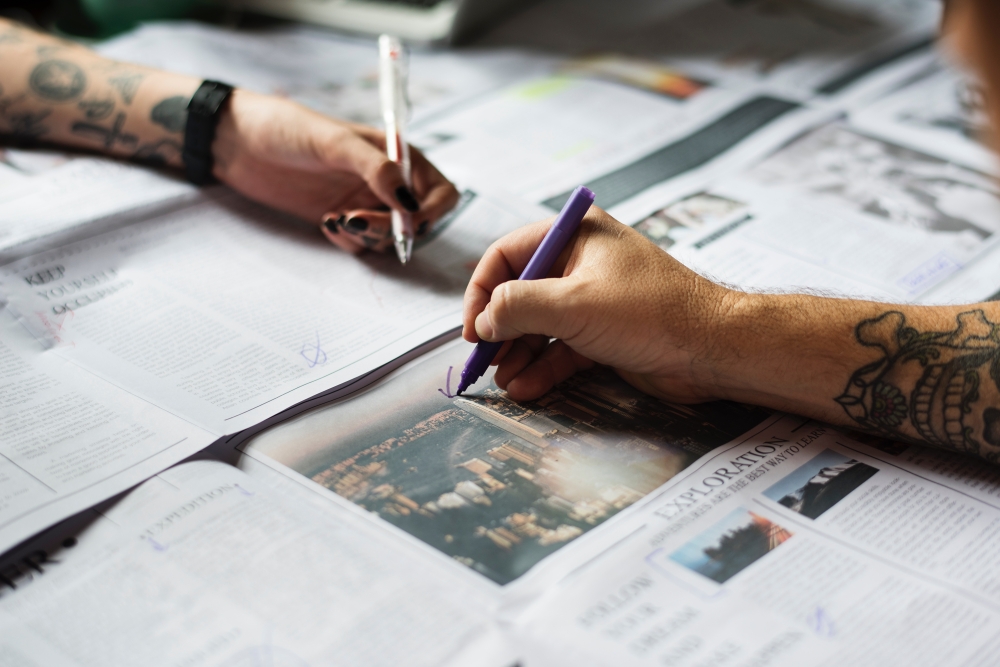 By Jenna Tiffany, Founder & Strategy Director at Let'sTalk Strategy and Member of the DMA Email Council. Chair of the Best Practice hub and contributing member of the Research hub.
Providing the right content in the right context remains king in the digital experience. Personalisation enables this, but the truth is that many brands are still playing catch-up – with site pages littered with products which are already bought or completely irrelevant. Personalisation has to get smarter and feel like it fits more seamlessly into the digital journey.
And consumers want personalisation 77% of consumers have chosen, recommended or paid more for a brand that provides a personalised experience – Forrester.
This is because it delivers on the increasing demands of consumers. You only have to look at long-serving retailers such as Toys R Us to see that if you're unable to keep up, your competitors will be there to provide the service your consumers are demanding. There was a time not that long ago when the options for booking accommodation was the choice of only hotels or apartments. But now with huge strides in technology, this is no longer the case where you can book to stay in a strangers house anywhere in the world with Airbnb. It's not only that companies such as Airbnb, Uber, Google and Amazon have challenged the industries they operate in, they have also challenged the status quo and created new consumer expectations. Amazon can deliver an item within city locations within an hour of purchasing. Who needs to wait in line in a retail shop to make a purchase when you have a service like that?
These new 'norms' of service impact the conventional expectations of consumers, and that is where your email marketing strategy needs to align with the latest needs of your customer. Not the demands they had a year ago. Email marketing isn't exempt from fulfilling these expectations and personalisation is a crucial example of where many brands are falling short of providing the consumer with what they want. The hope from consumers is that a brand will send highly relevant & personalised content at the right time every time, but using just the first name isn't enough. New research has discovered that almost half of UK consumers (45%) prepared to engage with a retail brand that uses personalised offers in their digital marketing.
My top 5 tips on how to strategically incorporate personalisation in your email marketing
1. Engagement
"Even when you are marketing to your entire audience or customer base, you are still simple speaking to a single human at any given time" – Ann Handles, Marketing Profs.
One of the most effective digital marketing channels for creating personalised single customer view campaigns is email marketing. Because let's remember that "the purpose of email marketing…is to build relationships that then convert" Dave Chaffey (2017).
Forgetting someone's first name and not providing tailored messaging isn't relationship building. It's similar to meeting up with a friend and every time you met; they forgot your name. I'm not sure any friendships like that would last very long in the real world – why should it be any different in the digital world?
To be able to communicate with your subscribers on scale, there's automation. But don't automate to the point of your brand becoming a robot. Emotion is at the very core of what it means to be human. It helps define who we are, how we live and forms our perceptions and opinions. Emotion manifests itself in the interactions and experiences consumers have with brands. Think about building relationships with your customer and incorporate personalisation at every touch point.
2. Identify your audience.
The marketing campaigns that have achieved success are the ones where the brand has understood the wants of their target audience and then created a campaign that provides them precisely that. If you reflect on Coca-Cola's 'Share a Coke' campaign – this was a huge success because of the human psychology this provoked. Personalisation appeals to the innate human need to feel engaged, which is achieved when people feel more involved and see more value in products/services that they have helped create. Seeing a bottle of Coca-Cola on the shelf with your name on it, makes it feel like it is already yours before you've even purchased it. The ability to then reminisce about an experience by seeing a holiday destination on the bottle creates the same effect and brings the experience of sharing the drink to live. The same methodology should be applied to your email marketing. Identify what your subscribers want from you, what is their need, how can you add value to your email content?
Also, let consumers drive the success of your campaign like EasyJet's did with their celebratedly email campaign. This email campaign was sent last year to celebrate 20 years of flying. This could have been a campaign that gave themselves a pat on the back. But that wouldn't have achieved the objective of driving positive sentiment. EasyJet achieved just that by sending:
12,473,608 unique emails
7.5% of customers made a booking in next 30 days
Reached 685,000 people on social media
Generated more than 1.1. million impressions
78% had a positive sentiment about the campaign, most using the word 'love' to describe it!
It's not every day that a consumer will say they 'love' a marketing campaign!
Source: Campaign Live
3.Understand how customers engage with your business and map out the touch points along their journey.
As email marketers, we should want to wow our customers with relevancy. Use the customer's decision-making process as a starting point to personalise the emails your customers receive at each stage.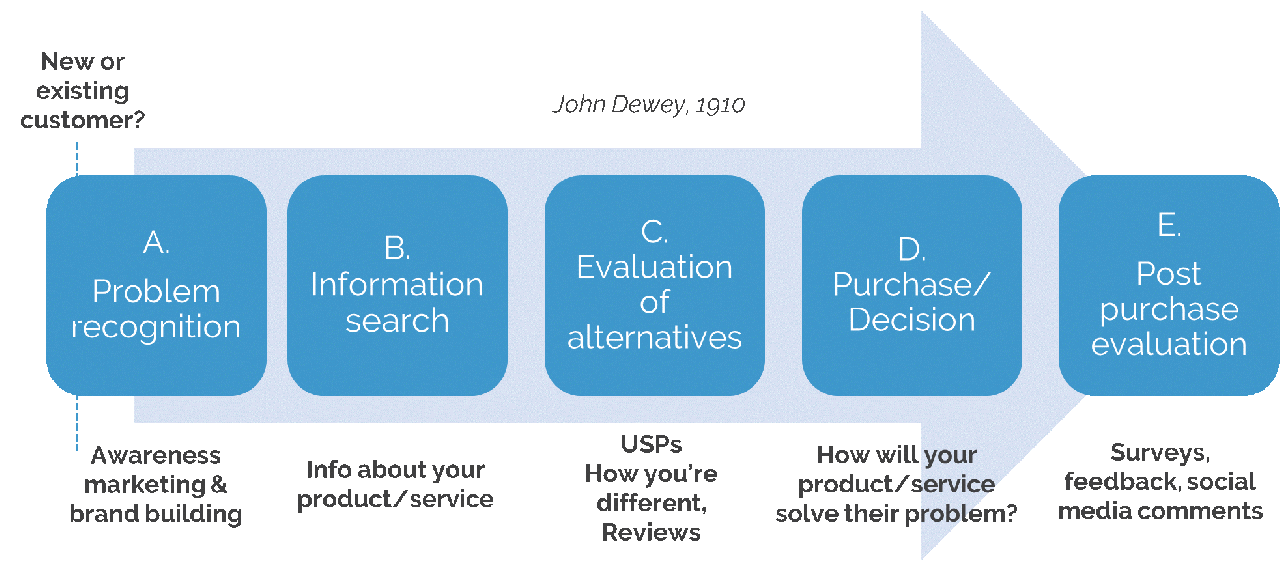 The customer's decision-making process is the process that a consumer typically goes through before deciding on purchasing an item. The more expensive the item, usually the longer this process takes. We all go through this process subconsciously even when buying a bar of chocolate, but it doesn't make very long before deciding because the value is low. If the value of the item is high, the longer this process will take.
Think about this in the context of where a customer is in their decision-making process with you. Because at each stage there is different information a consumer needs from you, this is an opportunity to personalise intelligently, not only through email but all digital marketing channels.
For example, in stage A you may be looking for a hotel:
This email allows subscribers to type the airport name into the email itself, and then when the subscriber clicks 'search' they are taken to a landing page that only shows those relevant hotels. This approach reduces the steps in the conversion process and improves the customer's experience.
Or in stage C. when you are evaluating alternatives, make it easy for your customers to come back to you. If you're a B2B organisation, allow your customers to save their quote, email it to them, make the search easy for your customers:
Or if your customers are at the purchasing decision stage D close the deal by using intelligent retargeting like Expedia. Expedia retargets customers who visit their website for last minute deals on Facebook. They don't promote generic advertising, they personalise the advertisements with the relevant dates and location, providing a bespoke offer to that customer in an attempt to close the deal.
4. Put data to work!
As long as you have the permission, put the data you have about a customer to work. Whether that's their engagement with your email marketing, the web pages they have visited or what they last purchased from you. All of those interactions tell you a lot about a customer's likes and dislikes, without you having to guess.
But remember to use common sense, because even Amazon doesn't always get it right!
5. Measuring personalisation
To measure the success of personalisation, establish benchmarks and use these to act as your minimums.
How can you improve your email conversations if don't know your current conversion rate? To measure improvement, it is essential to start with a set of benchmarks. Think of the benchmarks as your minimums, as these should be a starting point to measure your performance and track the progress of your optimise your campaigns.
Useful metrics are quantifiable and not subjective such as conversion rate, engagement score trend, click through rate, website traffic to lead ration, most viewed content etc. These metrics will likely be KPIs (Key Performance Indicators) that describe the performance of the customer funnel or the effectiveness of the content throughout a customers journey. For any metric that you use, make sure you measure consistently. Many brands I have consulted with, are measuring each campaign or segment differently and that doesn't provide a fair comparison.
Know where to focus – think actionable metrics.
The right metrics to do should be actionable. Unfortunately for many marketers, it's easy to get overwhelmed with data and analytics. Google Analytics provides over 70 distinct reports - not all of are important to making critical business decisions. It is essential to define which data will be the most important for you to collect and review for your business. What questions are you trying to find answers to?
In summary, here are five tips on strategically incorporating personalisation into your email marketing strategy:
Engage your audience on a 1:1 human level.
Identify your audience and define segments – build ideas that your audience want.
Personalise the customers' journey at every stage.
Put the data you have permission to use to work!
Measure success using benchmarks and consistency.
For more information on bst practice in email marketing please review the DMA Email Council Best Practice guide
Hear more from the DMA