DMA 2019 Email Tracker Launch
17 Jul 2019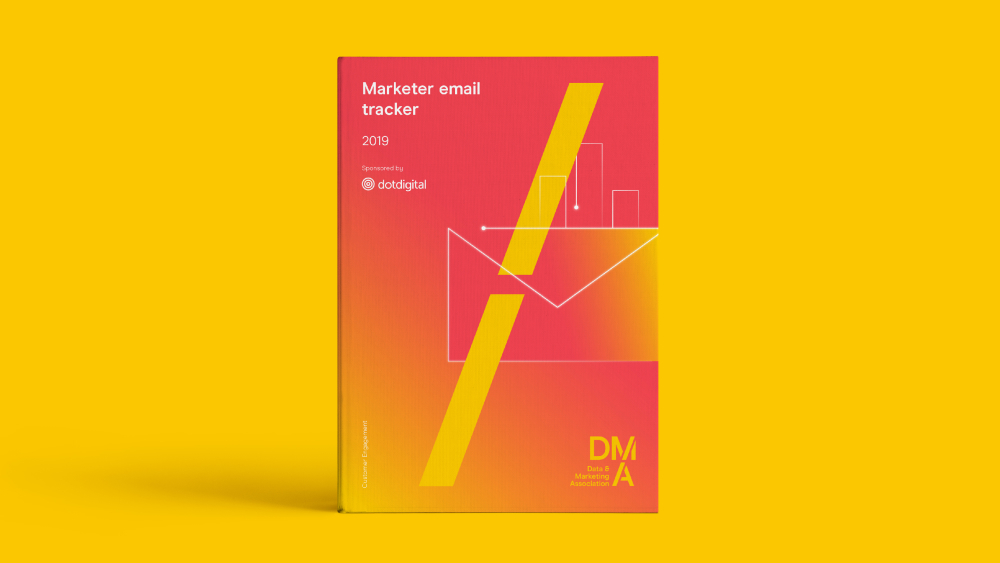 This article is written by Gavin Laugenie who sits on the Email Council.
"Send more emails. Yeah, most definitely. But don't just send more – send smarter!" That's typically what you hear me yelling at anyone that will listen. Now not everyone wants to hear it, but the companies that use the channel [email] well are making the best returns of all. They're making the best use of the data they have and the tools at their fingertips.
*Spoiler alert* Last year email ROI was £32.28. This year it's a whopping £42.24. This is why I tell clients to send more emails. Because they work, dammit!
A report that backs up what I'm saying is a godsend, and that's why the email marketer tracker report is so important to everyone that uses the channel. Launched back in March this year (on my birthday in fact), it this was the first tracker to be released since the implementation of the new GDPR regulations of 2018. And although it was a few months ago, it's important to cover just what was discussed on the release day - the points that really made an impact and the case study, highlighting how a more considered approach to your email marketing, using the stats delivered in the report, can make a huge difference to your overall results.
The tracker, which is by marketers and for marketers, highlights the fact that email remains at the core of effective omnichannel marketing – a notion that was mirrored in the consumer tracker released a few months prior. Tim Bond, head of insight at the DMA, kicked straight off into the strategic importance of email versus other channels. 91% of the 197 marketers surveyed said that email was important to them, followed by 83% who said social media and 79% who said phone.
It's obviously great to see that email is so important to most marketers, but that doesn't mean it's all plain sailing. One of the key drivers of any email program is your data; without it, we're stuck sending generic messages to all, and that, trust me, is not where we want to be. So, it's a shame that 30% said that a lack of data is a challenge for them, while 25% said that strategy was. Both stats I find equally worrying; because you can't strategize without data or use data properly without a strategy.
GDPR for the win
It's safe to say that almost a year on from the GDPR the dust had settled. So, it was perfect timing to gauge its impact on marketers. The results were in favour of the regulation.
When asked "what impact have these new laws had on your current email marketing programme?", over half (56%) of marketers stated that GDPR had a positive impact. 24% were neutral, and only 20% said its impact was negative.
I wasn't that surprised about these figures, to be honest. When I was just starting out in the industry (many, many moons ago) it was beaten into me that permission marketing was the way to go. Only contact individuals who have fully opted into receiving your emails and who are fully engaged. Sounds obvious, right?
But it's always worrying how many businesses fail to work in exactly that way. So, once 25 May 2018 came and went, I wasn't the only one who overheard conversations about how the grass actually was greener. Responses to "Can you provide more detail on how the GDPR has impacted your email marketing programme" backed up that positivity, too:
"It reduced our list at first, but open rates and engagement went up a lot, so it focused our prospects into people interested in our services"
"We know we're sending relevant emails to willing customers"
Even some of the apparently negative comments seemed positive:
"It's made our database much smaller as good hygiene wasn't used in the past"
High High's and Low Low's
The GDPR wasn't the only high point; frequency of emails according to consumers has fallen from 44.5 to 24.6. Was this a direct correlation to companies culling huge amounts of their (unengaged) database after the GDPR? If so, is that really a bad thing? In my eyes, that's what the GDPR set out to do.
Almost two thirds (62%) say they are measuring ROI — the highest ever result for this question. B2C marketers are particularly confident, with almost three quarters (71%) able to make the calculation. As I mentioned earlier, ROI from email marketing now stands at just over £42 for every pound spent, which is huge! No other channel packs as much of a punch as email does. Lastly, however (and probably more importantly), the average lifetime value of an individual to an origination had risen from £28.56 the previous year to £37.32.
Having information like this can be vital when working out exactly how much of your resources should be allocated to email. A quick equation can give you a rough idea of just how much your email database is worth and what you'll do to keep it engaged.
Not every statistic in this year's report had a positive vibe. Only 43% said that they segmented their emails and 33% said they automated emails. This shows that we have a long way to go in terms of maturity and skill in the sector; especially when you factor in that 29% consider their efforts to be basic.
Although consumers thought they were getting less email, marketers thought they were sending more (20.7 vs 23.8 per week). But of those emails, 54.5% thought that over half of what they sent were actually relevant. This is the most worrying factor. If the medium is to continue to flourish and maintain its amazing ROI, then we need to look after it.
We must ensure that we're using the data we have at our fingertips, not wasting it. We have to factor in more segmentation, personalisation, and automation to keep relevancy high because that is what consumers want; they told us in the consumer tracker themselves.
Getting Customer Focused
I'm all for the existence of the tracker and the stats; they serve us well when working with clients to help illustrate the importance of best practice and certainly fuel some thought-provoking conversations. But I'm sure you all are wondering where the cold hard results are, right? The proof is always in the pudding, and Jo Malone's case study on the day gave us food for thought.
The team at Jo Malone went through a bit of a strategic shake-up. They went from a brand-led experience to a customer-driven experience, involving a series of omnichannel journeys that turned their results around for the better.
So how did they do it? Well, they built a plan over a six week period and they used a series of omnichannel programs to target engaged and unengaged audiences with dynamic emails. These reflected the "next best" offer upon the opening of each email, and to top it off they doubled up with retargeted Facebook ads.
There's no denying that email is the 'breadwinner' for most brands. But those who truly excel are those who complement the channel with others to make a real impact and drive home the ROI.
The journey was insight-led, with 638 possible variations of content served via the combination of channels, each tailored to reflect individual customer behaviour along their journey.
That meant using a contact's implicit and explicit data to pin-point the right content for them at the right time. I call this: observing a recipient's 'digital body language' – just as you would do if they physically walked into one of your stores.
When you break it down, what they did wasn't really that difficult. All you need is a few elements of data (three to be exact) to bring the whole thing together:
Transactional - recency, category, and fragrance of previous purchase
Propensity - behaviour over time and gift versus self-purchase
Intent - what have you just done?
The results speak for themselves and show how strategy and data can work wonders together:
7x increase in engagement (open rates)
43% uplift in re-purchase (from 5-11 months lapsed)
32% incremental conversion (reduction in 1 x buyer rate)
30% uplift in sales
£92k increase in incremental revenue!
This year's marketer and consumer trackers are available to download here and are full of many more useful statistics and insight. I've only given you a taste of what's on offer, so be sure to have a read.
The email council is tirelessly working on what works best and how we can help build a better environment for better email practice. We're always on hand to answer your queries. If you'd like to learn more about what these stats mean to your business and how to tackle customer-driven experiences, please get in touch.
Hear more from the DMA