Customer Data Council: Is Your Business Ready For Digital Transformation?
03 Feb 2021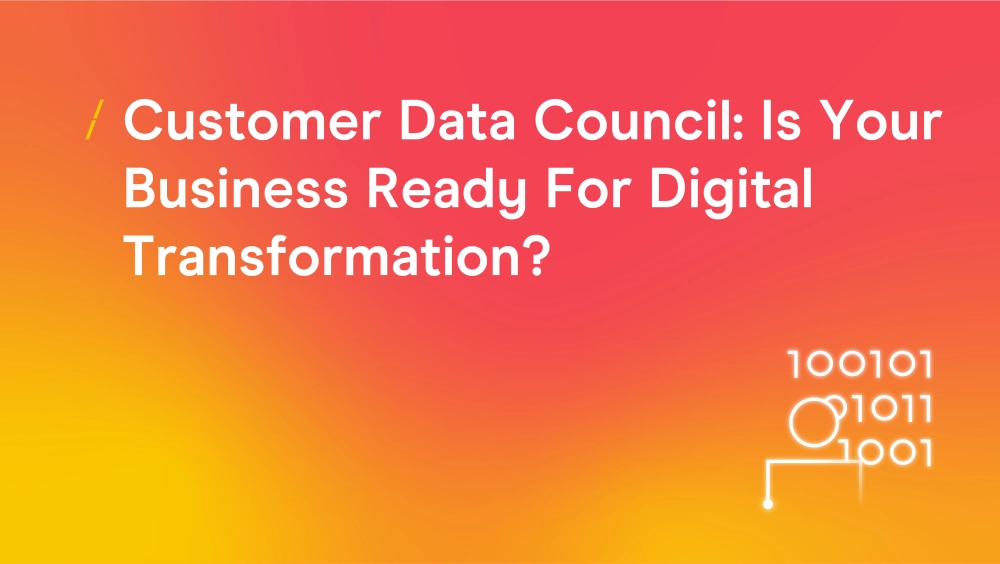 This article is written by the Thought Leadership and Best Practice hub of the Customer Data Council.
Coronavirus and lockdowns are forcing many businesses to transform digitally in ways that they never considered before. Others have condensed 3-year transformation plans into a matter of weeks or months.
The Customer Data Council came together to look at some pitfalls to avoid and some principles to consider during this process. Even if your digital transformation plan has been completed and everything is now online, it's still important to go back and reassess the emergency measures put in place as consumers start to expect more polished experiences online.
These circumstances have led people to expect either a completely global experience, or local focussed on a close community. So that means your data will need to be available across multiple platforms via multiple channels.
Here's our top tips for organisations facing digital transformation - whether it's by choice or being forced to change by the pandemic, now is a great time to do the following.


Take stock: Take a step back:


Don't be afraid to pivot. You may only need to do this a little, or a lot, but don't be scared to adapt your offering to a new set of customer needs. It's not too late or too early to make a change. Example: Pubs offering take-aways, hotels becoming court rooms or Shopify providing small businesses with bundled services.
Diagnose the new customer journey. What can you offer as a brand? What do people need from you? Is it different to before? If so how?


Be practical: Think about what you can do:


Identify 'missions' by channel. What are people trying to do? Have you made it easy? Where does it work, where doesn't it work?
Keep engagement going, beyond the sale. What do your customers want from you? What additional support can you give them that naturally sits with your brand? If you need to pivot where can that conversation take you?
Give them something to do. Think creatively and how best to migrate this to digital. Example: The cosmetics brands providing virtual makeup, or John Lewis with their virtual Christmas Shop - to get us in the mood.
Get infrastructure ready. Stress testing should be considered with respect to digital infrastructure. We want the experience to be easy for the consumer and for us and maintaining functionality in rapidly changing circumstances is key. We're used to forecasting peaks and troughs in product demand, similar principles need to be applied to the ease with which consumers can access the brand.
Experiment. Don't be afraid to test and learn. Digital was built for agile testing. If you can test, learn and optimise on the fly in real or near time even better, you'll be engaging in the moment when they are ready, not when you are.


Be clear: think about the purpose of every channel and what consumers are expecting:


Owned spaces: Web and social spaces are the consumers gateway to your brand. As they are engaging more and more in the digital economy it's still about 'serving' and not just selling to them - what experiences will they find beyond the basic transactional? What are your social channels able to do that your website can't, and vice versa? Consider how this will change as some consumers start to revert to their previous habits.
1:1 - Email & SMS. Just because you can doesn't mean you should. Try not to overplay the cheap and easy channels because you're at home and it's the easiest channel available. The rules haven't changed, customers still want useful triggers ("your takeaway is 5 mins from ready come and get it") but not bombarding with bland marketing ("please visit our website, our product is amazing.")
Direct Mail. A great channel to get cut-through with so much digital competition - and take advantage of the mantlepiece effect with everyone at home. For some industry sectors the advantage of putting samples directly into consumers hands if they can't get to the shops is clear. Of course, budget will be a consideration, but by connecting interactions to the digital consumer journey and some smart targeting the channel can be a very effective addition.
Your team: Digital doesn't just mean websites, having some form of human interaction is key particularly for vulnerable customers. How can contact centres and social teams connect to the overall customer experience?


Stay safe: With all this change, and opportunity, make sure you stay safe, particularly if there are new data exchanges:


Value Exchange: Be honest about the value exchange, it's all too easy to slip into marketing speak when you make that transition from home to office mindset, but check yourself, would you buy the messaging if you were on the receiving end?
Purpose: You must be really clear about what you need a consumer's personal information for, and only use it for that purpose.
Online safety: As more brands (and fake brands) go online – make sure your online data credentials are obvious, transparent and beyond reproach.
Data Capture: Try to only collect the data that you need - and keep it safe.
Data Protection: Remember that other people's personal data isn't yours, it's theirs and you have a duty of care to protect it.
Data Management: Don't share the personal data you collect with anyone else without a proper agreement and remove it securely when you don't need it anymore.
Hear more from the DMA