Great British Creativity with Hiten Bhatt
19 Jun 2019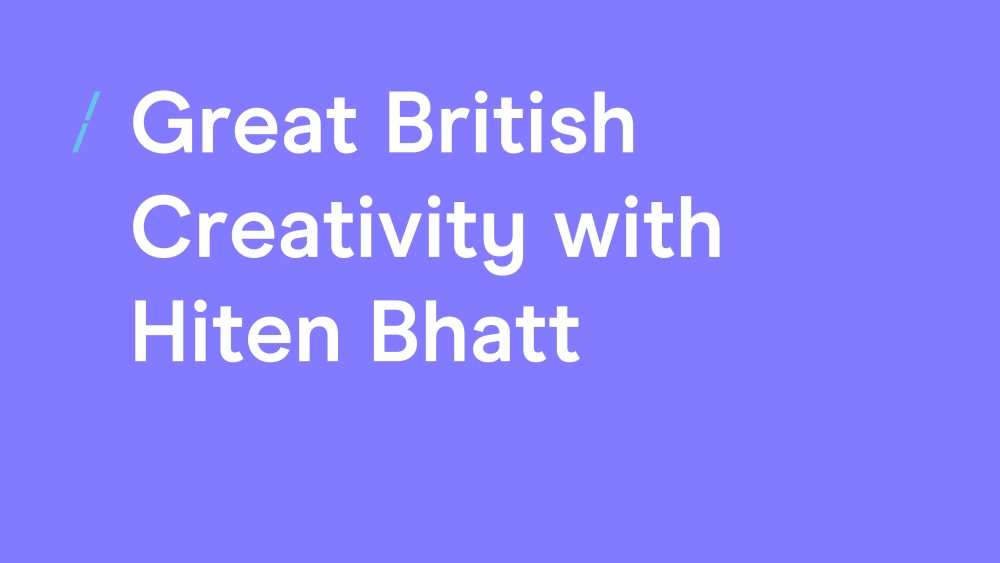 Our latest creative workshop series, Command, Shift, Design, was created by Hiten Bhatt, Creative Director – Design at RAPP. He's been working in design for over nineteen years and is still as passionate about it as he was the day he started.
Get some design inspiration from this modern-day master and discover his favourite pieces of work, the stuff that inspires him, and his top tips for aspiring designers.
And now, over to the man himself…
---
Where did your passion for design come from?
While growing up in 80s London, my local video store became a source of inspiration. I visited it daily as I liked looking at the designs of the VHS covers & posters. I especially loved the type and airbrushed illustrations that were common at that time. I was drawn to logo design, too. My childhood favourites were the Thundercats, Transformers and Nasa logos as they looked so futuristic.
What piece of work are you most proud of, and why?
I was fortunate to be the lead designer on the exciting launch campaign for Dishoom Shoreditch.
My team and I took diners' stories and expressed them through typography on a number of plate designs. Not only did I get to see diners eat from plates I designed, I felt a sense of pride knowing we helped Dishoom on their journey to becoming one of London's best restaurant brands.
The work was recognised by Creative Review and it led to numerous DMA Gold Awards, a D&AD Pencil and Cannes shortlists.
Have you seen a piece of design work out there at the moment that you find particularly inspiring? Can you tell us why?
The BBC Two rebrand by Superunion is beautiful and brave.
The moving idents pay homage to the iconic ones of their past, but they've been executed in a really fresh way. The number 2 has been supersized and it unifies the playful forms around it.
In a time where channels compete to stand out and face competition from streaming services, it's encouraging to see an identity that's stripped back but has the ability to flex in a truly expressive way.
How long have you worked with the DMA Creative Committee and what inspired you to get involved?
I've been a DMA Creative Committee member for a year. I was nominated to join by one of my career mentors, Cordell Burke. It was a great honour to join him and represent the craft of design amongst a panel of other advertising experts.
I value every meeting we have, as I get to contribute to discussions that have the potential to shape our industry.
What sparked your interest in creating Command Shift Design?
Promoting design thinking and its value to businesses is important to me. Designers have more to offer than just colouring in. That's why I created Command Shift Design, a programme that aims to reset our relationship with design in advertising.
What is your key piece of advice for budding designers?
Network and keep developing your skills.
I'm constantly learning new design techniques from junior members in my team.
When you were a junior designer did you have a mentor?
Right from the start of my career, I've worked for many great creative directors, who inspired and advised me.
They've shaped the way I approach creative projects and challenges at work. Even now, I have a number of mentors from several advertising disciplines. All of whom give me a better understanding of our business.
What's the main thing you look for when hiring junior designers?
I look for a strong work ethic. Designers who are hungry and willing to go the extra mile to produce exceptional design always stand out for me.
The ability to collaborate within multi-disciplined teams is also an important factor when looking for new junior designers.
What designer, from the past or present, do you look up to the most and why?
I'd say 'The Designers Republic' collective has most inspired me throughout my career. It's clear, from the work the designers there produced, that they loved their clients. Their vector-based designs had layered detail. It was bold, colourful, and I love how they took inspiration from Japanese culture.
And finally...
If you weren't a designer you'd be…?
That's easy. I'd be a hairdresser. I've experimented with my own hair for years. I've picked up lots of tips from my hairdresser Kamila who owns a salon called Blue Tit, on Portobello Road.
I'm actually going to learn barbering this summer at The Blue Tit Academy. So hopefully I'll be endorsed on LinkedIn for 'Hair Design' soon.
---
Thanks for answering our questions Hiten, it's been inspiring.
Check out Hiten's portfolio here.
---
Find out more about the Campaign for Great British Creativity here and add your voice to the cause.
Hear more from the DMA