Winning trust and loyalty will be key to solving marketers' digital dilemma
16 Apr 2019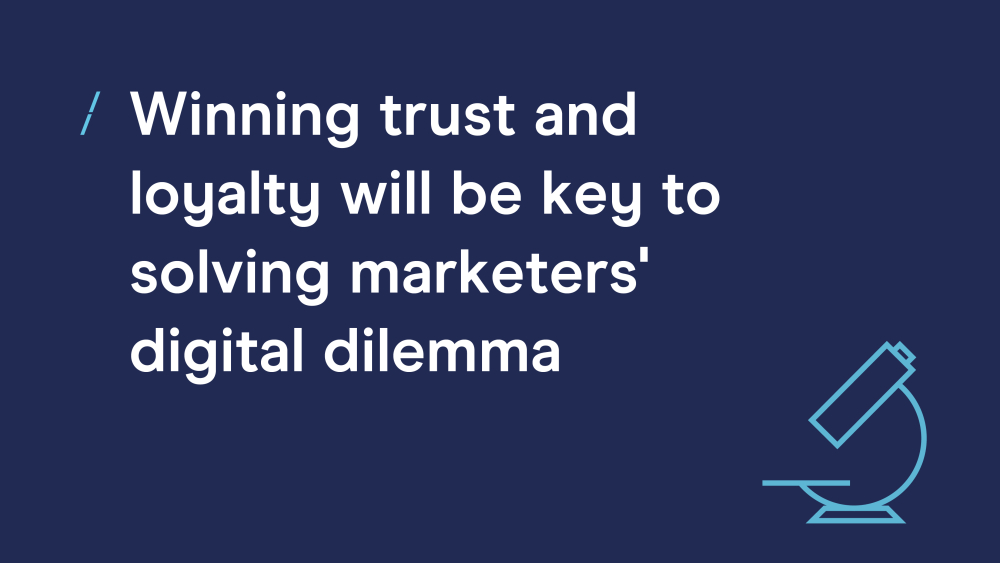 Brands are facing a key dilemma: in an increasingly connected digital world where it's never been easier to reach customers, it's increasingly hard to get them to actually care and show loyalty.
This is something the DMA found in our latest 'Customer Engagement: How to win trust and loyalty' report. In 2018 we found that despite our loyalty segmentation (from 'Active loyal' to 'Active disloyal') showing no significant shifts, 39% of customers say they feel less loyal than a year ago.
How and why this perception exists is complicated. It can lead to discussion of a great many issues involved in customer loyalty, from authenticity and trust to personalisation and privacy. However, one trend that we can all agree on is that digital transformation is changing customer experience and how we, as marketers, engage audiences.
Mintel's Jeanette Ornelas discusses this trend and the four key themes within it that she saw discussed during the recent Adobe Summit 2019 in Las Vegas:
1) Retention is the new growth
"Innovative marketers are moving away from using paid media advertising primarily as an acquisition strategy and leveraging it as a retention strategy."
For example, the rise of direct-to-consumer brands and the growth in media spend on digital and social channels that speak directly to the customers they want to engage.
2) The customer journey is not linear
"The path to financial wellness is not linear and neither is the customer journey. Success for financial service providers means having real conversations about the financial challenges consumers face and how they're positioned to help consumers address these challenges."
Leading some brands, particularly in the financial services sector, to find new partnerships and innovative ways to engage customers. Such as SPIXII, the chatbot launched to make insurance more accessible through intuitive design and interactive tailoring of the customer experience - as discussed in the DMA's 'Customer Engagement: Future trends' report.
3) Relevance is the name of the game
"We're in a state of digital disruption, with tech giants shaking up entire industries. To remain relevant, brands must have a foundation in place that allows them to readily adapt and innovate."
Again, financial service organisations are embracing this trend and leading the way, with the likes of MasterCard now seeing itself as a technology company in the payments industry and many banks fundamentally changing the in-branch experience in recent years too.
4) What we think
"Digital transformation doesn't come without a foundational change; the most disruptive brands established operating models that support a relentless focus on the customer. While tech giants and FinTechs are disrupting the hold traditional banks have had on the financial services industry, the greatest threat is an inability to appeal to a new generation of consumers."
Mintel's US digital advertising research points to over one-third of Generation Z and Millennials paying more attention to ads they see on social media than elsewhere online. Something reflected in the DMA's Customer Engagement research into the channels consumers prefer for both acquisition and loyalty.
Meaning social media can be a powerful tool to leverage in order to reach, educate, and empower younger consumers. However, as the DMA's research proves, the 'traditional' channels of email and post are still highly effective for all customers - and still very impactful among millennials too.
Hear more from the DMA