Global Data Privacy: What the Consumer Really Thinks
15 Mar 2022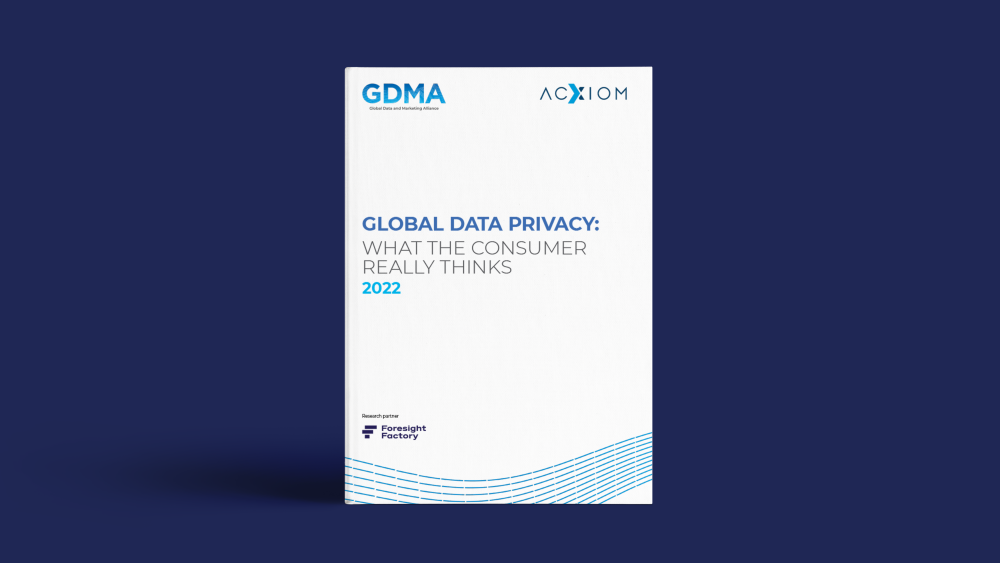 New research launched by the Global Data & Marketing Alliance (GDMA) in partnership with Acxiom, reveals that:
Over half of surveyed consumers (53%) agree that the exchange of personal information is essential for the smooth running of modern society
Consumers are increasingly comfortable with data sharing, especially if there is a clear benefit of doing so
The vast majority of global consumers (82%) are also prepared to engage with the data economy in 2022
These findings come from the 2022 'Global Data Privacy: What the Consumer Really Thinks' report. The second edition of this report now covers 16 countries representing over half the world's population. 
Trust in an organisation remains the most important factor driving consumers' willingness to share personal information with a company. Across the 16 countries surveyed, 38% of consumers rank 'trust in an organisation' in the top three factors that make them happy to share data with an organisation. 
Enhanced global privacy standards has a notable impact on consumers 
Since 2018's edition of this research, which surveyed 10 of the same markets, many countries have implemented new or updated data protection legislation.
When making like-for-like comparisons between 2018 and 2022, there are some important trends observed that show an increasingly positive public sentiment to data exchange:
In 2022, almost half (46%) of global consumers feel more comfortable with the notion of data exchange with businesses – up from 40% in 2018
48% of consumers stated data exchange as essential for the running of modern society – rising significantly from 41% of the population who stated this back in 2018
The rise of the 'Data Unconcerned' group; people who show little or no concern about their data privacy. 31% of the population now fall into this category – up from 26% in 2018
---
Read the full global report, here.
Join us at Data 2022 – our flagship data event – on 25 March to learn about the UK research launch. Sign up, here.
Looking to stay up-to-speed with data reform? Check out the IDM Award in GDPR here.
Hear more from the DMA