Mozilla Festival 2018
06 Nov 2018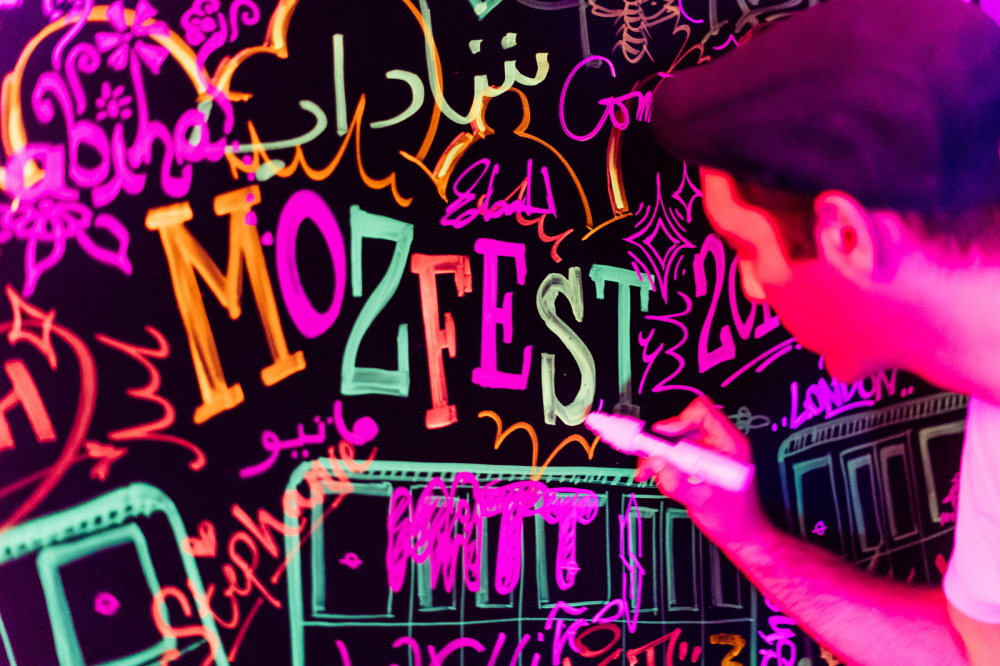 "Curioser and curioser"
MozFest 2018 wasn't what I was expecting. For a start, the opening remarks were delivered in rap form, picking up a world first for the inclusion of 'decentralisation' in the lyrics.
It was also so much more than I could have imagined. The training for session hosts on the Friday focussed not on how best to convey your ideas, but on how best to throw your session open to the floor and crow-source the creativity of your attendees.
Hosts included people with PhDs launching citizen science programs, seeking pulsars out wherever they may hide across the galaxy, and college students from south-east London who had built a game in which personal data was represented by emojis.
There was no sign of stuffy lectures, or inflated egos. Instead, the festival offered cross-stitching, cutting edge technology, event-wide gaming, industry perspectives, immersive art, get-stuck-in science, origami and a giant blow up unicorn. It was chaotic, but it was inclusive and it was open, in all the best ways.
So, what did we learn?
We went in with a plan to showcase our work, and to get feedback on what our attendees thought. In the end, the wonderful humans who showed up gave us so much more than this.
Our key takeaways
People care about privacy in an abstract sense, but are not sure how to act on their concern in their day to day lives.
T&C clauses that reduce trust fall into three categories: clauses that are perceived as excessive, clauses that are perceived as vague and clauses that are perceived as excluding users from a service ecosystem.
Solutions to the problem are neatly divided into those which require enforcement from a trusted third party (legislation and mediation), and those which focus on empowering users to make their own decisions (education and tooling).
Users are lazy. They don't necessarily want to set their own preferences, they would much rather some trusted third party did the hard work for them (public bodies, the Guardian, the New Yorker and representative users were mentioned, which is interesting in its own right).
The user interface for any trust tool is critical. It needs to be comprehendible at a glance, there need to be bands with ratings rather than raw percentages and the language needs to be as simple as possible without diluting the meaning.
What are we doing next?
Well, to start with, we are going to take what we've learned to brands to see if we can find the overlaps between brand and user desires and improve the relationship between the two. We've got a few meetings lined up, so watch this space.
If you want to follow us for updates, download our presentation slides, nose around in our product development, or join in with our open source project, you can get us on our git or else comment here and we'll get back to you.
Stay open.
Hear more from the DMA