MarTech challenges & bumps on the road to data driven marketing
04 Jun 2019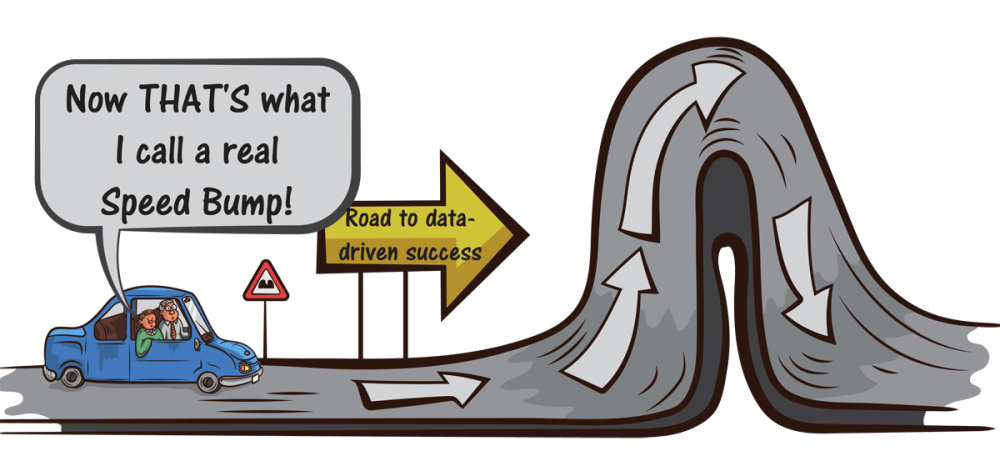 Marketers can get truly excited about data driven marketing. Research by Walker Sands even shows that People-based and Data-driven marketing are amongst the top strategic marketing choices for brands this year.

The popularity and buzz around the Customer Data Platform (CDP) with the promise of data centralisation proves that you and me aren't alone in the wish to make better use of customer data.



The data-driven marketing ambitions are front and center. We want to make data play a bigger part of organisation and pair brand strategy with data insights and marketing tactics. The first steps to towards data driven marketing are easily made. The journey towards complete data maturity takes more though, as there are some speed bumps on the road to data-driven marketing success.

Image source: Data challenges emailmonday (c)

So it is time to dig in, here are thoughts on four challenges to overcome in data driven marketing, and specifically CDPs from bringing their promised benefits and returns.


1. All data seems valuable, but some is more valuable than others
Data is everywhere, if you try to visualise stream of data you'll likely end up with a picture of you drinking from a firehose. Every customer action, click, or profile field is a potential valuable data point. But are they?

Parts of the data are created by the (primary) processes like purchases, transactions, touchpoints with sales and customer service. Most of this is extremely valuable. But beyond those, we need to give it some (extra) thought.

Data mapping is a practice to make sure the data collected is needed and ready to be put to good use. I like the other way around as well though, seeing what you can do with your current data-set and where the gaps might be. See which business problems / questions that data can help answer.

You will need to appreciate collecting the right data to come together in your CDP. As you don't need a single customer view, but rather a practical customer view.

2. The right set-up of your MarTech

What the best MarTech set-up is will depend on your individual situation. Not every company has the luxury to start with a blank canvas. It is very important to recognise the different strengths of the tools in your martech stack. Key component is the reach / overlap and how the data comes together. I have written about the differences between CDP and other data systems before. A CDP is a possible answer on the demands of these times where a DMP doesn't create a persistent and full customer profile.

This table from the Navigating MarTech by Lexer, puts the differences side-by-side and identified 5 scales. Lets quickly go through them one by one.


Factor 1. Human data
CDPs data is unified to a person – it's personal identifiable information and gives as close to a full view of that individual customer as possible. A CDP comes pre-packaged with unification and identity resolution. Which allows them to turn complex, unconnected, sometimes messy data into combined customer profiles with attributes.

Factor 2. Data lifetime
CDPs can store data without any strict 90 or 60 day lifetime. This could in theory be indefinitely, allowing you to keep the record. This in contrast with DMPs, that typically delete (anonymous) cookie data after a certain time.

Factor 3. Analytics included
Not all, but some CDPs provide analytics functionality and insight as a part of their tooling. This category is called analytic CDPs. In addition to the data unification, they for instance allow you to segment, visualise, predict, attribute and budget. Which of these are in the CDP, depends on the beast you are dealing with.

Factor 4. Speed to activate
A CDP can act in real-time. Not over-night, not with substantial delays, not near-time. The users can create audience selections and analyse in real-time and with the most up to date data available. A side-note, of course, is that the data sources also need to be able to pass on the data, or feed them back into the system so they don't create the bottle neck.
.
Factor 5. Orchestration
The ability to act in real- time allows you to personalise messages based on the latest data you have on any customer. This happens in delivery systems and channels like email or push. The promise is that the marketer has direct access to the data, so it is not just about automated campaigns. This is what I like to call data accessibility by design. The CDP allows you to coordinate the messaging and data flow in combination with other systems

3. Adding more than first party customer data

Once customer profiles are brought together, you can be missing key pieces of information that could unlock greater value. In some cases the additional insights can be hiding in plain sight by combining the customer preferences and profiles in a CDP with product catalogue insights. Using 3rd party data can help uncover deeper insight, create powerful segments and ultimately deliver better results.
.
4. Actionable data Plan
.
For most the challenge isn't really about the technology, they strive to craft the appropriate strategy and onboarding the right capabilities. A fine data driven success diner pairs strategy and technology.
As with any piece of MarTech, the value is created by using it. Only when the data and insights are put to work, something great happens. A CDP promises to let you execute more targeted campaigns, and increase metrics like conversions, engagement and customer lifetime value.
The trick is to move the "And what's next?" all the way to the front. One way to make sure the initial implementation is valuable, to create one or more strong business cases that describes the data needed, centralised and how it will be of value.


.
Focus the data efforts where it matters most, clarify priorities, and chart a course for reaching your goals. At the end you will be able to draw a straight line from the data to business goals and KPIs, then flame up a big fat cigar.
Hear more from the DMA