Future of customer engagement - Roundtable
18 Sep 2018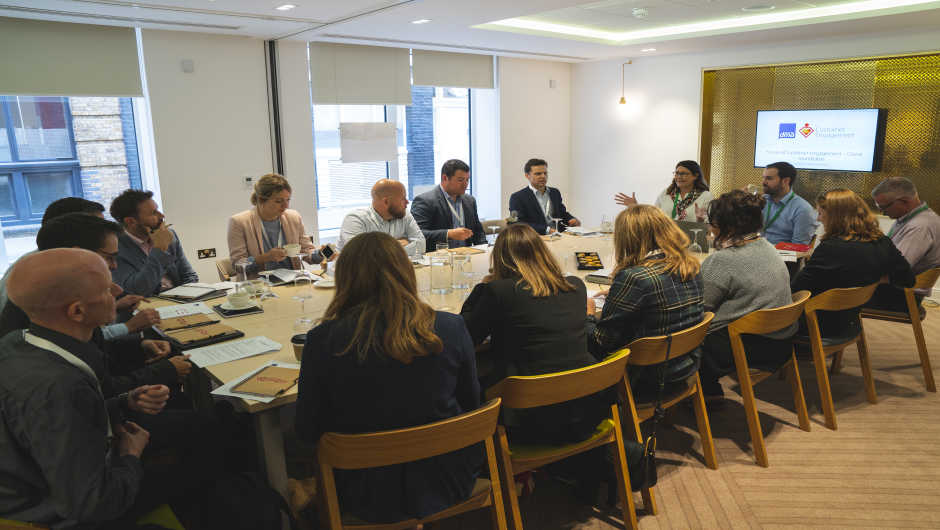 From immersive technology to engineered empathy, the DMA brought together 15 senior marketing professionals to share their views in our Future of customer engagement roundtable session.
A room full of senior marketing know-how and one hot topic.
Following on from a morning of enlightening talks at our Customer Engagement 2018 flagship event, we invited 15 of the industry's brightest sparks to our roundtable session, where they got their teeth to stuck into the future of customer engagement.
Opening proceedings, Josh McBain, director of consultancy, Foresight Factory shared the 5 key trends his team were talking to their customers about:
Immersive technology - How VR and AR will offer ever more personalise experiences
Engineered empathy - A future in which emotional intelligence becomes a core commercial expectation
Branding bypass - Anticipation of the rise of smart systems with the availability to shop, search and even decide for customers
Latchkey loyalty - The rising appeal of commitment-lite commercial choices, and a future where flexibility and control are core drivers of long term loyalty
Pursuit of real - Consumers are setting off on an identity quest, and brands are invited along for the ride
Presenting these critical predictions, Josh touched on everything from technology trying to understand customer moods with the likes of Querlo coming to the forefront, to the growing interest in auto-replenishment, drawing on brands like Boxed.
How will these trends change the way we do business?
Kicking things off, chair, Pipa Unsworth, MD of VerveIQ, asked 'how do you see these trends impacting customer acquisition and influencing business decisions?'
'If trends like these don't get used in the right way, they are simply a distraction, rather than a valuable tool to your business' said Nick Whitnell, head of marketing, LV=.
The discussion moved onto using this technology to connect, 'Use the technology that you can do good business with,' said Sharon Heggarty, marketing director, Virgin Media 'and not just technology for technology's sake.'
'It's easy to get excited about it, but does it genuinely solve a business problem?' continued Claire Willetts, brand director and head of customer experience, Virgin.
Nicola Young, group marketing director, NEC Group went on to say 'technology is changing – but then, surely isn't this just another form of problem solving? Marketing hasn't changed in that sense.'
Making sense of where to invest and bringing teams together
'The partnership with finance is crucial' spoke Alison Sagar, senior director, UK and head of consumer, Paypal. 'As a business, you need to help them understand about building trust with the consumer, because investment in customer relationships is fundamentally a great marketing investment.'
'We have different people using different data in different parts of the company – it is so important to bring these together under one umbrella' from Richard Moody, head of supporter engagement, Crisis.
Julie Dixon, head of marketing and communications, Transport for London went on to say 'we have innovation days with app developers, bigger organisations – we're opening doors and making people talk to one another.'
Building trust – and keeping it
On the pursuit of real, Matt West, chief marketing officer, Feefo said 'it's amazing how far you can take your customers on these journeys. They feel really good if they believe in you as a brand and feel like they are helping you.'
Speaking on data, Claire questioned what companies are asking for: 'we need to ask ourselves why we want this data and what we're going to do with it!'
And the future?
'Keep learning' said chair, Pipa 'it hurts my brain but it's so necessary.'
Spencer Clarke, director of member and B2B marketing, Nationwide stated 'The people will always be your brand. With regards to technology, just because you can doesn't mean you should.'
'Authenticity is key.' from Virgin's Sharon. 'Brand consideration is everything – new technology doesn't mean the rules of marketing will change.'
Wrapping up with a final comment from Ian Oxley, head of membership recruitment, National Trust: 'Essentially, it's about making people's lives you come into contact with better; from buying jam to talking about your pension, isn't it all just about making the human experience better than it was before?'
Quite.
Hear more from the DMA