Black Friday Trends 2016 : The Busiest Online Shopping Day Of The Year
27 Oct 2016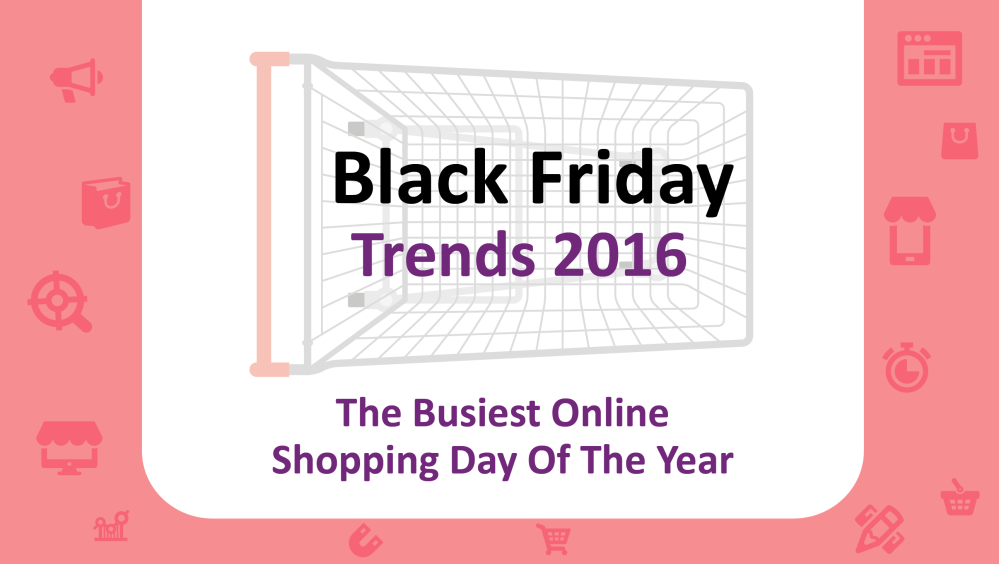 Black Friday Trends 2016 : The Busiest Online Shopping Day Of The Year
Black Friday is a key date for retailers, and as the busiest online shopping day of the year, it's certainly one Ecommerce retailers can't ignore. But how do you make sure you're prepared and make the most of the opportunities this day can bring? Read on to discover our trends and predictions for Black Friday 2016.
Be Prepared For Black Friday: 25th November 2016
Black Friday Retail and Sales Predictions 2016:
The best indicator we have for predicting this year's Black Friday sales is what happened last year. 2015 brought a record breaking Black Friday for the UK and US, and you can see a full run down of what happened in our online shopping over Christmas 2015 round up. Here are the key headlines that are likely to shape Black Friday in 2016:
2015 saw less consumers hitting the shops for Black Friday deals and more browsing the web.
UK consumers spent record levels of over £1 billion online in 2015.
US online sales increased 21.5% year on year.
Mobile traffic overtook desktop for the first time.
2016 Predictions:
Over the past few years, Ecommerce and Mcommerce have been growing at a great pace. In 2016, with increased mobile usage and improvement to mobile sites, this is set to continue. Mobile shopping allows the convenience to grab the best deals immediately, and with consumer confidence in mobile shopping growing it's likely to be a record breaking Black Friday as far as Mcommerce is concerned. So in 2016:
Both Ecommerce and Mcommerce will continue to grow.
Salmon predicts a record breaking £5 billion UK online spend from 24th – 28th November.
Ecommerce Tips for 2016:
If you want to make the most of the opportunities Black Friday has to bring, take a look at our Ecommerce tips for increasing your sales.
Mobile first – make sure your website works smoothly on all mobile devices
Test rigorously – be certain that your website can withstand peak traffic and order levels
Manage stock – negotiate and buy in advance so you don't run out of key items
Black Friday Spending Trends 2016:
We all know that Black Friday is a key date for sales and deals, but what are consumers actually looking to spend their money on? A deal is only desirable when people want the item in question, so it's worth thinking about your product offering and considering which deals will have the most impact.
A survey into gifts consumers intend to buy for the Holiday Season revealed the most popular categories were as follows:
Clothing: 48%
Gift Cards: 46%
Electronics: 36%
Books: 30%
Toys: 32%
Food/Drink: 31%
Money: 29%
Jewellery: 16%
Over the last few years, the jewellery and food & drink categories have been trending upwards, so these trends may continue into 2016.
Black Friday Email Trends 2016:
Now you know what Black Friday has in store, how is it best to get your marketing messages out there? When you're planning Black Friday marketing campaigns it's important to think about the channel you're using. In 2015, email marketing was the leading digital marketing channel for online order generation on Black Friday. Here's how it stacked up:
Email: 25.1%
Organic Search: 21.1%
Paid Search: 13.3%
Social media: 1.7%
Email accounted for over a quarter of online orders. That's powerful, so start thinking about your Black Friday email strategy.
2016 Trends: With this in mind, email marketing is set to be an even bigger trend in 2016.
Email Marketing tips for 2016:
Send early – email open rates are highest on the Monday & Tuesday before Black Friday
Send follow ups – 6-8am is a sweet spot for having your email at the top of the inbox on Black Friday
Design responsive emails – in 2016, 55% of emails are opened on a mobile device, and 57% of online shopping traffic on Black Friday 2015 came from tablets and smartphones
Black Friday Shopping Deal Trends 2016:
What deals will people be looking for on Black Friday? Toys, tech and electronics are always popular categories, but which items are expected to be discounted in 2016? Perhaps these are items you should stock up on if they are part of your product range.
Top Toy Trends For Black Friday 2016:
SelfieMic – kids can create music videos with this selfie-stick cross karaoke mic.
BB-8 – everyone loved BB-8, now they can own this remote controlled Star wars robot.
Fisher Price Codeapillar – a programmable caterpillar for a new generation of coders.

Tech Trends For Black Friday 2016:
Electronics are some of the most popular Black Friday buys, with some huge tech deals seen every year. What can we expect in 2016?
Black Friday predictions for iphone and smartphone deals – older generation iphones and other smartphones are likely to see the biggest discounts, but iphone 7 deals may be up for grabs too
Black Friday ipad and tablet predictions – The best discounts are predicted for iPad Air 2
Black Friday predictions for ps4 and xbox – 2016 Black Friday is set to bring the cheapest ever PS4 & Xbox One deals
Black Friday predictions for tvs – 4k TV deals are predicted to be popular
Black Friday camera predictions – GoPro and drone camera deals will be sought after
Black Friday is the busiest online shopping day of the year. Make sure you compete!
Hear more from the DMA