I'm a Creative
01 May 2021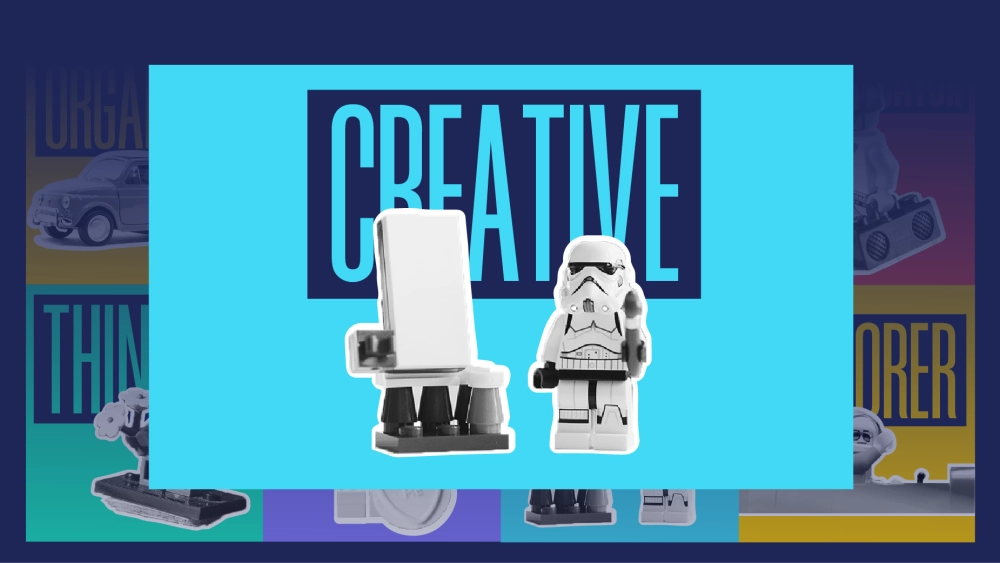 As a creative, you like to stand out from the rest and want a career that allows you to be artistic and original. Your creative thinking ensures you can spot new opportunities, and you come up with a million ideas to find the perfect one.
.
The jobs best suited to you
Junior Designer -------- Copywriter -------- Art Director -------- Conceptual Creative and Designer -------- Digital Growth Executive---Content Strategist
Discover what day-to-day life is like in each role through a video interview with someone currently doing it, along with key details on what it typically entails, its key responsibilities, and what you need to be successful.
.
We can help you get into one of these jobs with DMA Student Membership
Being a DMA Student Member shows employers that you're committed to your professional development and that you're actively seeking to improve your skill set, making you more employable.
For just £3.75 a month you'll:
Get everything you need to jump out from the crowd and shine as a job applicant.
Get free access to the IDM Award in Marketing and the IDM Award in GDPR (usually costing £600), giving you a grounding in the fundamentals of marketing, and all the knowledge you need to be a responsible marketer, two key attributes looked for by employers.
Professionalise your marketing knowledge with real-life learning, curated by DMA's community of award-winning industry professionals.
Build your network via a packed programme of events & programmes led by top industry professionals, connecting you with DMA's community of business-leading professionals who are ready to help you on your career journey.
Discover all of Student Memberships benefits and become one here
.
We'll be adding new job roles and interviews across all six personality types on an ongoing basis. To know when we add new ones, join our mailing list by clicking here.
.
Get ahead by attending DMA Talent programmes, watching & reading DMA content, and completing IDM courses
If you've got a portfolio or at least three pieces of creative work ready to show, our Big Book Crit is not to be missed! Get invaluable, honest, constructive feedback on your work from industry experts - including Creative Directors, Art Directors and Heads of Copy - who've been there, done that, and got the T-shirt.
The next crits will take place in Spring 2022, join our mailing list by clickinng here to know when dates are confirmed.
2. Webinar: Get Ready for a Career in Creative
In this webinar, seasoned Creative Directors, Cordell Burke, Up There, Everywhere and Rajnish Razdan, Riggs and Razdan share their invaluable expertise and advice on the current landscape of the industry, explaining how to start and curate your portfolio, how to pitch your work, and what employers are looking for.
Some Junior Creatives also share their career journeys, showing you how they've navigated their way from education to a blossoming career. Watch it here.
3. Creative Effectiveness in Door Drops
Door Drops should be considered for any omnichannel marketing campaign. Rob Henry, MD of LDM, has reviewed one of the best to grace our doormats in July 2021 from Costco.
Discover what they did so right here.
4. DMA Awards: 2020 Gold Best Design or Art Direction
MRM London and Tommee Tippee scooped the Gold Award for Best Design or Art Direction at 2020's DMA Awards for their campaign, Nipplevision.
See the creative work, with an overview of the campaign and the strategy behind it here.
5. IDM Courses: Creative & Content
An IDM course is a great way to professionalise your knowledge. Take a look at our Creative & Content courses here.
.
What are the other career personalities?
"I'm a Creative" is one of six personality traits you could've come out as when completing the quiz.
Check out the other five personality types below - click them to discover the job roles that are best suited to each:
I'm a Communicator ----------- I'm a Persuader
I'm an Explorer ------------------ I'm a Thinker
Hear more from the DMA