IDM Qualifications for students
01 Jul 2020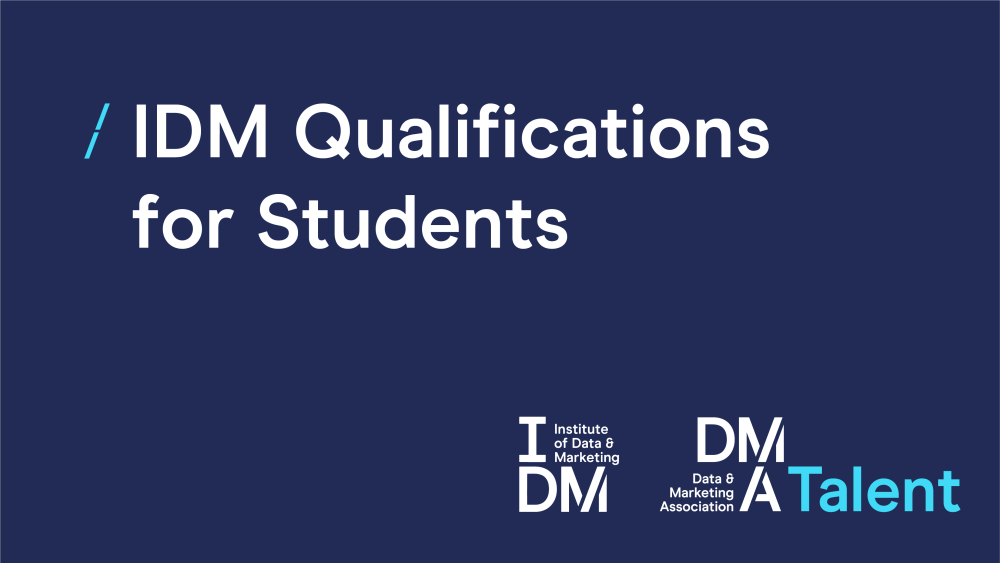 The Institute of Data & Marketing (IDM) – part of the Data & Marketing Association (DMA) – advances the careers of marketers through world-class learning.
For over 30 years, the IDM has driven marketing excellence through a totally customer-centric learning approach, helping over 100,000 marketers get better at what they do. IDM qualifications are well recognised by employers in the marketing industry.
We have partnered with over 20 universities and colleges to offer students taking an IDM accredited course the opportunity to achieve the IDM Certificate in Digital and Data Driven Marketing qualification by taking a 2-hour online exam. The Certificate reflects IDM professional qualifications taken by marketers in the workplace and demonstrates to potential employers that you have the knowledge you need to step onto the marketing career ladder, putting you ahead of the competition in the job marketplace.
Anyone studying an IDM accredited course at university or college is eligible to sit the exam as the IDM has reviewed your course syllabus to make sure you are learning everything you need in order to sit and pass the exam. We support our accredited centres to deliver the content, providing access to our online material, industry guides and DMA Award winning case studies.
The cost of the exam is £125, and this will include a year's DMA Student Membership, which gives you access to programmes such as our Creative Data Academy, monthly online sessions with marketing professionals and lots of material to support your studies online. In addition, we will give you the opportunity to take another IDM Online qualification in your own time - the IDM Award in GDPR – which is vital to demonstrate you're a responsible marketer in the making.
All of this, including the Certificate exam, is available to you online and therefore accessible anywhere in the UK, whatever the coronavirus restrictions.
Our university and college partners:
Anglia Ruskin University
Bournemouth University
De Montfort University
Edinburgh Napier University
Kingston College
Liverpool John Moores University
London College of Communications
Manchester Metropolitan University
Newcastle University
Northumbria University
Oxford Brookes University
Regent's University
Robert Gordon University
Roehampton University
Southampton Solent University
Teesside University International Business School
University of Bristol
University of Central Lancashire
University of Greenwich
University of Huddersfield
University of Plymouth
University of South Wales
University of Southampton
University of Westminster
University of East London
If you are studying a marketing-related course at the above centres and want to find out if your course is included in the IDM accreditation, please ask your course tutor.
Register for the IDM Certificate in Digital and Data Driven Marketing online exam by clicking here
Exams take place on either 19 May, 8 June, or 24 November 2022, depending on where you are studying.
If you are a university or college tutor or course leader and would like to find out how you can gain IDM accreditation for your course, please contact kate.burnett@dma.org.uk.
Hear more from the DMA