Apprenticeships
04 Feb 2021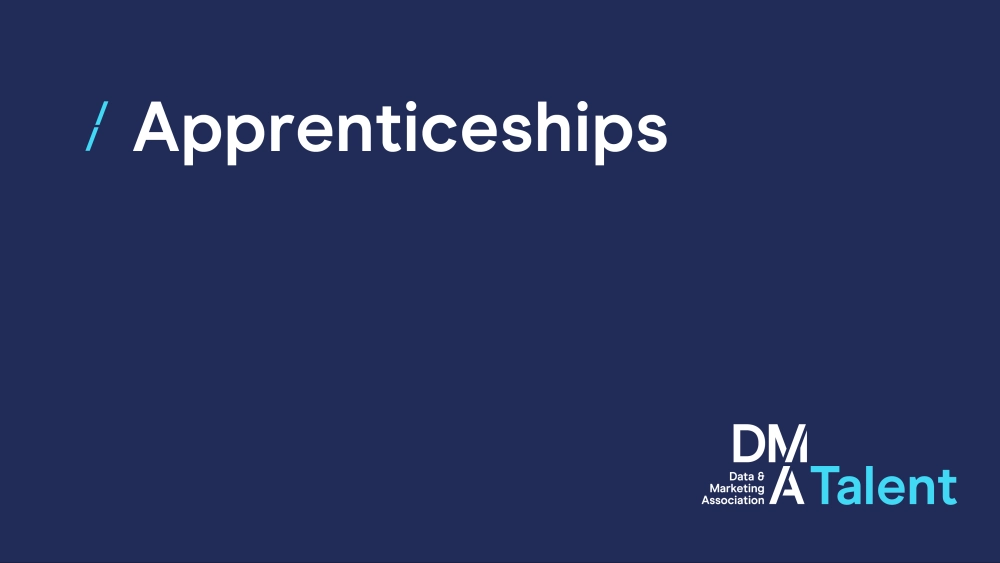 One of our main objectives is to generate a pipeline of diverse talent for the DMA's Member companies and the wider data and marketing industry. To do this, we need to ensure there is a variety of entry points into the industry, so that it is as open and inclusive as possible.
Apprenticeships provide an opportunity for young people to enter the industry straight from school or college, gaining work experience and building skills as they learn. By hiring apprentices, businesses benefit from fresh talent who bring new ideas and energy into their teams who can grow into their role, as well as broadening the diversity of their workforce.
Coronavirus is having a big impact on the employment of young people. 596,000 16–24-year-olds were unemployed in August-October 2020, an increase of 29,000 from the previous quarter, and an increase of 124,000 from the year before.
History tells us that while recessions naturally drive-up unemployment across the population, the effects are more severe for those who have only recently left full-time education.
We should do all we can to keep the talent pipeline flowing, hiring at entry level roles, as we'll need young people coming into our businesses to stay relevant with our customers in the future. Apprenticeships are a great route for businesses to hire young talent into their organisations and future-proof their skills pipeline.
The UK government are incentivising employers to take on apprentices with a £1,000 payment being made for each 16–18-year-old apprentice employed. In addition, between 1st August 2020 and 31st March 2021 a further £2,000 payment is being offered to companies taking on apprentices aged 16 to 24.
More details about the government's apprenticeship funding can be found here
Apprenticeship Research Report
The DM Trust provided funding for us to research how some of our members are using the apprenticeship system, what their experiences are and how we can offer support.
Download the report, Apprenticeships: The Hidden Potential, here.
"The need to support the career aspirations of younger people has never been greater. The DM Trust is committed to enabling programmes aimed at creating opportunities for all to join the data driven marketing sector.
The apprenticeship initiative at the DMA is a great example of this, creating opportunities for young people and developing and nurturing the skills base that will ensure our industry's future".
Matthew Housden, Chair - DM Trust
Webinar: Improving Apprenticeships in the Data and Marketing Industry
The 12 February saw us delved into the world of apprentices, with insights from Merkle, Hidden and The JGA Group. We discussed the findings of the research report, and how we can work together to improve the apprenticeship experience for both employers and apprentices.
DMA Student Membership
We'll be launching our new DMA Student Membership in February 2021, and this will be available to apprentices for the duration of their apprenticeship, enabling them to take advantage of IDM learning content with free access to the IDM Award in GDPR (usually £594) as well as DMA webinars, awards case studies and industry guides, and exclusive Student Member events.
If you have questions about apprenticeships, please get in touch with Kate Burnett, General Manager of DMA Talent: kate.burnett@dma.org.uk.
Hear more from the DMA