Neurodiversity Initiative
01 Jul 2020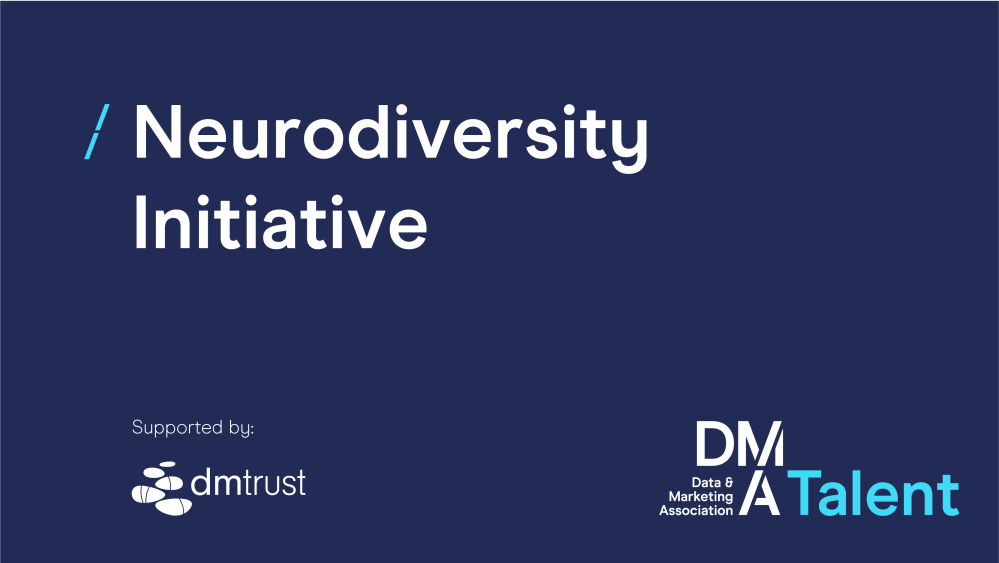 Workshop dates & locations
We're yet to set a date for our next workshop, which will be run online via Zoom.
The workshops are free for DMA and IDM members and £99 (+VAT) for non members..
If you're interested in attending or would like to find out more, please email James.Dredge@dma.org.uk.
Employer Guides
If we want to have the best people in the right roles, we must support and develop the career opportunities for a diverse workforce.
Working with leading consultants, health experts, brands, and industry figures, we're creating a library of neurodiversity employer guides to help employers understand each condition and the adjustments they can make to ensure their recruitment processes and workplace environments are neurodiverse friendly.
​So far, we've created guides for autism and dyslexia, take a look by clicking the links below.
Why are DMA Talent leading this initiative?
According to the National Autistic Society there are around 700,000 people on the autism spectrum in the UK, of those, just 16% of autistic adults are in full-time, paid employment. With DMA Talent's help and training, businesses can learn how to become more 'neurodiverse friendly', ensuring they are able to choose from a wider talent pool and seek out the most capable individuals for their roles.
What are DMA Talent's main aims?
We want to educate employers about how making straightforward adjustments to business environments will enable them to tap into this underutilised and highly talented pool of people. In addition, more has to be done by the data and marketing industries to support neurodiverse individuals to ensure they feel welcome and are encouraged to take up roles where their specialised skills will be valued.
Why now?
DMA Talent have the support from several leading experts that are able to help spearhead this initiative.
Additionally, Matthew Trerise, who has 15 years' experience working with individuals on the autism spectrum, will be leading the training workshops. Since 2009, he has worked in a specialised NHS diagnostic service to help develop their diagnostic programme and assist businesses with their training. He has advised multiple employers on alterations they should make to their recruitment procedures and working environment to be 'autism friendly'..
Meet Matt in our short series of videos:
Find out more information about the initiative:
Find out more about what autism is:
Step 1: Engage
Attend one of our free-to-attend workshops run by a specialist in autism spectrum conditions. Explore what autism is, neurodiversity in the workplace and recruitment & retention of neurodiverse employees..
Who should attend?
Those who are actively seeking to recruit and retain the most talented employees, and are prepared to take away their learnings and implement changes to ensure their working environment is neuro-diverse friendly. If you're passionate to effect change, we're passionate about you!
The training sessions will be most suited for individuals in HR/Talent/Diversity, or those with influence over internal processes.
Contact James Dredge if you have any questions..
Step 2: Review
Is your business operating in an inclusive way?
Taking the learnings from the workshops, consider if making these adjustments are feasible and how these would work within your business.
We'll help you consider: which roles neurodiverse employees would suit, adapting recruitment and internal processes, the physical working environment, preparing colleagues etc..
Step 3: Action
Make your business more neurodiverse friendly.
We understand making these adjustments isn't going to be an overnight process. We'll help guide you on the next steps to action this change in your business.
If this is something you're particularly passionate about, we'll be looking for help to develop a framework following the training sessions..
Louise Calvert - Propositions Development Manager, Direct Line Group
"I really liked the fact that Matt Trerise had loads of experience and so really knows what he's talking about. He gave a really human and real view of autism – quite often it feels like there's a bit of a disconnect between the theory and the people involved, which wasn't the case. It's also really nice to learn new things and work with different people who are also passionate about changing things for the better."..
Email James Dredge for more information
Partner:
Hear more from the DMA