Neurodiversity Initiative
01 Jul 2020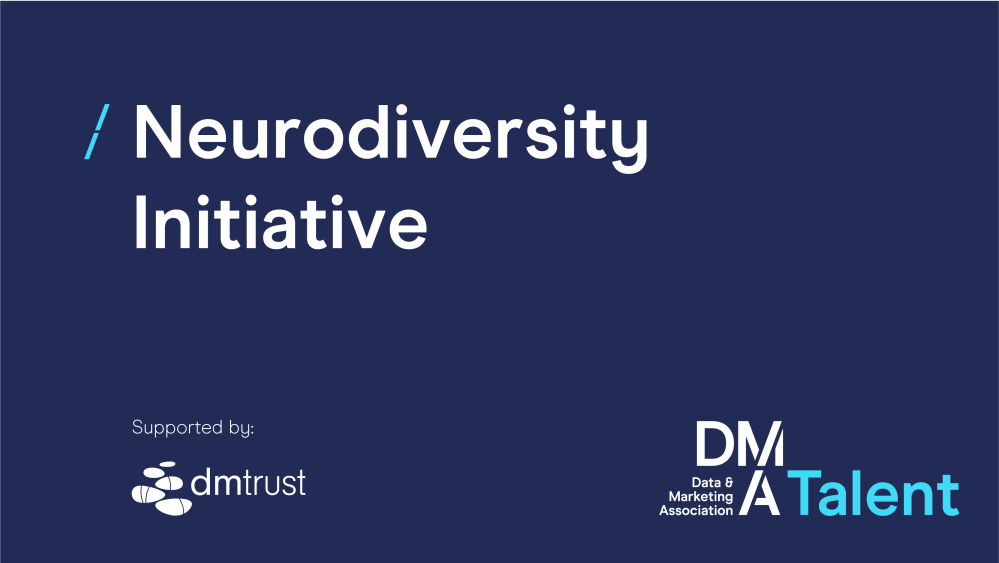 What is the Neurodiversity Initiative?
DMA Talent's Neurodiversity Initiative has offered guidance to hundreds of organisations, large and small, since 2018 – helping them to attract and support a diverse workforce. Using insights from neurodiversity consultants, NHS health experts, brands, and leading industry figures, some with neurodevelopmental conditions themselves, the initiative has expanded and grown from strength to strength.
While our training and guidance have been developed to assist the creative, data, and marketing industries, much of the content is pertinent for all organisations and sectors.
Employer guides
Working with leading consultants, health experts, brands, and industry figures, we're creating a library of neurodiversity employer guides to help employers understand each condition and the adjustments they can make to ensure their recruitment processes and workplace environments are neurodiverse friendly.
​So far, we've created guides for ADHD, autism and dyslexia, take a look by clicking the links below.
Workshop dates & locations
We currently have no employer workshops scheduled, when we do we'll list the dates on this page.
The workshops are free for DMA and IDM Members and £99 (+VAT) for non-members.
During the half day workshop session, you'll explore:
What neurodiversity is
Why organisations need to become more neurodiverse-friendly
Recommended adjustments for supporting neurodiverse talent, from job advertisements and recruitment tips, to line management and communication advice
If you're interested in attending or would like to find out more, please email James.Dredge@dma.org.uk.
Who should attend?
The workshops are most suited to individuals in HR/OH/Talent/D&I roles, however, anyone who manages or supports other employees should attend.
A diverse, skilled workforce can build better business outcomes through innovation, collaboration, loyalty, and a strong sense of community.
If we want to have the best people in the right roles, we must support and develop the career opportunities for a diverse workforce.
What are DMA Talent's main aims?
We want to educate employers about how making straightforward adjustments to business environments will enable them to tap into this underutilised and highly talented pool of people.
This year, in addition to the DM Trust, we have partnered with organisations like Make A Difference (aka MAD World) to support mental health awareness for people with neurodevelopmental conditions, as well as our online training workshops on reasonable adjustments that employers can make to recruitment processes, the workplace environment, and support networks.
Our experts
DMA Talent have the support from several leading experts that are able to help spearhead this initiative.
Matthew Trerise: Autism & Neurodiversity Consultant, Training & Liaison Lead for Bristol Autism Spectrum Service
Matthew Trerise has supported people with autism for over 15 years in a wide range of settings ranging from residential care homes and hospitals, to the more general community, helping them to obtain and maintain employment. Since 2009, when the service was first commissioned, he has been the Training & Liaison Lead for an NHS specialist autism diagnostic service in Bristol for adults. Offering specialist training and consultation to professionals working across the care pathway, and taking a leading role in developing post- diagnostic support services for adults with autism. He has advised many employers, including HMRC, and Avon & Somerset Police, on changes they should make to be more autism and neurodiverse friendly in the workplace.
Katherine Kindersley: Director, Dyslexia Assessment & Neurodiversity Consultancy
Katherine Kindersley is the director of Dyslexia Assessment & Consultancy (DAC), an organisation which has long specialised in working with adults in employment. DAC works with private and public companies, government organisations, as well as individuals, providing assessment, training, job skills coaching and advice on reasonable adjustments. Katherine and her team offer training courses for professionals on employment consultancy work and for managers on 'hidden' disability and neurodiversity awareness.
Meet our trainers:
Find out more information about the initiative:
Find out more about what autism is:
Step 1: Engage
Attend one of our workshops run by a specialist. Explore what neurodiversity is and how organisations can become more neurodiverse-friendly by making reasonable adjustments.
Step 2: Review
Is your business operating in an inclusive way?
Taking the learnings from the workshops, consider if making these adjustments are feasible and how these would work within your business.
Step 3: Action
Make your business more neurodiverse-friendly.
We understand making these adjustments isn't going to be an overnight process. We'll help guide you on the next steps to action this change in your business.
Email James Dredge for more information.
Louise Calvert - Propositions Development Manager, Direct Line Group
"I really liked the fact that Matt Trerise had loads of experience and so really knows what he's talking about. He gave a really human and real view of autism – quite often it feels like there's a bit of a disconnect between the theory and the people involved, which wasn't the case. It's also really nice to learn new things and work with different people who are also passionate about changing things for the better.".
Partner:
Hear more from the DMA