Apprenticeships: The Hidden Potential
08 Feb 2021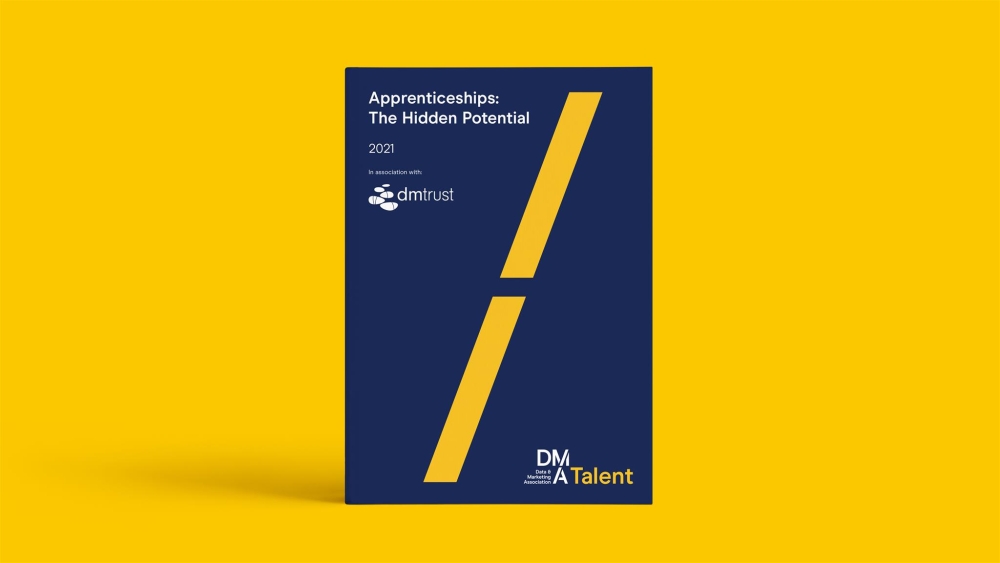 Apprenticeships should be an important part of the talent strategy for the data and marketing industry, driven by the boardroom so they become embedded into the DNA of a business. They offer the opportunity for people to start their career, supported by training on a recognised scheme. Delivered in the right way, they can create a skilled and committed workforce.
Supported by DM Trust, DMA Talent have produced a research report on the state of apprenticeships for the data and marketing industry, which reveals key insights into what is limiting apprenticeship uptake, as well as the opportunities that they can bring to an organisation.
We interviewed DMA Members about their usage of apprenticeships, to find out what was working well, what challenges they are facing, and how the DMA can use its learning offering through the IDM, its lobbying activities, and its network to support both apprentices and companies in the delivery of their apprenticeship programmes.
Some of the key benefits of employing an apprentice are:
Diversifying talent, better representing UK society and customers
Gaining fresh perspectives of people from different backgrounds
A 'clean slate' - no bad habits - and the reward of helping someone grow into a role
Developing a more capable workforce, complete with specialist skills for the business
Satisfaction of implementing a new recruitment and training framework
"Apprenticeship programmes have the potential of making the talent within an organisation more skilled and diverse, which will help our industry become better representative of our customers and UK society. In addition, a diverse talent pool will bring fresh perspectives to a business while helping them to support their local community." - Kate Burnett, General Manager of DMA Talent
We also identified some challenges which include:
Managing the balance between work and study time
Working with training providers
Inflexibility of the system
The report goes on to look at what help is needed and what businesses, the government and the DMA can do to make apprenticeships more successful.
"The need to support the career aspirations of younger people has never been greater. The DM Trust is committed to enabling programmes aimed at creating opportunities for all to join the data driven marketing sector. The apprenticeship initiative at the DMA is a great example of this, creating opportunities for young people and developing and nurturing the skills base that will ensure our industry's future". - Matthew Housden, Chair - DM Trust
.
Webinar: Improving Apprenticeships in the Data and Marketing Industry
Join us on Friday 12 February from 10:00 – 11:00 as we discuss the findings of the research report, with insights from Merkle, Hidden and The JGA Group, a leading apprenticeship provider.
We'll explore how we can work together to improve the apprenticeship experience for both employers and apprentices.
Find out more and book your free place here
.
If you have questions about apprenticeships, please get in touch, here.
Hear more from the DMA