DMA Partner with The JGA Group to Increase Apprenticeships in Marketing
10 Feb 2021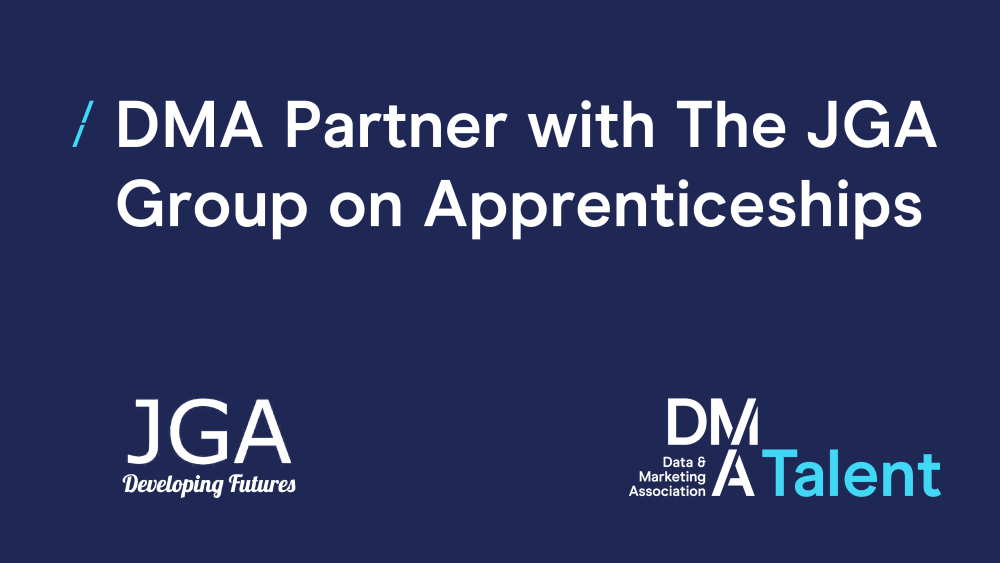 DMA Talent are on a mission to increase the number of new apprenticeship opportunities for young people who want to start a career in data and marketing.
Apprenticeships should be an important part of recruitment into the industry. Alongside raising the profile of apprenticeships with young people, we need to ensure apprentices have the right training in place to complement their jobs, that it is relevant and builds their skills and confidence.
A key part of that is finding the right training provider to deliver your apprenticeship training. DMA Talent are extremely proud to be partnering with The JGA Group to deliver apprenticeships that reflect the needs of DMA Members.
The JGA Group is a well-established and fast-growing independent training provider focused on marketing and communications apprenticeships. In January 2021 86% of employers rated them 'excellent' or 'good' and their official retention rate is 89%. JGA provide quality and compliance and are rated 'Good' by Ofsted. Their tutors and coaches are not simply academics, but have current experience in marketing roles.
Promoting diversity is a key objective for the marketing sector. JGA strongly supports these principles and was named Training Provider of the Year in the 2020 BAME Apprenticeship Awards.
From March 2021, apprentices on JGA's key marketing apprenticeships (which are listed at the bottom of this page) will be able to access IDM learning as part of their training, take IDM Awards and become Student Members of the DMA. This partnership will enable apprentices to enhance their ongoing professional development and gain additional industry qualifications. They can stay in touch with industry developments and benefit from the additional content and skills activities that DMA Talent provide during their apprenticeship.
Kate Burnett, General Manager of DMA Talent said of the partnership: "Our research into apprenticeships with members found one of the issues to be finding a good training provider to work with for their apprentice. JGA are specialists in marketing and communications apprenticeships and provide a great service for their clients. We're hoping the partnership can really start to drive up the number of marketing apprenticeships."
Richard Goodwin, Managing Director of The JGA Group added, "We have worked super hard to develop what we believe to be the deepest range of marketing and communications apprenticeships in the country, ranging from entry to managerial level. Our client list which stretches from Amazon to the House of Commons. It is amazing to be invited to partner with DMA Talent to make sure that many young people can access high quality marketing skills, knowledge and behaviours."
To find out more about the apprenticeships JGA offer, please click here, or contact JGA's John Riley.
If you have questions about apprenticeships, please get in touch, here.
.
JGA's Marketing Apprenticeships
| | | |
| --- | --- | --- |
| Qualification | Level | Duration |
| | Level 3 | 15-18 months |
| | Level 4 | 15-18 months |
| | Level 6 | 18-24 months |
| | Level 3 | 15-18 months |
| | Level 3 | 12-15 months |
| | Level 3 | 18-24 months |
| | Level 4 | 18-24 months |
| | Level 4 | 12-15 months |
| | Level 3 | 15-18 months |
| | Level 3 | 15-18 months |
| | Level 3 | 15-18 months |
| | Level 3 | 18-24 months |
| | Level 4 | 13-18 months |
Hear more from the DMA