B2B Principles of Partnership Series: Building a Successful Agency-Client Relationship
05 Aug 2021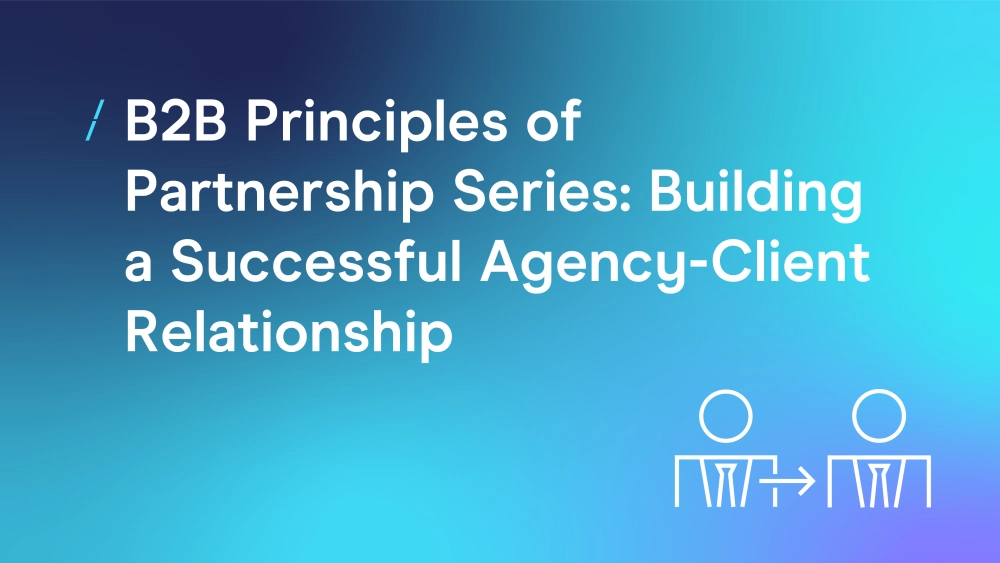 B2B Principles of Partnership Series: Building a Successful Agency-Client Relationship
Marta Perez, DMA Council's Manager
Whether you're agency-side or client-side, it's essential to build a solid partnership from the start. And if you want to stand out from the crowd, you need to go one step further at every stage of your relationship.
Every agency and client dreams of having a successful, long-lasting relationship with one other. Nonetheless, great client-agency relationships are more than just transactional. They are true partnerships where both support one other to achieve their goals. So, how do you make sure you're set up for success from the start?
Recently, the DMA B2B Council participated in a client-agency roundtable discussion to debate the different aspects of growing and maintaining a healthy client-agency relationship.
The session, chaired by Richard Robinson, Chair of the DMA B2B Council, covered:
What it takes to have an exceptional client-agency partnership
Why it's important to create successful relationships
Benefits of strong client-agency relationships, including accelerated growth, effectiveness, and ROI
A huge thank you to all attendees who contributed their expertise to the roundtable discussion:
Richard Robinson, General Manager, Leadfamly
Scott Stockwell, Editor in Chief, EMA, IBM
Andrew Buckley, Executive Vice President, Mastercard
Claire Wood, Chief of Staff and Marketing Services Director, Central Business Services, Deloitte
Chris Wilson, Managing Director, Earnest
Simon Hall, Managing Director & Founder, NextGen Marketing Solutions
Shane Redding, Owner, Think Direct
Helen Brougham, Marketing Operations Manager, Virgin Media O2
Jason Talbot, Managing Director, The Crocodile
Alex Granat, Director, Livewire Data Strategy Consultancy
Mario Vafeas, Associate Professor in Marketing, Bristol Business School
Kaouther Kooli, Senior Lecturer in Marketing, Bournemouth University
Donna McGrory, Growth Director, Omobono
The DMA B2B Council is continuously working on building a better environment for better B2B practice. If you would like to learn more about B2B marketing or contribute to the discussion, please get in touch with councils@dma.org.uk.
The B2B Principles of Partnership (B2B PoP) is a free resource available to everyone. It's used as a guide to build strong agency-client partnerships and can be found at https://b2bpop.org/. For questions, comments, or to add your support to the B2B Code of Conduct, please contact teresa@themagnusclub.com.
Hear more from the DMA