Investigating Email: What Does Where You Live Says About Your Email Behaviour?
25 Jun 2020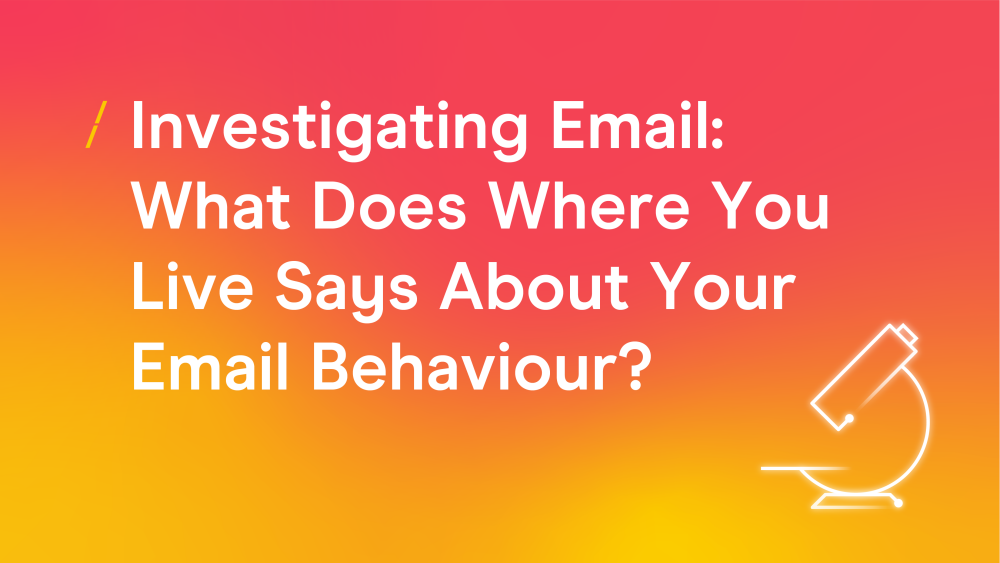 As part of the 'Consumer Email Tracker 2020' report, sponsored by Pure360, we asked people across the UK about how their email addresses, the messages they receive from brands and their preferences. But what impact does where you live have on these insights? Read on to find out.
As well as asking respondents where in the UK they live, in this year's research we asked an additional question about the area too: whether this was 'Urban', 'Suburban', 'Small town' or 'Rural'. The insights offered some unique perspectives marketers should be aware of.
Email Ownership
Those living exclusively in 'Urban' areas are significantly more likely to check both their personal emails inbox and their junk/spam folder at least every hour (41% and 17% respectively). While interestingly the opposite is the case for 'Suburban' consumers, just a third (33%) of who check their email hourly and one in ten (9%) when it comes to their junk/spam.
How often do you check the main email inbox you use to receive personal messages?

It may not come as a huge surprise that those living in rural and suburban areas are less likely to have more than one – Those with 2 or more is just 11% for those in 'Rural/Small town' areas, compared to 16% for 'Urban/Suburban'.
Meanwhile, there's also a regional difference in the number of brands that people are signed up to receive emails from. Consumers in the midlands/east of England (9.0) and Scotland or Northern Irelands (8.9) are significantly less likely to be signed up – compared to the overall average of 9.9.
Consumers living in 'Rural/Small town' are also more likely to not use one of the major inbox providers, such as Google, Microsoft or Verizon. Over one in ten (12%) of people from more rural areas chose 'Other' as the provider of their primary email address, compared to just 7% for urbanites. There are more insights into what a customers' inbox provider might say about them in the previous 'Investigating Email: So, What Does a Gmail User Actually Look Like?' article.
Content and Actions
When we asked consumers about how useful they consider the emails they receive from brands are, those living in 'Rural/Small town' areas were significantly less likely to believe these were useful.
This is also where we saw some difference in regional preferences too, as customers based in the north of England are more likely to say they enjoy receiving 'Competitions' (45%) and 'Product reviews, user guides or other product/service-related information' (41%). Customers from Scotland are also less likely to report liking 'Advice, articles, information, tips or tutorials' (27%).
Once they have received an email they find interesting, there are some differences in the actions they're most likely to take too. Customers living in more urban areas are more likely to go to the brand's physical store (11%), social media site (5%) or share the email (4%) when they receive 'Discounts, offers or sales' – compared to the average and those in more rural areas.
In addition, when they receive 'Advice, information, new products/services or tutorials' content, these more urban consumers are more likely to go to comparison sites (11%), a competitor's website (10%), the brands' social media site (6%) or simply call the company (5%).
If you see something you want to buy in an email on your smartphone (received in your personal inbox), which of the following are you most likely to do?

When customers see something they want to buy in an email, specifically, when they're on their smartphone, the most likely next step is to visit the shop/website on that device. However, there are some notable differences between urban and rural areas. For example, more urban area customers are likely to go ahead and make the purchase (15%) or add it to their digital cart (7%), while those in more rural areas prefer to go to an app on their phone (17%).
Unsubscribes
Lastly, when it comes to the potential end of the email relationship between a brand and customer, customers from more rural areas are more likely to cite too many emails (61%) and that the information is no longer relevant to them (43%) as the main reason.
What makes you unsubscribe from a brand/shop/site's emails?

There were also notable differences regionally, with customers in the north of England more likely to cite receiving too many emails (59%) and not remembering having signed up (43%). On the other hand, customers in London and the south east are less likely to say they don't recall signing up (33%).
In terms of how customers unsubscribe, those in 'Rural/Small town' areas are more likely to simply use the unsubscribe button in the email they receive (43%). 'Urban/suburban' customers, on the other hand, are more likely to take the nuclear option of changing their email address entirely (6%).
Customers from more rural areas are also more likely to expect to ever receive another email from a brand once they're hit unsubscribe (57%). Those from more urban areas are significantly more open to being taken to a survey about why they're leaving (11%) and also appear to be slightly more understanding that they may still receive transactional emails (19%).
After clicking to unsubscribe from a brand/shop/site's emails, what do you typically prefer to happen?

Hear more from the DMA