Regulation Hub Update - June 2021
16 Jun 2021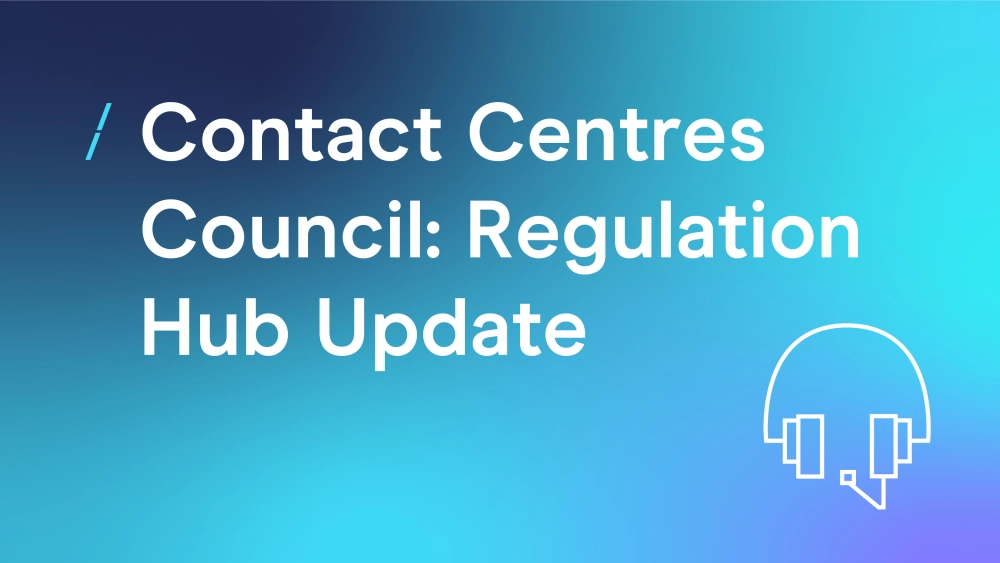 This article is written by Rachel Goddard and Steve Sullivan, the Deputy Chair of the Contact Centre Council.
The FCA consults on 'Consumer Duty' to strengthen protection for consumers in financial markets
CP21/13: A new Consumer Duty | FCA
Released on 14 May 2021, the FCA has set out plans for a new Consumer Duty which will set a higher level of consumer protection in retail financial markets. The FCA seeks to expand its existing rules and principles to ensure firms provide a higher level of protection consistently that enable consumers to get good outcomes. The FCA want to achieve a shift in culture and behaviours.
Sheldon Mills, Executive Direct of Consumers and Competition at the FCA said 'we want firms to be putting themselves in the shoes of the consumers and asking, 'would I be happy to be treated the way I treat my customers?' We (the FCA) want consumers to be able to advance their financial wellbeing and build positive futures for themselves and their families.
The Consumer Duty will be underpinned by a suite of rules and guidance for firms which will provide more detailed expectations for a firm's conduct in relation to its communications, products and services, customer service and price and value as well as introducing the consumer principle. There will also be cross-cutting rules which will require three key behaviours from firms. These include taking all reasonable steps to avoid foreseeable harm to consumers, taking all reasonable steps to enable customers to pursue their financial objectives and to act in good faith.
For those in the contact centre industry, it is worth highlighting expectations around service with the FCA outlining the following as a practice that causes poor outcomes. 'Poor customer service that hinders the consumer from taking timely action to manage their financial affairs and making use of products and services or increases their costs in doing so'.
The consultation is a must-read for anyone in financial services and may benefit across industries to demonstrate how the bar is being set by this regulator. The FCA is collating responses to the consultation which closes at the end of July. The aim of the FCA is to implement new rules by July 2022.
(UK only) delay to Strong Customer Authentication Promises eCommerce Payments Confusion
The FCA has announced another delay - to 14th March 2022 - in the implementation of Strong Customer Authentication (SCA) for online card-based payments.
This may be good news and offer a bit more breathing space for UK eCommerce sellers and their contact centres, but not if they have customers in Europe. The EU's SCA implementation date remains 31st December this year.
So, online vendors need to work out how to manage newly differentiated processes and customer experiences in a way that minimises revenue loss and customer defection from the 1st of January.
This month, the ICO has shown that no one is safe from enforcement action and fines if they break the PECR rules.
There have been an unprecedented 6 fines since May's Update. All fined firms were using illegal direct marketing techniques; 2 of them through live calling from their contact centres:
American Express has been fined £90,000 by the ICO for including marketing messages and promotional materials in over 4 million emails sent to Amex card members who had opted out of marketing communications.
Tested.Me ("Our mission is to help you share your health data more easily and securely") Covid-era tech startup, has been fined a relatively modest £8,000 for disregarding the PECR rules regarding marketing. The firm used the email contact data it had acquired from consumers using its QR codes to share and demonstrate their Covid status to market Tested.Me's "Digital Health Passport App".
The Conservative Party has been fined £10,000 for sending 51 marketing emails to people who did not want to receive them, in the wake of the last election. You can write your own jokes for this one.
Colour Car Sales offers car finance, under a variety of brands. FCA-regulated Colour has been fined £170,000 for sending marketing text messages without proper consent.
Telemarketing firm LTH of Cardiff made over 1.4 million funeral plan sales calls to consumers in 2019-20, all of whose numbers were registered with the TPS (Telephone Preference Service). LTH – which the ICO also felt was targeting vulnerable customers – has been fined £145,000 for disregarding the TPS and breaking the PECR rules.
Similarly, Essex-based Solarwave has been fined £100,000 for making over 70,000 calls promoting its solar panel maintenance services (who knew?) to numbers registered with the TPS.
Call waiting times double in 2020
Ofcom research shows a doubling in call waiting times for landline, broadband and mobile customers in 2020 compared to 2019. Whether levels of service have yet reverted to pre-Covid levels remains to be seen.
Ofcom finds vulnerable customers' experiences are still inconsistent
Ofcom's latest research has shown that although many mobile, TV, landline and broadband firms are doing a better job of supporting customers in vulnerable states, these customers' experiences are inconsistent:
Clearly, these challenges aren't peculiar to the communication's sector and will be familiar to all ethical contact centre operations. Irrespective of your business sector, if you're facing these challenges why not engage with the DMA's Contact Centre Council ccc@dma.org.uk and have a look at the raft of information and guidance the DMA has about the right way to treat customers experiencing vulnerability.
BT Fined £330,000 for due diligence failings
There seems to have been surprisingly little coverage of the PSA's decision to fine BT Agilemedia for a number of failures to follow the PSA's and BT's own DRAC (due diligence, risk assessment and control) requirements. These failures were regarded by the PSA as "serious breaches" and come only a year after Ofcom fined BT-owned EE for its compliance failings.
Mobtech UG fined £200,000
A PSA adjudication has resulted in a £200,000 fine of a firm – Mobtech UG - which ran 'Secret Sales Codes', providing consumers with voucher codes for retail stores. Unfortunately, a number of consumers claimed that they had never signed up for the £4.50/month service and amongst other failing Mobtech was unable to demonstrate consumer consent.
No contact centre news of note this month from the TPS, Fundraising Regulator, Ofgem or Ofwat.
Content accurate as of 14th June 2021
Hear more from the DMA