DMA Email Council Trends for 2022
28 Jan 2022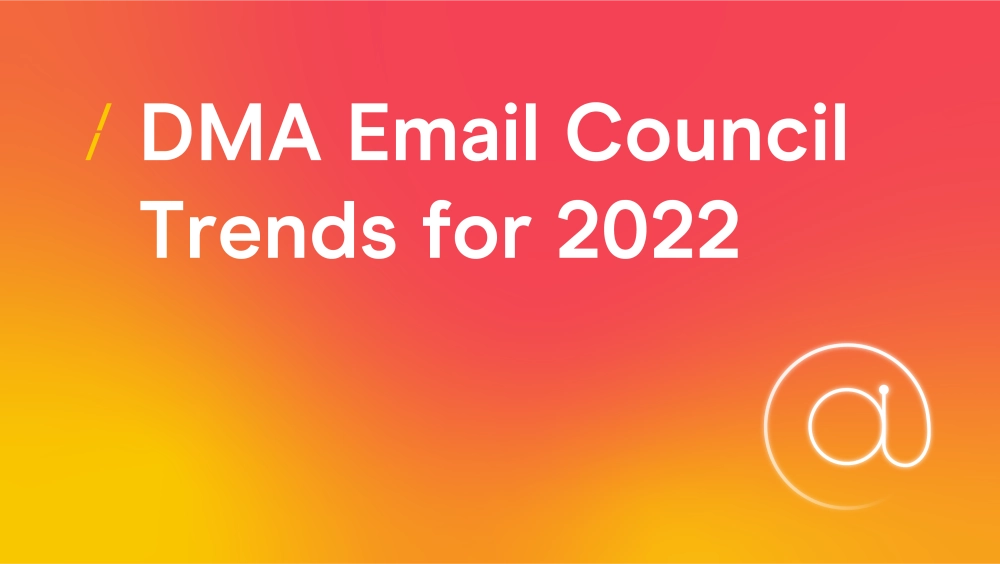 This article is written by Komal Helyer, the Chair of the Email Council.
It's that time of year when the industry gives its views on what marketers need to be aware of in the coming 12 months. We've put aside the crystal ball and instead bring you trends based on insights from our past experiences.
2022 is another big year for email. From Apple's Mail Privacy Protection affecting open rates to the growth of zero party data and a constantly evolving consumer – the world of email becomes an ever-growing space of opportunity, especially if planned and executed well.
Komal Helyer
VP Marketing @ Pure360 – Spotler Group
Chair DMA Email Council
----
Daniel Lack, Head of Digital, Growth Track
"With the uncertainty over open rates leaving marketers hunting for new metrics from positive behaviours, I would expect to see a lot more effort around CTAs - the use of interactive elements or more focus on live content will be key to getting more people to engage and click through…Introducing more interactive elements will also pave the way for the flood of User Generated Content that has not only been proven extremely effective since lockdown but is quick and cost-effective to repurpose from existing social and web campaigns – something that will continue to creep across marketing channels over the next few years".
Nadja von Massow, Founder/ Executive Director, Nad Works
Email strategy and in-email interactivity will gain importance as the reliability of siloed metrics such as open rate, and device data are muddied by Apple Mail's new privacy feature. Therefore, planning campaign goals with email as an even more integrated stepping stone of the customer journey will become vital to the channel's continued success.
Guy Hanson, Vice President of Customer Engagement, Validity
Greater accessibility is an increasingly important topic, and the DMA's email council has just published a great guide on this important topic. For email programs accessibility means using larger fonts, more white space, and live text that can be read by voice assistants. Contrast is also very important, with dark mode already a key part of email production, and probably a "must-have" requirement in 2022. Many mobile phones also offer well-being features that automatically invert colours, posing new challenges for logo display and brand consistency.
Antony Humphreys, Solutions Consultant, Validity
Hide My Email was launched as part of Apple's iOS15 role out last fall, and effectively provides users with proxy email addresses - burner email addresses if you will! As Apple Mail users become more aware of Hide My Email's capabilities, especially the ability to enable/disable addresses at will, they may be tempted to use it to avoid unwanted emails. It is quicker, and pretty much instant. This would further obscure engagement metrics from marketers. Unsubscribe and spam complaints might reduce, but will hard bounces potentially increase? If so, senders with poor data hygiene practices are going to see more spam trap hits, especially if Apple itself starts repurposing some of these disabled addresses as recycled traps.
Tim Bond, Director of Content Strategy & Insight, DMA
In 2022 we will see a significant shift in the measurement and understanding of marketing effectiveness. Not just because of technological changes driven by Apple and Google, but also because of factors highlighted by our Meaningful Marketing Measurement 2021 report. In particular, email marketing must focus on measuring what really matters – impact on business, brand and/or response – and moving away from standard campaign metrics that ultimately tell us little. Practitioners must strive to explain marketing effectiveness through measurement, and improved understanding will complete a virtuous circle that leads back to better measurement too!
Komal Helyer, VP Marketing, Pure360 (Spotler Group)
People are busy, they're tired, and they want businesses to be useful. 2022 will see the rise of businesses transforming the customer experience to make lives easier. And this means many things, from becoming faster and more efficient, to being empowered to be better. Consumers want businesses to create less friction in the buying process, from 1 click purchasing to remembering who they are. They want you to know what they love and when the product they bought from you needs replenishing.
Chris Barnett , Director, 1973 Ltd
In terms of things for 2022, I think the reliance on 3rd Party data via cookies and tracking will open opportunities for gathering 1st Party data and email is obviously a great channel for this. I also think due to the pandemic brands have seen the importance of email to them, but I do worry if they just accept it as that and not push it more. It would also be great if we had a standard WebKit email renderer as I feel it would allow email to be more widely accepted from a technical perspective, as ubiquitous as a web browser is today, can we lobby the Gmail's, Apple mail and Outlooks as the council?
Russell Dawson, Email Marketing Consultant, Ometria
"2021 was full of mergers, acquisitions and partnerships within the email space and it will be interesting to see how this affects not just choices and budget but how the critical needs for Email, CRM & Techstack owners are met. Will it be easier to gain a single customer view and create multi-channel programs from utilising an all-in-one CDP/ESP or will it make life harder for already overworked email marketers?"
"2022 will be the year that the majority of brands put an email design system in place to help them reduce the time, effort, risk and resources involved with personalised email creation at scale so that they can make the profitable shift to spending more time on email strategy, segmentation and subscriber value."
Saravanan Subburam , Digital Content Executive, Investment & Pensions Europe
"If the pandemic and recent events have taught us anything, then it's the power of businesses coming together to make a positive change in society to drive awareness of climate change, community initiatives, charity, ethical trading to help consumers make better informed decisions. Brands should get consumers involved at a wider level through other ways that can be beneficial in both the short and long-term".
Zero-Party Data
"With the privacy changes brought by Apple, it has placed an emphasis on brands to acquire more zero-party data. There will be more use of interactive elements i.e. surveys, preference centres, quizzes, social stories to deliver a more relevant and personalised experience. Marketers should view each interaction (whether that's online/offline) to capture relevant data to take their email campaigns to a next level".
Kostas Karagkounis, Deliverability Operations, Emarsys
"Newly introduced Apple's Mail Privacy Protection acted as a wakeup call to the industry and questioned the methods used to recognize an active contact; in 2022 and beyond, we should see marketers (and technology) to evolve and shift to more sophisticated techniques"
"Email stays for much longer! Although new technologies and communication channels are introduced, 2021 email sent volumes showed us that email is growing and growing fast YoY. In 2022, the trend is expected to continue – email will remain the preferred marketing channel; cheaper than other channels, fast, convenient and used by everyone"
Nick Crawford, CRM, Digital Marketing & Automation Consultant
The need to keep customers updated directly over the last 2 years has reinvigorated the importance of email in the marketing mix for many businesses.
However pent up demand peaking sales mixed with supply chain and staff resource issues impacting on capacity, has also meant a need to reduce sales promotions. Meaning many companies had to find non 'buy now' reasons to communicate.
The benefit of this perfect storm has been the re-emergence of more varied content. 'How to's', 'behind the scenes', 'inspiration and entertainment'. All in all, a humanisation of the email content.
Seeing customers respond well to this mix of messages, I predict that many companies will continue to focus far more on providing a 'give' and 'ask' strategy to their email sends over 2022. Rather than an 'ask' 'ask' short term tactical hit.
The DMA Email Council is continuously working on how to help build a better environment for better email practice. If you would like to learn more about email marketing or contribute to the discussion, please get in touch with councils@dma.org.uk
Find more content produced by the Council here.
Hear more from the DMA