Screen-Free and Hands-Free: How Podcasts are Relevant and Transparent
11 Sep 2019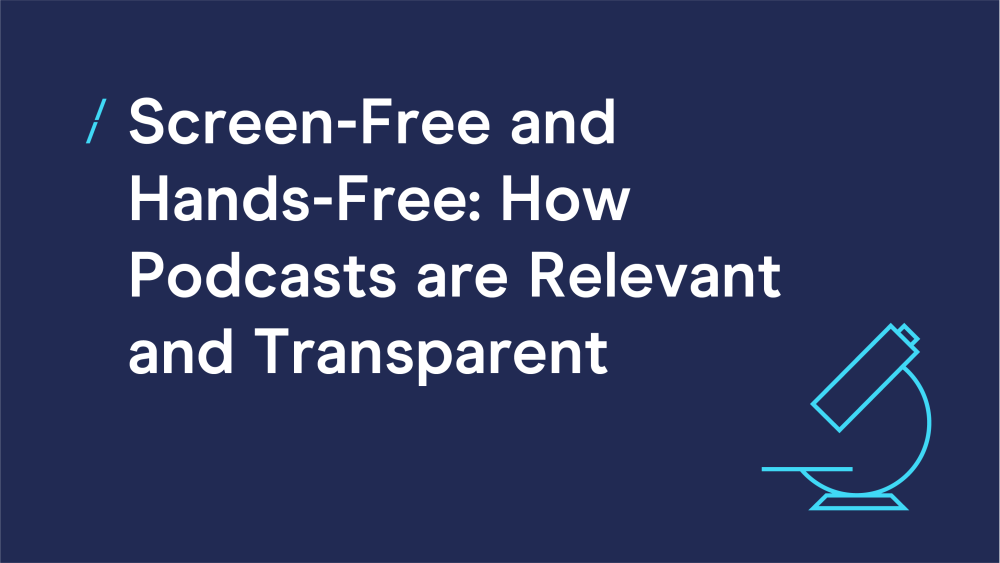 Podcasts have recently seen a boom among Brits with nearly six million adults tuning in to listen each week.
Once seen as a mere communication channel, they're risen in popularity due to their ability to deliver entertainment and education in audio format and engage consumers.


The Podcast Lover
Ofcom's research shows how the number of podcast listeners has almost doubled in five years, from 3.2 million in 2013 to 5.9 million in 2018.
Half of podcast listeners are under 35, but the recent increase in popularity of this channel can be attributed to young adults, between 15 and 24 years old.
The Audio Intelligence Report by Acast, a curated podcast platform, reveals that 27% of podcast listeners tune into podcasts at least once a week; 29% between two and four times, and 15% five or more times a week.
Is there a preferred moment of the day? The data says there is – weekday afternoons and evenings are considered prime time, with the largest spike occurring between 7 pm and 10 pm.
Moreover, data shows that 96% of all podcast lovers also listen to the radio each week and they seem more engaged with other media than the general population.
The main motivations that inspire people to listen to podcast relate to their desire to 'just listen to something' and to relax (37%).
Furthermore, listeners love podcasts because they seem them as an opportunity to learn about something new, ultimately allowing them to nourish their passions and interests.


Thinking of starting a podcast? Here are a few tips:
Good news. The brand investment to produce and distribute a podcast is quite low, which makes this reigning channel a low-risk format worth experimenting with.
What matters the most is creating your own style of communications and choosing voices that can narrate the brands in a genuine and transparent manner.
Foresight Factory's suggest that you:
Use audio content to extend your reach in audience and context, and engage with consumers at difficult-to-reach moments of the day, like commuting-times.
Hook your customers, episode by episode
A listener will likely not be converted by a single episode. Regular episodes and regular listening will fix your brand in the consumer's mind which will ultimately make you the top-of-mind when they will consider making a purchase of a product or service.
A listener using a podcast offer code is both a statement of the personal connection and loyalty they feel for the podcast. The codes will also help you keep track of the effectiveness of your efforts. After purchase, also encourage listeners to share a special offer code with others by promising an extra discount.
The appeal of podcasts is their one-on-one interaction. A branded podcast is an opportunity to have a conversation with your customers. As such, make you sure have a conversational style, and involve listeners by requesting their feedback and comments.
Existing brand fans who will appreciate exclusive access to coveted information, allowing you to cultivate a community around the podcast and, by extension, your brand.
In our soon-to-come Customer Engagement report in partnership with Paragon, we will look into the customer's mindset and analyse the acquisition strategies that work so businesses can understand how to gain the attention of new customers and, ultimately, how to engage them.
Using last year's insights, as a starting point, we'll keep discovering and analysing the key drivers that lead to customers choosing a new brand, as well as finding out why they switch from one to another.
And we'll share our views and findings on podcasts as a growing media channel.


Stay tuned!
Hear more from the DMA