Coronavirus: Do Consumers Need to be 'Present'?
04 Aug 2020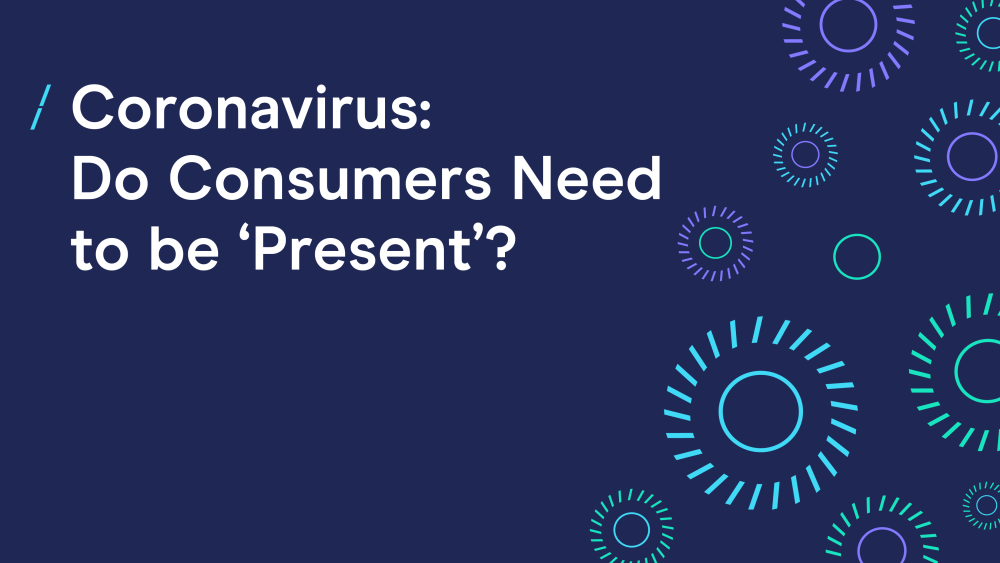 As we saw in our previous article, most countries (with some exceptions) are now moving into a post-lockdown phase.
Governments around the world are thinking how they can ease people's lives while also guaranteeing their safety. Meanwhile, many brands are entirely reinventing and launching new ways to engage with customers.
On a global scale, the pandemic has been a catalyst for the use of online and digital services, reaching new demographics of consumers. These have grown in use and interest, across consumers that have both used them before and those that haven't.
Believe it or not, during lockdown 22% of US consumers and 14% of UK consumers ordered food delivery online for the very first time.
What does this mean in terms of future behaviours, discovery channels and customers' new sense of convenience?
This week, Foresight Factory's webinar series keeps exploring consumers' data and trends to reveal what the future customers will look like when they will emerge in the new world.

Presence-free Living
People no longer need to be physically present to work, to shop, to communicate.
Thanks to digital and cultural change, this is something that we were already co-living with before the appearance of coronavirus. However, the 'Presence-free living' trend has now become stronger than ever and it's defining our pandemic mindset and existence.
Thanks to technology, no-presence interactions are able to be more convenient and effective. Consequentially, presence may not be given post-pandemic as freely as it once was, due to the higher costs and risks involved.
This doesn't mean that physical locations, such as leisure centres and stores, will remain empty from now on. It has, however, clearly signalled for brands and businesses to prove the value of an in-person visit – over a virtual interaction.
For instance, 25% of American and 20% of British consumers said they have already bought or would be interested in buying a car without going to the dealer (for example, through services like Carvana). Therefore, even industries who might feel immune to the march of digital age should now start re-thinking how they want to interact with their consumers.
Indeed, despite the eagerness consumers are showing to go back to 'normal', once they realise the ease of interacting online, they may continue to do so even post- pandemic. This will mean a challenge for businesses, especially those belonging to industry that have been slow in translating what they do to the digital world.
Just to give a taste of how consumers are already very familiar with engaging with the online world (from Foresight Factory's latest insights):
49% of global consumers are interested in a bank that is only accessible online and that has no physical branches
68% of global consumers have received or are interested in receiving remote health advice from a healthcare professional
39% of global consumers shopped online at least weekly this year before the pandemic hit.
In the pre-pandemic world, roughly a third (33%) of consumers (average of the American and British markets) used to shop online weekly. That number has nearly doubled since the pandemic started, to 60%. It's worth mentioning that the interest in digital purchasing opportunities has been particularly high for people aged over 65 years old (19% pre-pandemic vs 49% under lockdown).
Despite this increase, the trend is expected to decrease as shops have opened again and the fear of going out is decreasing. The prediction from Foresight Factory is that we could see half of the consumers keep shopping online on a weekly basis. Looking at consumers that used to shop online before the pandemic, 46% say they are shopping online more since the pandemic began and 25% believe they will continue to do so more than before, even after the pandemic is over (15% of consumers aged 65-74 agree with the latest).

An online existence
Not only has the time dedicated to shopping grown, people's presence online has increased, with consumers checking social media daily from 58% in 2019 to 65% in 2020.
Those watching TV on demand on a weekly basis has also grown from 49% in 2019 to 53% in 2020. The later, might seem like a relatively small increase, but when looking to the previous three years, the year-on-year growth has been around 2% – indicating a doubling of that growth for this year.
E-sports (organised multiplayers competitions) and gaming are also more popular than ever.
What does this mean for brands?
These forms of entertainment represent a great opportunity for brands to gain new and wider exposure to consumers and engage with them. A great example is the collaboration between MAC Cosmetics and The Sims 4, which gives players total control on their avatars' look. Another interesting example comes from Barclaycard who has hosted virtual music festivals in collaboration with Abbey Road studios.

Convenience? 'More, thanks'
If people have been always seeking convenience, a presence-free life will bring this interest even further and up to its next level.
To understand exactly what we mean with that, we recommend you have a look at the Amazon's dash smart shelf.
Convenience goes hand-in-hand with the presence-free life trend and brands must pay attention in eliminating pain points in this new customer journey. For instance, 57% of consumers are either very or quite interested in auto-replenishment services – for items like coffee or toilet paper.

To learn which channel preferences are evolving and why, tune into Foresight Factory's webinar series.
---

You can also find out more about the latest views and challenges the data and marketing industry is coping with from the DMA's own 'Coronavirus: The Impacts on Business' tracker research.
Hear more from the DMA