Businesses still trying to harness the value of data for today and tomorrow
01 Jul 2019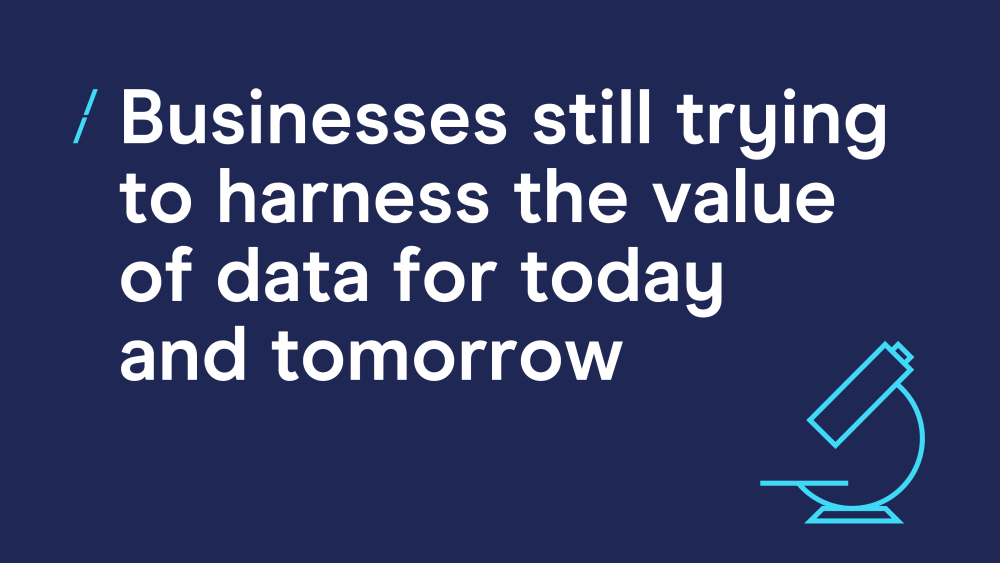 More than half (56%) of business leaders admit that they have not yet realised the full potential of data, despite some progress over the last decade and positive prospects for the future. That is according to a new report from Dun & Bradstreet titled 'The Past, Present and Future of Data', which surveyed over 500 business decision-makers in the UK and US earlier this year.
Encouragingly, the report highlights how customers have been the prevailing focus for many businesses when it comes to using data – whether that's acquiring new customers or better serving loyal ones. Nearly two-thirds of those surveyed (63%) agree that data has helped to improve the service they provide to customers, while 78% cite the importance of data in providing good customer experiences.
However, one of the key challenges facing many organisations, remains leadership and ownership of data strategies. Most agree that this is a C-suite issue, but respondents were indecisive about exactly where this responsibility resides today. Whether it is the CEO (20%), COO (16%), CTO (14%), CIO (14%) or CFO (12%), what is most concerning is that one in 10 decision-makers within organisations (9%) say they don't know who is responsible for data-related matters today.
Time of change
Dr. Anthony Scriffignano, Chief Data Scientist at Dun & Bradstreet: "We're at a pivotal moment in the evolution of data. Since the rise of digital technology, businesses have been getting to grips with how to use data – whether it's better serving customers, finding new prospects, managing risk, understanding their supply chain or any combination of these. With so much data on hand, it is important now more than ever to find the useful meaning, or we risk becoming overwhelmed with information."
In a period of rapid technological change and exponential growth in data being generated over the last decade, nearly half of business leaders agree that they haven't had the right technology in place to truly harness their data (46%) and have struggled with issues over the accuracy of data (42%). These challenges are still being felt today too, as many organisations listed effective data management (30%) and having the right technology to utilise data (25%) as key concerns, even beyond the need to find new customers (24%).
Compliance concerns
Not having the right data or being able to use it in the right way may also impact an organisation's reputation with its existing or perspective customers', let alone with regulators like the Information Commissioners Office (ICO). In fact, 17% of respondents say they have already had their brand's reputation damaged due to working with a supplier or customer involved in malpractice. Furthermore, 16% have run into regulatory issues due to a lack of information about a supplier or customer, with 12% having received some form of fined or discipline for these issues.
The General Data Protection Regulation, came into force last year, made more important than ever that organisations have the right policies, structures and technology in place to ensure data is adequately protected. Perhaps unsurprisingly, the survey found that protecting privacy was the biggest concern for 34% of organisations when it came to how they use data. However, more concerning is that two-fifths (42%) of businesses believe that if a regulator looked closely at the way that data is handled within their organisation, they could be exposed to fines or penalties.
According to our own 'Data Privacy – An Industry Perspective' research which has tracked marketers' awareness, understanding and key concerns about the new laws since they text was finalised in 2016, the data and marketing industry is more aware and knowledgeable than ever. However, concerns around complete compliance may be justified, as just a fifth of marketers were confident that their organisation is 100% compliant with the new rules. Highlighting that there is still some ways to go.
Future opportunity
Looking to the future, business decision-makers appear to be well-aware that the value of data will increase in the years to come – in fact two-thirds (67%) are excited about the potential for data to help their business growth and half (50%) say that their company will not be able to survive without top-quality data.
Today's leaders seem to understand the challenges holding them back today – such as data management strategies and having the right technology in place. However, they may be underestimating the importance of people to their future too. Just 29% agreed that people are the key to maximising the value of data, while less still (19%) are actively recruiting people with the data and analytics skills they clearly understand they need.
In fact, the 'Professional skills census' (conducted by the DMA and IDM) points to key skills gaps for the future of the data and marketing industry. Data and management skills were highlighted in the research as having the biggest gaps between the current and future importance of these skills. In particular, the report reveals concerning gaps around 'AI/machine learning', 'analysing customer data/insight' and 'data analysis and reporting' – all vital areas organisations will need competency in if they are going to capitalise on the opportunity data has to offer.
As Dr. Scriffignano sums up: "in the next decade, businesses must perfect their data strategies to realise the new opportunities of the increasingly digital world, or risk being left behind altogether."
To learn more about data challenges and opportunities, click here.
Hear more from the DMA