Making Measurement Meaningful - The DMA's New Intelligent Marketing Databank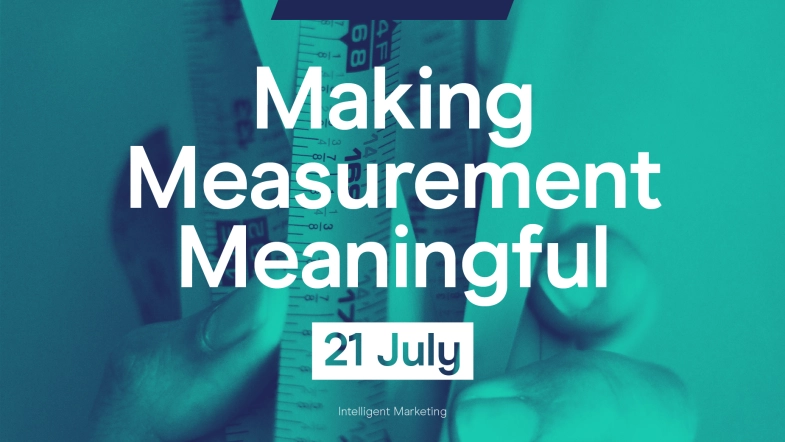 How can we better understand marketing effectiveness and measure it in a meaningful way?
This online event reveals key findings from our first annual report following the creation of the DMA's Intelligent Marketing Databank.
Built on the back of over 850 DMA Awards submissions dating back to 2017, the new databank provides a perspective on the evolution of marketing effectiveness.
Our latest report offers insights around this pressing challenge, including the inconsistent views of measuring effectiveness across the media landscape, the pandemic effectiveness boom, as well as brand vs response, retention vs acquisition, and digital vs offline.
The research leads on from our specialist-led roundtable held in 2020 and our resulting whitepaper, Making Measurement Meaningful.
Chaired by Tony Miller, VP, Digital and Growth Marketing, WW (formerly Weight Watchers), this virtual session explores what intelligent marketing truly means and tackle the challenges of measuring its effectiveness through:
A presentation on the research launch from Tim Bond, Director of Insight, DMA and Ian Gibbs, Founder and Measurement Consultant, Data Stories Consulting
A panel discussion that will dive into the key findings from the report, as well as looking at the future of measurement effectiveness, alongside Joanna Lawrence, Managing Director, Partnerships, The Telegraph; Elly Marshall, Commercial Data Director, Global; Amanda Griffiths, Head of Communications Planning, Royal Mail MarketReach; Jane Christian, Managing Partner, Head of Systems Intelligence, MediaCom UK; Georgia Protopapa, Head of Marketing Science, PHD; and Jonathan Beeston, Product Marketing Director, EMEA, Salesforce
View and feel more confident in establishing measurement best practice and guidance on how to build relevant and meaningful frameworks.
You can download the research report here.
Hear more from the DMA