DMA Awards winners 2018
04 Dec 2018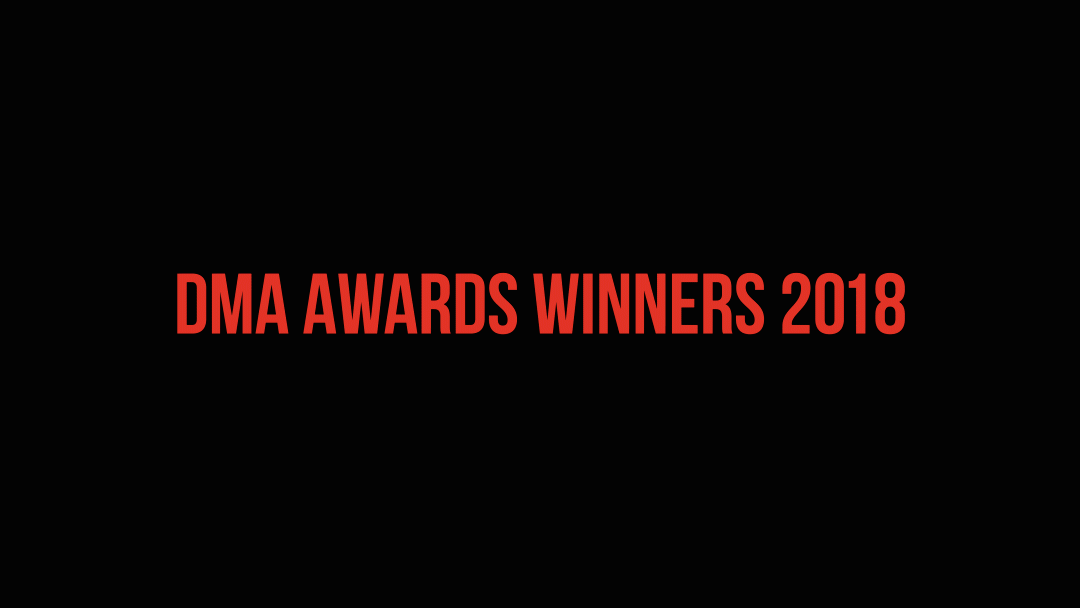 The DMA Awards winners have been picked on, picked over and eventually picked out by the DMA judges. Your guide to the Golds, the Silvers, the Bronzes and, of course, the Grand Prix winner.
These were the strongest competitors.
Able to satisfy our judges' lust for work that truly embodied the three pillars of creativity, strategy and data-driven results.
Click the category name to see your DMA Awards winners
If you want to look at all our winners case studies, you can see them here
Grand Prix
Xbox Design Lab Originals: The Fanchise Model
Agency: MRM//McCann and McCann London
Client: Microsoft
Industry sectors
Automotive
Silver: World's First Digital Car Top Trumps App
Agency: Spark44
Client: Jaguar Land Rover
Bronze: The Spirit of 59'
Agency: Keko London
Client: Triumph Motorcycles
Travel and leisure
Gold: Long Live The Local
Agency: Havas London
Client: Britain's Beer Alliance
Silver: 'Plugging people straight into Nashville'
Agency: Ogilvy and Wavemaker
Client: British Airways
Bronze: Virgin Holidays Return Home Journey
Agency: Proximity London
Client: Virgin Holidays
Entertainment, publishing and gaming
Gold: Xbox Design Lab Originals: The Fanchise Model
Agency: MRM//McCann and McCann London
Client: Microsoft
Silver: A Season of Stories at Speed
Agency: Ogilvy
Client: FORMULA 1
Bronze: China's First Emperor and the Terracotta Warriors
Client: National Museums Liverpool
Technology
Gold: #Findtheadvantage
Agency: Ogilvy
Client: IBM
Silver: Innovating Easy
Agency: Really B2B
Client: NIIT Technologies
Bronze: NTT DATA - Guiding Greatness
Agency: bbp agency
Client: NTT DATA UK
Utilities and telecommunications
Gold: Joe's Helpdesk
Agency: Karmarama
Client: Plusnet
Silver: Smart Meters
Agency: Proximity London
Client: SSE
Bronze: No one does a 'plus one' like Virgin TV
Agency: RAPP UK
Client: Virgin Media
Retail
Gold: Evans Cycles - Return to Gold Hill
Agency: Propellernet
Client: Evans Cycles
Silver: Simply Be Perks
Agency: Cherry London and LOVE Creative
Client: Simply Be
Bronze: Virgin Holidays Peak
Agency: Proximity London
Client: Virgin Holidays
Financial services
Gold: Direct Line Personalised Videos
Client: Direct Line
Silver: Monkey Business - Fraud Fighter Tool
Agency: OLIVER
Client: Barclaycard
Bronze: Switch your situation, CASS
Agency: Engine, Partners Andrews Aldridge
Client: Bacs, Current Account Switch Service
Health and wellness
Gold: 50,000 Years Younger Together - how to galvanise a nation to make corporate Britain healthier
Agency: OLIVER
Client: AXA PPP healthcare
Silver: First Year "My Bupa" Email Journey
Entrant: Paragon Customer Communications
Client: Bupa
Bronze: Attractive to Cancer
Agency: Arthur London
Client: World Cancer Research Fund UK
Public sector
Gold: 'Someone Like You'
Agency: Ogilvy
Client: PHE
Silver: Always on, so always stay off
Agency: 23red and Fully Focused
Client: Network Rail
Bronze: This is Belonging
Agency: Karmarama
Client: Capita for the British Army
Charity
Gold: Untapped
Agency: GOOD Agency
Client: WaterAid
Silver: RNIB Christmas Campaign 2017
Agency: Campfire Marketing
Client: RNIB
Bronze: A World that's kinder to Animals
Agency: Arthur London
Client: RSPCA
Best B2B
Gold: End to End: Stronger Together
Agency: The Armstrong Partnership
Client: Bucher Emhart Glass
Silver: Premier Inn Business Booker
Agency: Havas helia
Client: Premier Inn
Bronze: Bringing Energy Resilience to life
Agency: Earnest
Client: Centrica Business Solutions
Best B2C
Gold: This is Belonging
Agency: Karmarama
Client: Capita for the British Army
Silver: Playing cupid for the ideologically suited
Agency: OLIVER
Client: The Guardian
Bronze: Neilson Ski 2017/18
Agency: WDMP
Client: Neilson Active Holidays
Channels
Best use of email
Gold: McDonald's Monopoly Wiiiin!
Agency: Armadillo
Client: McDonald's UK
Silver: Virgin Holidays Peak
Agency: Proximity London
Client: Virgin Holidays
Bronze: SEAT Arona Launch
Agency: Proximity London and Merkle
Client: SEAT UK
Best use of mobile and connected devices
Gold: Defying the odds - Using mobile to build brand
Agency: Anything is Possible
Client: WiseDriving
Silver: #YayDelay
Agency: MullenLowe Profero and The Romans
Client: Gordon's - Diageo
Bronze: The AJ Lynx Drop
Agency: TMW Unlimited
Client: Lynx
Best use of search
Gold: Making Paid Search real-time with the power of Tweets
Agency: Merkle | Periscopix
Client: Twitter
Silver: The London Digital Mental Wellbeing Service (Good Thinking)
Agency: Fresh Egg
Client: NHS
Bronze: Huawei P20 Pro: how we used Search to take a bite out of Apple
Agency: WM Select, Wavemaker
Client: Huawei
Best use of social media
Gold: VOXI: Endless Possibilities
Agency: Team Red: Ogilvy and Wavemaker
Client: VOXI by Vodafone
Silver: 'Someone Like You'
Agency: Ogilvy
Client: PHE
Bronze: #AutoTraderGoals: A disruptive World Cup campaign that captured the hearts and minds of the nation
Agency: AmazeRealise and Mynt
Client: Auto Trader
Best use of door drops
Silver: Launch of Cushelle Quilted
Entrant: Umbrella and The Letterbox Consultancy
Agency: Blue Chip Marketing
Client: Essity
Bronze: Mitigating loss of cold DM with a new channel for sustainable growth
Agency: Medialab
Client: Age UK
Best use of mail
Gold: TV Licensing - Pulse Will You Be In?
Agency: Proximity London
Client: TV Licensing
Silver: P&O What Next - Spontaneity DM
Agency: MRM//McCann
Client: P&O Ferries
Bronze: Chassis Cab
Agency: Proximity London
Client: Volkswagen Commercial Vehicles
Best use of experiential
Gold: Monkey Business - Fraud Fighter Tool
Agency: OLIVER
Client: Barclaycard
Silver: Ocean of the Future
Agency: Ogilvy
Client: Greenpeace
Bronze: Creme Egg Hunting Season - Creme Egg Camp
Agency: Elvis
Client: Mondelez
Best digital performance
Gold: Xbox Design Lab Originals: The Fanchise Model
Agency: MRM//McCann and McCann London
Client: Microsoft
Silver: Jo Malone London Omnichannel Communications Programme
Agency: The Thread Team
Client: Jo Malone London
Bronze: #Findtheadvantage
Agency: Ogilvy
Client: IBM
Best out of home
Gold: It's Coming Home
Agency: Ogilvy and Wavemaker
Client: British Airways
Silver: EY Robot Experience, Frankfurt Airport
Agency: Ogilvy
Client: EY
Bronze: The Economist World Cup
Agency: Proximity London
Client: The Economist
Best use of the moving image or audio
Gold: Domino's New Years Day recovery channel
Agency: VCCPme
Client: Domino's Pizza
Silver: This is Belonging
Agency: Karmarama
Client: Capita for the British Army
Bronze: Now that's adulting
Agency: TMW Unlimited
Client: Kinder Bueno
Campaigns
Best integrated campaign
Gold: Untapped
Agency: GOOD Agency
Client: WaterAid
Silver: Ella's Kitchen Weaning Programme
Agency: Havas helia
Client: Ella's Kitchen
Bronze: This is Belonging
Agency: Karmarama
Client: Capita for the British Army
Best launch campaign
Gold: Xbox Design Lab Originals: The Fanchise Model
Agency: MRM//McCann and McCann London
Client: Microsoft
Silver: Money Pools
Agency: RAPP UK
Client: PayPal
Bronze: VOXI: Endless Possibilities
Agency: Team Red: Ogilvy and Wavemaker
Client: VOXI by Vodafone
Best brand building campaign
Gold: The joy of CHAS
Agency: Different Kettle
Client: Children's Hospice Association Scotland
Silver: Ella's Kitchen Weaning Programme
Agency: Havas helia
Client: Ella's Kitchen
Bronze: #BetterQuestions
Agency: Ogilvy
Client: EY
Best customer acquisition campaign
Silver: Ella's Kitchen Weaning Programme
Agency: Havas helia
Client:Ella's Kitchen
Bronze: Virgin Holidays Customer Journey
Agency: Proximity London
Client: Virgin Holidays
Best customer journey
Gold: Virgin Holidays Customer Journey
Agency: Proximity London
Client: Virgin Holidays
Silver: No one does a 'plus one' like Virgin TV
Agency: RAPP UK
Client: Virgin Media
Bronze: Whodunnit?
Agency: GOOD Agency
Client: Macmillan
Best loyalty or CRM programme
Gold: Sun Savers
Client: The Sun
Silver: Simply Be Perks
Agency: Cherry London and LOVE Creative
Client: Simply Be
Bronze: Virgin Holidays Customer Journey
Agency: Proximity London
Client: Virgin Holidays
Craft
Best writing
Gold: The Economist World Cup
Agency: Proximity London
Client: The Economist
Silver: P&O What Next - Spontaneity DM
Agency: MRM//McCann
Client: P&O Ferries
Bronze: Just for you, E.ON
Agency: Engine, Partners Andrews Aldridge
Client: E.ON
Best design or art direction
Gold: Another Busy Year
Agency: Pulse Creative London
Client: The Times and The Sunday Times
Silver: It's Coming Home
Agency: Ogilvy and Wavemaker
Client: British Airways
Bronze: Bacardi William Lawson's Illusions
Agency: Proximity London
Client: Bacardi Rebel Brands
Best data strategy
Silver: #YayDelay
Agency: MullenLowe Profero and The Romans
Client: Gordon's - Diageo
Bronze: A data-based strategy to shape a user-centric customer journey
Agency: numberly
Client: Lacoste
Best digital experience
Silver: No one does a 'plus one' like Virgin TV
Agency: RAPP UK
Client: Virgin Media
Bronze: The AJ Lynx Drop
Agency: TMW Unlimited
Client: Lynx
Best creative solution
Xbox Design Lab Originals: The Fanchise Model
Agency: MRM//McCann and McCann London
Client: Microsoft
Silver: 'Someone Like You'
Agency: Ogilvy
Client: PHE
Bronze: Monkey Business - Fraud Fighter Tool
Agency: OLIVER
Client: Barclaycard
Special
Best GDPR communication
Gold: The Guardian GDPR - Leave or Remain?
Agency: OLIVER
Client: The Guardian
Silver: Say YES for Children: Unicef's marketing permissions campaign
Agency: Open Creates and 2CV
Client: Unicef UK
Bronze: Goodbye Boring, Hello to Exciting Communications from Suzuki
Agency: Emerald Thinking
Client: Suzuki UK
DMA Breakthrough Award
Gold: Your secret is safe with us
Joy Mooney
School: Edinburgh College
Silver: Buddy the Black Box
Natasha Ryan
School: Edinburgh College
Silver: Two audiences
Blanca Jimenez
School: Edinburgh College
Hear more from the DMA