DMA Awards Shortlist 2018
11 Oct 2018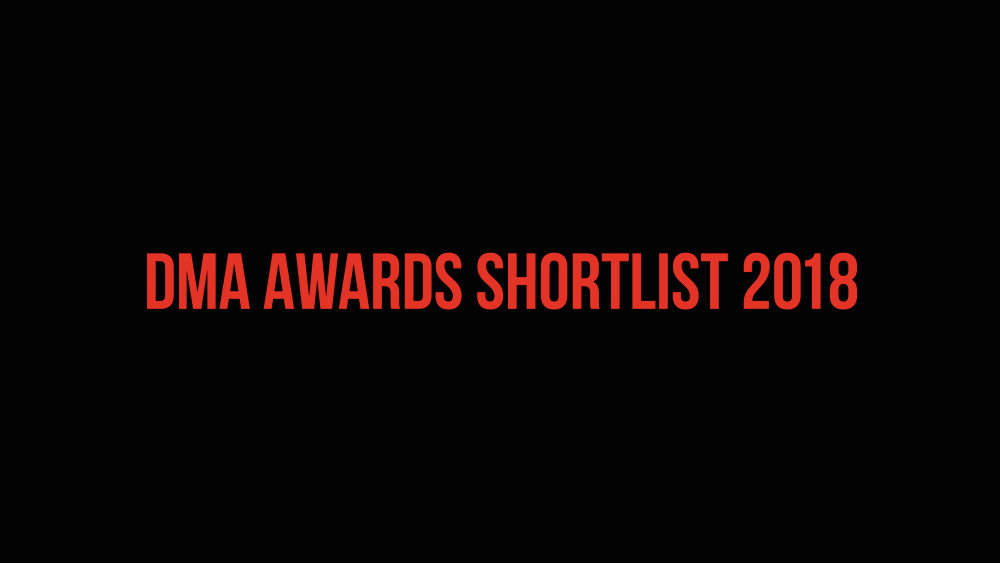 The DMA Awards judges, the toughest in the business, have spoken.

They have whittled the entries down and created a shortlist jam packed with only the strongest campaigns in the industry.

Work that thrives thanks to sizzling creative, razor-sharp strategy and produces jaw-dropping results

Click on the categories below to reveal the shortlist.
Industry Sectors
Ford Motor Company - Always-on prospect campaign

Entrant: Acxiom
Agency: GTB
Client: Ford Motor Company

MINI GDPR Reconsent Campaign

Agency: The Brooklyn Brothers
Client: MINI UK

The Spirit of 59'

Agency: Keko London
Client: Triumph Motorcycles

World's First Digital Car Top Trumps App

Agency: Spark44
Client: Jaguar Land Rover
'Plugging people straight into Nashville'

Agency: Ogilvy and Wavemaker
Client: British Airways

It's Coming Home

Agency: Ogilvy and Wavemaker
Client: British Airways

Long Live The Local

Agency: Havas London
Client: Britain's Beer Alliance

Neilson Ski 2017/18

Agency: WDMP
Client: Neilson Active Holidays

Virgin Holidays Return Home Journey

Agency: Proximity London
Client: Virgin Holidays
A Season of Stories at Speed

Agency: Ogilvy
Client: FORMULA 1

China's First Emperor and the Terracotta Warriors

Client: National Museums Liverpool

The Economist World Cup

Agency: Proximity London
Client: The Economist

The Economist World In 2018

Agency: Proximity London
Client: The Economist

Xbox Design Lab Originals: The Fanchise Model

Agency: MRM // McCann and m-united
Client: Microsoft
#Findtheadvantage

Agency: Ogilvy
Client: IBM

Innovating Easy

Agency: Really B2B
Client: NIIT Technologies

NTT DATA - Guiding Greatness

Agency: bbp agency
Client: NTT DATA UK
#CaseForChange

Agency: TMW Unlimited
Client: GSMA

Joe's Helpdesk

Agency: Karmarama
Client: Plusnet

No one does a 'plus one' like Virgin TV

Agency: RAPP UK
Client: Virgin Media

Smart Meters

Agency: Proximity London
Client: SSE

The Garden Drop

Agency: Wunderman
Client: BT
Evans Cycles - Return to Gold Hill

Agency: Propellernet
Client: Evans Cycles

Simply Be Perks

Agency: Cherry London and Love Creative
Client: Simply Be

The Ardbeg Festival of Peat & Love

Agency: Story UK
Client: The Glenmorangie Company

Virgin Holidays Peak

Agency: Proximity London
Client: Virgin Holidays

Wanted; Dedicated Followers of Fashion

Agency: isobel
Client: Hammerson
Direct Line Personalised Videos

Agency: Direct Line
Client: Direct Line

Monkey Business - Fraud Fighter Tool

Agency: OLIVER
Client: Barclaycard

Switch your situation

Agency: Engine, Partners Andrews Aldridge
Client: Bacs, Current Account Switch Service

Turning pensions into a talking point

Agency: Union Direct
Client: Scottish Widows

Unique personalisation for high value customers

Agency: McCann Central
Client: Barclays
50,000 Years Younger Together - how to galvanise a nation to make corporate Britain healthier

Agency: OLIVER
Client: AXA PPP healthcare

Attractive to Cancer

Agency: Arthur London
Client: World Cancer Research Fund UK

Beware of the Bugs Social Media Campaign

Agency: Torpedo
Client: Valneva UK

First Year "My Bupa" Email Journey

Entrant: Paragon Customer Communications
Client: Bupa
'Someone Like You'

Agency: Ogilvy
Client: PHE

Always on, so always stay off

Agency: 23red and Fully Focused
Client: Network Rail

Got 5

Agency: MSQ Partners
Client: The Electoral Commission

This is Belonging

Agency: Karmarama
Client: Capita for the British Army

TV Licensing - Pulse Will You Be In?

Agency: Proximity London
Client: TV Licensing
A World that's kinder to Animals

Agency: Arthur London
Client: RSPCA

Keep The Noise Up

Agency: Proximity London
Client: UK Black Pride

RNIB Christmas Campaign 2017

Agency: Campfire Marketing
Client: RNIB

The joy of CHAS

Agency: Different Kettle
Client: Children's Hospice Association Scotland (CHAS)

Untapped

Agency: GOOD Agency
Client: WaterAid
Bringing Energy Resilience to life

Agency: Earnest
Client: Centrica Business Solutions

End to End: Stronger Together

Agency: The Armstrong Partnership
Client: Bucher Emhart Glass

Premier Inn Business Booker

Agency: Havas helia
Client: Premier Inn

The Magic of Mail

Agency: LIDA
Client: Royal Mail MarketReach

Volkswagen Commercial Vehicles - Crafter

Agency: Proximity London
Client: Volkswagen Commercial Vehicles
Long Live The Local

Agency: Havas London
Client: Britain's Beer Alliance

Neilson Ski 2017/18

Agency: WDMP
Client: Neilson Active Holidays

Now that's adulting

Agency: TMW Unlimited
Client: Kinder Bueno

Playing cupid for the ideologically suited

Agency: OLIVER
Client: The Guardian

This is Belonging

Agency: Karmarama
Client: Capita for the British Army

Channels
Blue Planet II Promotional Email

Agency: Action Rocket
Client: BBC

McDonald's Monopoly Wiiiin!

Agency: Armadillo
Client: McDonald's UK

SEAT Arona Launch

Agency: Proximity London and Merkle
Client: SEAT UK

The Guardian GDPR - Leave or Remain?

Agency: OLIVER
Client: The Guardian

Virgin Holidays Peak

Agency: Proximity London
Client: Virgin Holidays
#YayDelay

Agency: MullenLowe Group and The Romans
Client: Gordon's - Diageo

BAND UK Launch

Agency: M&C Saatchi Mobile
Client: BAND

Defying the odds - Using mobile to build brand

Agency: Anything is Possible
Client: WiseDriving

The AJ Lynx Drop

Agency: TMW Unlimited
Client: Lynx

World's First Digital Car Top Trumps App

Agency: Spark44
Client: Jaguar Land Rover
Evans Cycles - Return to Gold Hill

Agency: Propellernet
Client: Evans Cycles

Huawei P20 Pro: how we used Search to take a bite out of Apple

Agency: WM Select, Wavemaker
Client: Huawei

Making Paid Search real-time with the power of Tweets

Agency: Merkle | Periscopix
Client: Twitter

Scaling SEO at speed for Nomads Food Europe

Agency: Zenith - Performics
Client: Nomad Foods Europe

The London Digital Mental Wellbeing Service

Agency: Fresh Egg
Client: NHS
'Someone Like You'

Agency: Ogilvy
Client: PHE

#AutoTraderGoals: A disruptive World Cup campaign that captured the hearts and minds of the nation

Agency: AmazeRealise and Mynt
Client: Auto Trader

AMP Lost & Found Festival campaign 2018

Agency: Mustard Media
Client: Annie Mac Presents: Lost & Found Festival

Monkey Business - Fraud Fighter Tool

Agency: OLIVER
Client: Barclaycard

VOXI: Endless Possibilities

Agency: Ogilvy and Wavemaker
Client: VOXI by Vodafone
Cruising their way to doordrop heaven

Agency: Whistl Doordrop Media
Client: P&O Cruises

Launch of Cushelle Quilted

Entrant: Umbrella and the Letterbox Consultancy
Agency: Blue Chip Marketing
Client: Essity

Mitigating loss of cold DM with a new channel for sustainable growth

Agency: Medialab
Client: Age UK

The Garden Drop

Agency: Wunderman
Client: BT
Chassis Cab

Agency: Proximity London
Client: Volkswagen Commercial Vehicles

P&O What Next - Spontaneity DM

Agency: MRM // McCann
Client: P&O Ferries

Premier Inn Business Booker

Agency: Havas helia
Client: Premier Inn

Smart Meters

Agency: Proximity London
Client: SSE

TV Licensing - Pulse Will You Be In?

Agency: Proximity London
Client: TV Licensing
'Plugging people straight into Nashville'

Agency: Ogilvy and Wavemaker
Client: British Airways

All aboard the pensions express

Agency: Union Direct
Client: Scottish Widows

Creme Egg Hunting Season - Creme Egg Camp

Agency: Elvis
Client: Mondelez

Monkey Business - Fraud Fighter Tool

Agency: OLIVER
Client: Barclaycard

Ocean of the Future

Agency: Ogilvy
Client: Greenpeace
#Findtheadvantage

Agency: Ogilvy
Client: IBM

Bacardi William Lawson's Illusions

Agency: Proximity London
Client: Bacardi Rebel Brands

Jo Malone London Omnichannel Communications Programme

Agency: The Thread Team
Client: Jo Malone London

Joe's Helpdesk

Agency: Karmarama
Client: Plusnet

Xbox Design Lab Originals: The Fanchise Model

Agency: MRM // McCann and m-united
Client: Microsoft
EY Robot Experience, Frankfurt Airport

Agency: Ogilvy
Client: EY

It's Coming Home

Agency: Ogilvy and Wavemaker
Client: British Airways

Money Pools

Agency: RAPP UK
Client: PayPal

The Economist World Cup

Agency: Proximity London
Client: The Economist
Attractive to Cancer

Agency: Arthur London
Client: World Cancer Research Fund UK

Domino's New Years Day recovery channel

Agency: VCCPme
Client: Domino's Pizza

Monkey Business - Fraud Fighter Tool

Agency: OLIVER
Client: Barclaycard

Now that's adulting

Agency: TMW Unlimited
Client: Kinder Bueno

This is Belonging

Agency: Karmarama
Client: Capita for the British Army

Campaigns
Ella's Kitchen Weaning Programme

Agency: Havas helia
Client: Ella's Kitchen

Just for you, E.ON

Agency: Engine, Partners Andrews Aldridge
Client: E.ON

The Guardian GDPR - Leave or Remain?

Agency: OLIVER
Client: The Guardian

This is Belonging

Agency: Karmarama
Client: Capita for the British Army

Untapped

Agency: GOOD Agency
Client: WaterAid
Freedom Is Electric

Agency: Engine
Client: E.ON

Long Live The Local

Agency: Havas London
Client: Britain's Beer Alliance

Money Pools

Agency: RAPP UK
Client: PayPal

VOXI: Endless Possibilities

Agency: Ogilvy and Wavenaker
Client: VOXI by Vodafone

Xbox Design Lab Originals: The Fanchise Model

Agency: MRM // McCann and m-united
Client: Microsoft
#BetterQuestions

Agency: Ogilvy
Client: EY

Ella's Kitchen Weaning Programme

Agency: Havas Helia
Client: Ella's Kitchen

Everyone back to ours. Changing the story of Hull, UK City of Culture.

Agency: Jaywing
Client: Hull City of Culture

Right there with you

Agency: MRM // McCann
Client: Cisco

The joy of CHAS

Agency: Different Kettle
Client: Children's Hospice Association Scotland (CHAS)
Another Busy Year

Agency: Pulse Creative London
Client: The Times and The Sunday Times

Ella's Kitchen Weaning Programme

Agency: Havas helia
Client: Ella's Kitchen

From social to sales for Jim Beam.

Agency: Signal
Client: Jim Beam

Virgin Holidays Customer Journey

Agency: Proximity London
Client: Virgin Holidays
Counting Up for Christmas

Agency: Table19
Client: Sainsbury's

Jo Malone London Omnichannel Communications Programme

Agency: The Thread Team
Client: Jo Malone London

No one does a 'plus one' like Virgin TV

Agency: RAPP UK
Client: Virgin Media

Virgin Holidays Customer Journey

Agency: Proximity London
Client: Virgin Holidays

Whodunnit?

Agency: GOOD Agency
Client: Macmillan
Good to Go

Agency: Digitas
Client: AA

Shell Drivers Club B2B

Agency: Wunderman
Client: Shell

Simply Be Perks

Agency: Cherry London and Love Creative
Client: Simply Be

Sun Savers
Virgin Holidays Customer Journey

Agency: Proximity London
Client: Virgin Holidays

Craft
A World that's kinder to Animals

Agency: Arthur London
Client: RSPCA

I'm her mum

Agency: GOOD Agency
Client: NSPCC

Just for you, E.ON

Agency: Engine, Partners Andrews Aldridge
Client: E.ON

P&O What Next - Spontaneity DM

Agency: MRM // McCann
Client: P&O Ferries

The Economist World Cup

Agency: Proximity London
Client: The Economist
Another Busy Year

Agency: Pulse Creative London
Client: The Times and The Sunday Times

Bacardi William Lawson's Illusions

Agency: Proximity London
Client: Bacardi Rebel Brands

It's Coming Home

Agency: Ogilvy and Wavemaker
Client: British Airways

Long Live The Local

Agency: Havas London
Client: Britain's Beer Alliance

VOXI: Endless Possibilities

Agency: Ogilvy and Wavemaker
Client: VOXI by Vodafone
#YayDelay

Agency: MullenLowe Group and The Romans
Client: Gordon's - Diageo

A data-based strategy to shape a user-centric customer journey

Agency: Numberly
Client: Lacoste

Engagement Hub - personalising customer communications across all touchpoints

Agency: R-cubed
Client: Ageas

Joe's Helpdesk

Agency: Karmarama
Client: Plusnet
No one does a 'plus one' like Virgin TV

Agency: RAPP UK
Client: Virgin Media

The AJ Lynx Drop

Agency: TMW Unlimited
Client: Lynx

Transforming the online donation journey for NSPCC

Agency: WPN Chameleon
Client: NSPCC

Unique personalisation for high value customers

Agency: McCann Central
Client: Barclays
'Someone Like You'

Agency: Ogilvy
Client: PHE

Domino's New Years Day recovery channel

Agency: VCCPme
Client: Domino's Pizza

Monkey Business - Fraud Fighter Tool

Agency: OLIVER
Client: Barclaycard

Xbox Design Lab Originals: The Fanchise Model

Agency: MRM // McCann and m-united
Client: Microsoft

Special
Goodbye Boring, Hello to Exciting Communications from Suzuki

Agency: Emerald Thinking
Client: Suzuki UK

Keep you safe, keep your data safe

Agency: MRM // McCann
Client: Easyjet

Reconsenting in Style

Agency: RAPP UK
Client: ASOS

Say YES for Children: Unicef's marketing permissions campaign

Agency: Open Creates and 2CV
Client: Unicef UK

The Guardian GDPR - Leave or Remain?

Agency: OLIVER
Client: The Guardian
Hear more from the DMA