Next plc confirmed as sponsors for DMA Talent's Creative Data Lab in Leicester
10 Jun 2019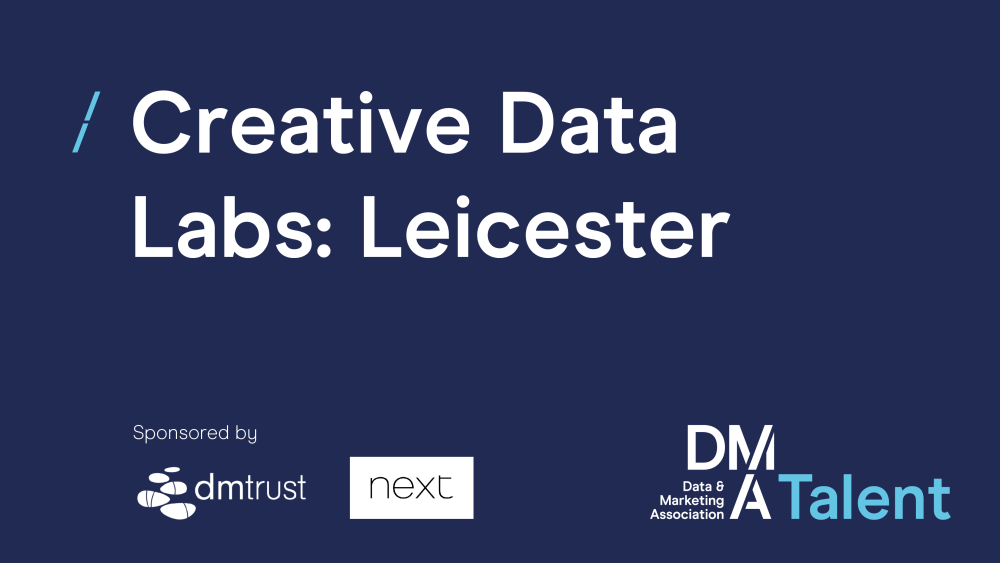 On 18 June, DMA Talent's Creative Data Labs will come to Leicester, hosted at De Montfort University, for the first time. The one day event sees 30 data savvy aspiring marketers tackle a real life business problem, using datasets to help them find a solution. The aim is to provide an authentic experience of a career in data and marketing.
We're delighted to announce that Next plc are sponsoring the Lab and will provide the challenge for the attendees to work on. Next's head office is located in Leicester and this is a fantastic chance to connect local talent with a key employer in the region.
The Lab will be run by Steve Mattey, Director of Planning and Analysis at Blueberry Wave, who will guide the students as they work.
Hannah Javid, CRM Analyst at Walgreens Boots Alliance, who attended our Creative Data Academy in 2017, will also be on hand throughout the day offering support and guidance.
The students will work in teams and present their ideas to NEXT at the end of the day, where one team will be crowned the winners.
Susan Varley, Head of Digital Marketing at NEXT plc, said:
"We are delighted to sponsor the DMA Talent Creative Data Lab being held at De Montfort University very close to our HQ in Leicester. We are passionate about meeting students considering careers in many fields but especially, Digital Marketing, eCommerce, Data, and IT. It's always great to be able to share a little bit about #lifeatnext and why Next is such an exciting place to work."
You can follow all the action from the day on twitter either via our page @DMATalent or #CreativeDataLabs.
We'd also like to say a special thank you to The DMTrust who are supporting the entire Creative Data programme through the Derek Holder Legacy Fund.
k
DMA Talent will be running labs in various locations across the UK throughout the year, as well as our 3 day Creative Data Academies next year. If you're seeking the next generation of fresh data talent we'd love to hear from you! Drop us an email to find out more.
Hear more from the DMA