Creative Data Academy
26 Nov 2019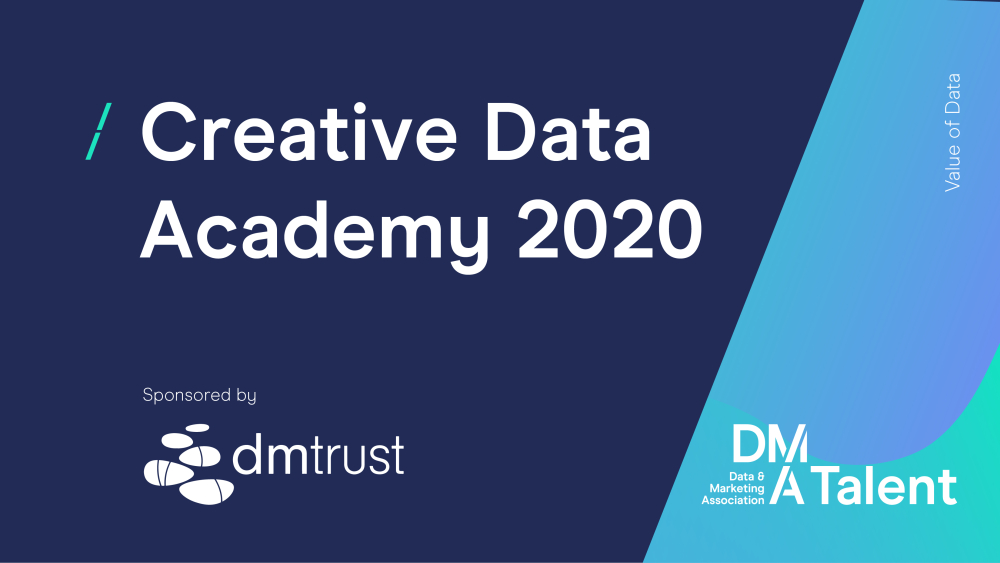 The Creative Data Academy will show you how data, insight and information are harnessed by people in the creative industries to craft beautiful, memorable experiences.
Our three-day programmes are built for aspiring marketers with interests in data and insight. And they're completely free!
Anyone can attend, we just ask that you have a real interest in data and are 18 or over by the first day of your selected academy. It doesn't matter what you're studying or what year you're in. Past academy delegates have studied a wide range of subjects from Marketing and Business to English, Psychology, Physics, Maths, Computer Science and Biochemistry..
At an Academy you will:
Work on a marketing brief for a famous brand using data and analytics – and pitch your response to the client on the last day.
Get inside the real-world of creative data with talks and Q&As with established industry data and creative thinking practitioners.
Visit a marketing agency to explore how brands use data to develop their business strategies - and discover what agency life is like.
Head to a meet and mingle session and make friends and contacts to help you grow your connections.
Hear from one of our 2017 students, Chloe Mo, who secured her first job through a contact she met at the Academy. Read Chloe's story here.
.
In light of the Coronavirus situation, we are following UK Govenment guidance and as a result, all of 2020's academies will be held online:
Leeds, Wednesday 2 September 2020 - Friday 4 September 2020
Edinburgh, Wednesday 9 September 2020 - Friday 11 September 2020
London, Wednesday 23 September 2020 - Friday 25 September 2020
.
The Academy is free to attend and we provide lunch each day.
Applications for 2020's Creative Data Academies have now closed.
If you want know when applications open for 2021's Academies open and be kept up to date with all DMA Talent's upcoming events and programmes, click here to join our mailing list.
.
While you're here, take a look at how creative use of data resulted in a 43% increase in blood donation registrations in this award-winning campaign for NHS Blood and Transplant. Read the story here.
.
Questions? Get in touch with DMA Talent..
If you're looking for more of an introduction to what working in the data and marketing industry is like, take a look at our one-day Creative Data Labs - you can apply for both!
Want to be kept up to date with all DMA Talent's upcoming events and programmes? Click here to join our mailing list.
Hear more from the DMA