Maximising Engagement with the Latest Advancements in Real-Time Personalisation
16 Nov 2023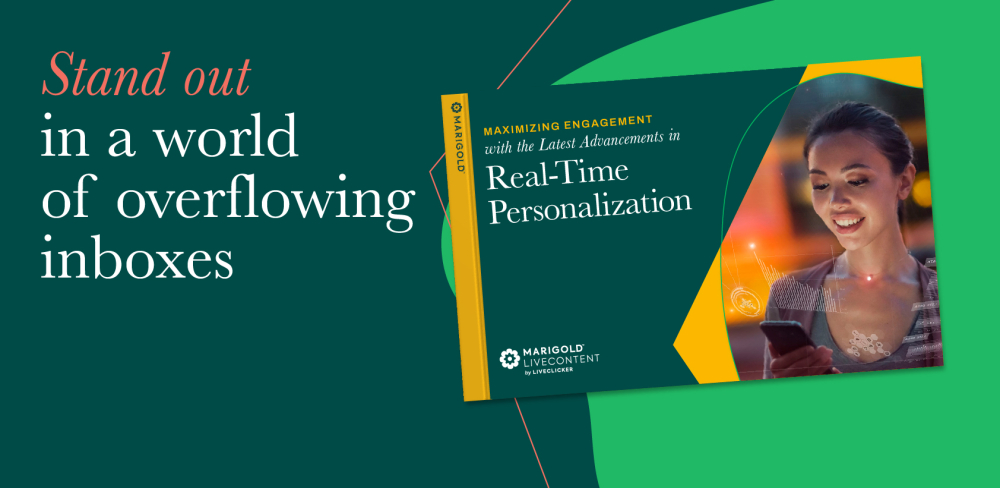 Email continues to dominate the digital marketing world, consistently outperforming social media and banner ads. But here's the catch: sending irrelevant content can lead to missed opportunities.
In today's world of overflowing inboxes and short attention spans, consumers are craving personalised messaging. They're tired of generic content. In fact, 47% of consumers in Europe have cited frustrations with receiving irrelevant content or offers from brands (Marigold Consumer Trends Index 2023).
Fortunately for marketers, new technology solutions continue to enter the market, providing countless opportunities to enhance the customer experience via email. In this exciting new era of email marketing, it's entirely possible for you to:
- Achieve new levels of engagement with advanced personalisation and relationship-building technologies that take the guesswork out of what you think your customers want to see and confidently deliver what they actually want to see.
- Enable time-of-open personalization so you can send emails that remain up-to-date, regardless of when recipients open them.
- Flex your creativity with multimedia video content and time-sensitive triggers like countdown clocks, peel-to-reveal images, personalized hero images, and coupon codes with expiration dates to convert browsers into shoppers.
Download the new Guide Maximising Engagement with the Latest Advancements in Real-Time Personalisation to find out more about these new possibilities.
Hear more from the DMA