How to Implement a VIP Nurture Campaign for Black Friday 2021
29 Oct 2021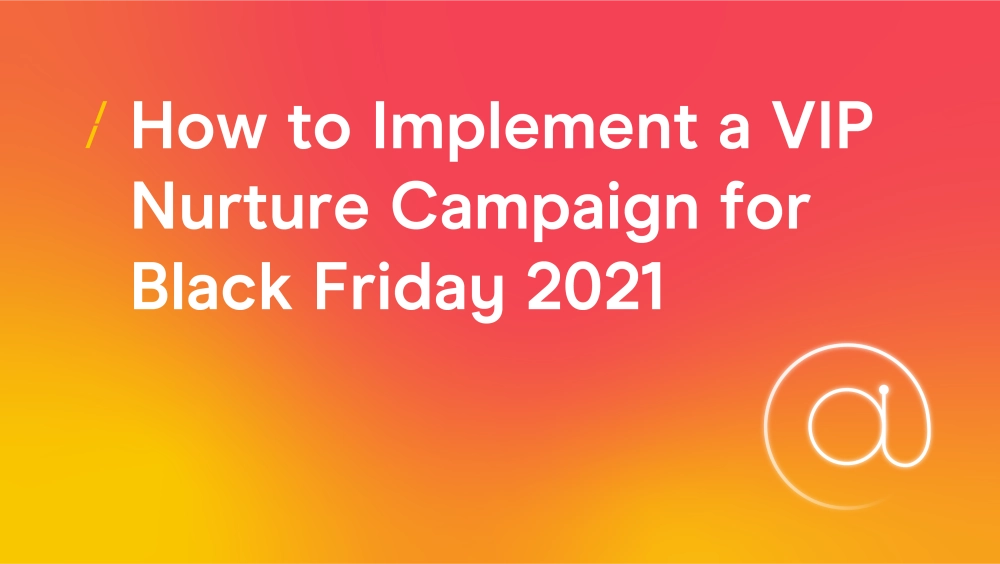 This article is written by Komal Helyer who is the Chair of the Email Council.
It's that time of year again, where scarves are being donned, queues are forming for pumpkin spiced lattes, Christmas lists are being written and of course, Black Friday is nearly upon us.
With the pandemic accelerating eCommerce growth by 4-6 years, Black Friday is going to be a key shopping opportunity for brands and consumers alike. Whether your Black Friday event is a day, a week or even a month it's essential you're prepared.
If you're an eCommerce brand that hasn't wrapped up your Black Friday plan, then the perfect place to start is by engaging your very best, VIP customers. And email is one of the perfect channels to do this.
Read on to find out how.
Identify your VIPs
The first step in implementing any VIP email marketing nurture campaign is to identify who your VIPs actually are.
A VIP can mean different things to different people. Maybe it's a customer who spends the most. Or one who spends most often. Maybe it's a customer who has been purchasing from you for the longest. Or, a new customer who you are looking to nurture into a loyal advocate.
Whatever your idea of a VIP, data can help you to identify them.
By using simple segmentation, you can separate your customers based on different criteria to identify VIPs. One of the most popular criteria is RFM (recency, frequency, monetary), which allows brands to segment based on most recent purchasers, most frequent purchasers, and those who spend the most.
Once you have these VIPs identified, you can categorise them into segments ready to send some special nurturing campaigns for Black Friday.
Implement personalisation
There are specific, personalised campaigns that you can send VIPs to get them excited for Black Friday. However, considering these are your most special customers, you should aim to include personalisation in every email communication wherever possible.
This means getting the basics in personalisation right. Address them by their first name, ensure currency is tailored to their location, and include imagery that is most likely to grab their attention.
And you can start simply by using basic demographic data such as name, location, gender, and age to sprinkle some personalisation magic throughout your emails.
5 Black Friday VIP nurturing emails
Now we've got the basics of your nurture campaigns sorted, we can get a little creative.
Read on for some inspiration from 5 of the key nurture email marketing campaigns for your VIP cohort.
Countdown
We'd recommend running a Black Friday countdown campaign for all of your customers. However, you can do a little bit extra for your VIPs.
By offering them a sneak preview of what's going to be in the sale, your VIPs don't have to waste valuable time browsing your website and potentially missing out on the items they want the most.
Instead, they'll have had the opportunity to browse your sale items and will be primed to add them into their basket when Black Friday rolls around.
And to really make your email stand out in the inbox, consider using dynamic countdown timers that update in real-time. This way, your VIPs will always know exactly when your sale is about to start.
Pre-launch
What shouts VIP more than having access to a pre-launch?
Before you promote your Black Friday sales and discounts to the wider public, give your VIPs early access so they can snap up their favourite products before anyone else.
As well as providing your VIPs with early access, pre-launches are a great way to create some buzz around your Black Friday sale. Encourage your VIPs to promote their bargains on social media to encourage others to get involved once your sale is fully launched.
Because there's nothing like the power of FOMO to get shoppers wanting to buy your products.
Exclusive offers
Once you launch your Black Friday sale, it's important to ensure your VIPs still feel special.
Keep some promotions and offers aside to give exclusively to your very best customers.
Personalised discount codes are key to achieving this. They ensure that the discount is available to specific recipients, for specific amounts, or on specific products.
So you can ensure only your VIPs have a discount for certain items, such as your bestsellers.
Or, instead of just being able to buy items in your sale, your most special customers could have access to a personalised discount code giving them 30% off everything.
Personalised product recommendations
For many types of VIP customers, such as regular shoppers, successful brands will likely be able to access many data points. For instance, products they regularly browsed or purchased.
This information can be used to offer personalised product recommendations that the recipient will most likely be interested in, in your Black Friday sale.
This is a win-win for brands. They're making their customers' lives easier by showcasing them relevant products, streamlining their shopping experience.
And they're increasing their chances of the customer making a purchase, with little extra effort.
Feedback and reviews
Black Friday isn't all about the sale. It's actually a great opportunity to also gather insightful feedback as well as product ratings and reviews that you can promote to your wider audience.
Out of all of your customers, feedback from your VIPs is arguably the most valuable. They likely shop with you the most so are familiar with your process. And of course, they are the ones that you want to keep really happy.
So after their purchase, ensure that you ask for their feedback on your Black Friday sale so that you can use this information to inform your future sales and Black Friday campaigns.
Additionally, Black Friday encourages a surge in purchases. Which is the perfect time to gather ratings and reviews from happy customers. Especially from those VIP shoppers who have built a rapport with you, and are more likely to want to support your business.
Find more content produced by the Council here.
Hear more from the DMA