GEMM Agency win DMA Talent's Marketing Challenge 2019
16 Jul 2019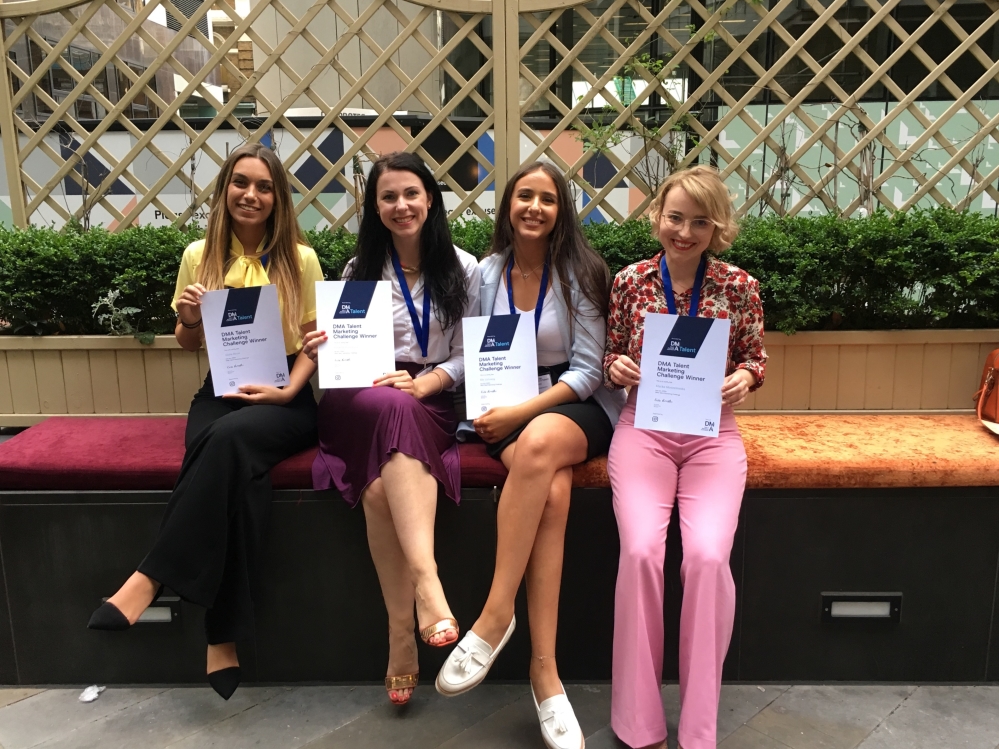 GEMM Agency from University of Greenwich has been crowned winner of this year's DMA Talent Marketing Challenge. Their campaign was selected over three others from the universities of Greenwich and Northumbria and announced at a drinks reception for members and sponsors at The Victorian Bath House in Bishopsgate.
This year's brief, set by Instagram challenged students to prove to SMEs that Instagram Stories drive business results. Over 50 teams submitted a response which saw 260 students from universities and colleges across the UK get involved and create a marketing plan in response to the brief.
The winning team formed of 4 Advertising and Marketing Communications students, Eliz Ustusoy, Marika Modzelewska, Giulia Rovai and Marketa Ruzickova, all from the University of Greenwich. They clinched victory after a live pitch against 3 other finalists to a panel of marketing experts, including Amy Horne (EMEA Business Marketing Lead for Instagram), Chris Wilson (MD, Earnest Agency), George Sanders (Client Director, Earnest Agency), and Kate Burnett (General Manager of DMA Talent).
In addition to being presented with the top prize for their outstanding response to the brief, they also take home a cash prize of £1,500, along with the prestige and experience of working on a task set by one of the world's most influential brands.
The runners up, 'GMT Agency', also from the University of Greenwich and two teams from Northumbria University, 'Be Seen Consultancy' and 'Beyond Digital' didn't go home empty handed, all receiving a goody bag from Instagram.
Amy Horne, EMEA Business Marketing Lead for Instagram, said: "I have been incredibly impressed by the standard of entries, and the level of confidence and professionalism that the students all exhibited throughout this challenging process. The final decision was made based on which campaign we believed was not only inspiring and innovative, but who also understood our brand's positioning and how Instagram engage with our business community."
Kate Burnett, General Manager of DMA Talent, said: "Our mission at DMA Talent is to inspire young people to join the data and marketing industry. Initiatives like our Marketing Challenge provide students with that all important link between education and the workplace, enabling them to gain valuable work experience while honing key skills such as creativity, analytical thinking and problem solving."
The challenge gives students the chance to work on a real-life marketing brief and it's used by lecturers across the country as a valuable teaching aid on marketing and business courses.
Next year's challenge is being provided by Student Universe. Teams will be developing a marketing strategy that will promote the Northern Territory of Australia.
Interested in finding out more about DMA Talent's Marketing Challenge? Click here for more information about the challenge and click here to go to the home of DMA Talent for all the latest news and information about all of DMA Talent's programmes.
Hear more from the DMA