Do this before you send a direct mail campaign
06 Jun 2018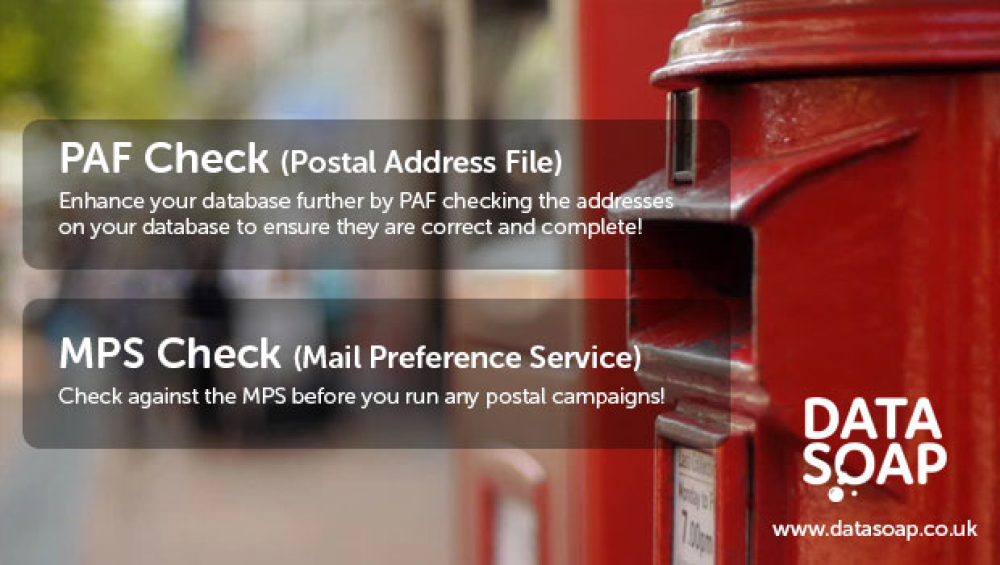 If you haven't heard about GDPR and "legitimate interest" then WOW, just WOW. I am not going to bore you with a long article about the do's and don'ts of using "legitimate interest" as a lawful reason for processing a direct mail campaign, instead I am going to introduce the processes you should put in place to help you get the most positive results and ROI from your campaigns.
Royal Mail's Postal Address Validation File (PAF)
You may not realise but addresses do change and whole postcode areas can be terminate when new developments are created. In 2015 alone over 13,000 individual postcodes were terminated and replaced with new ones. Depending on how old your data is, this can have a massive effect on the deliverability of your campaign. Don't forget to take in to account incomplete and misspelt addresses when evaluating the quality of your data as well.
All of these problems can be solved by checking your data against PAF instantly updating and inexpensively correcting your file.
Mail Preference Service
While we are in the age of information overload there are still some people out there who do NOT get excited when they receive a letter through the post. In fact there are over 6 million of them and you need to make sure you remove their details before you send any marketing material through the post.
Cost of Posting
With the cost of sending mail through the post getting more and more expensive especially when you take into account the cost of postage along with paper, envelope and staff time, you will want to ensure that the letter is going to get to the right person and not get returned.
Ensure that the addresses you hold are complete accurate and not on the MPS so that you can achieve a better return on investment.
Where can I get this done I hear you ask?
Datasoap.co.uk offer PAF and MPS cleansing alongside their suite of products including their flagship mobile verification and TPS/CTPS checking services.
Sign up today for free credits.
Hear more from the DMA