DMA Talent's next neurodiversity workshop will be in Edinburgh
19 Aug 2019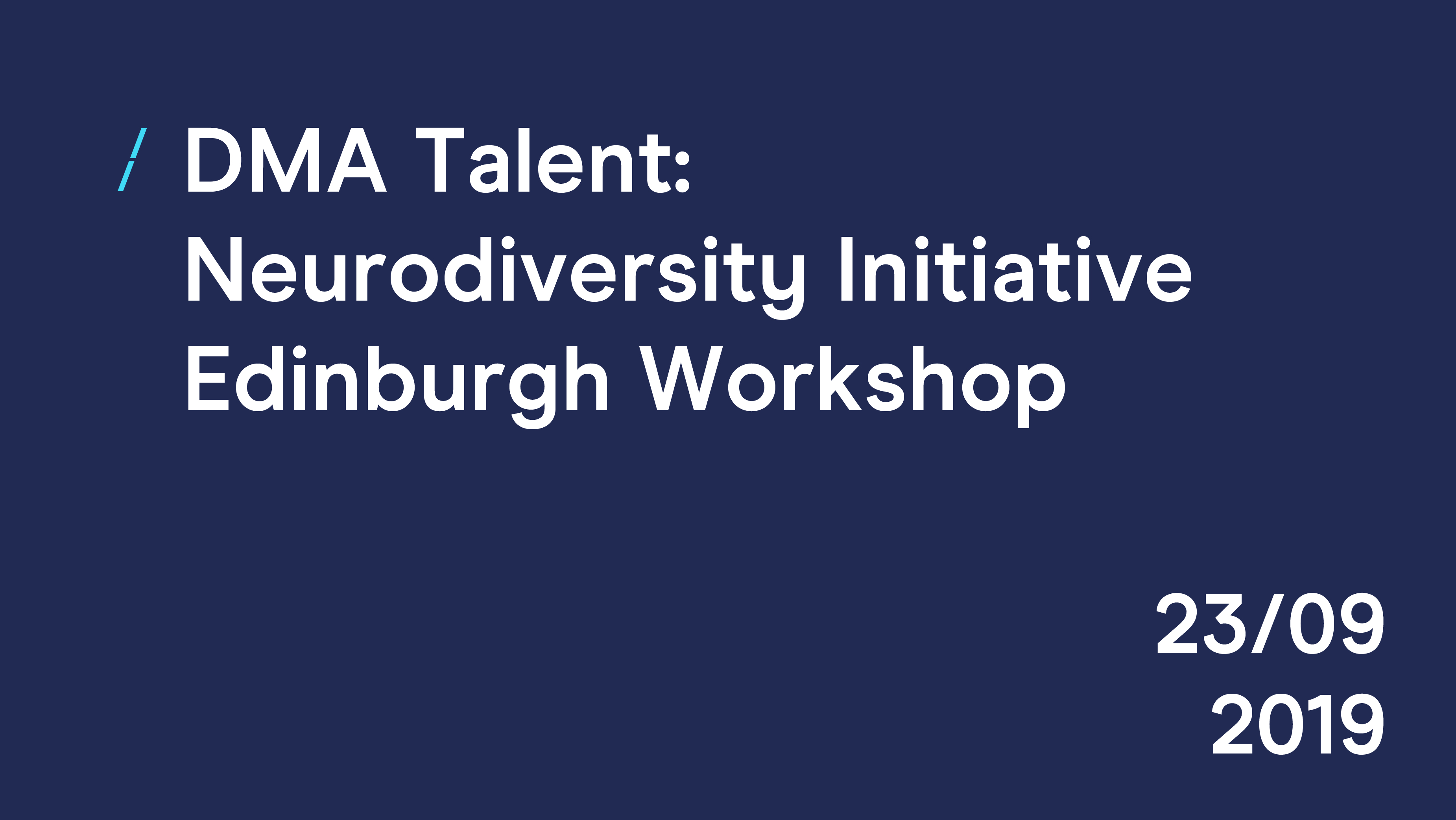 On 23 September, DMA Talent's Neurodiversity Initiative returns to Edinburgh with another workshop run by Matthew Trerise. To reserve your free place, contact Jessica Reilly on jessica.reilly@dma.org.uk.
The initiative aims to educate businesses on supporting neurodiverse talent in the workplace. According to the National Autistic Society, there are around 700,000 people on the autism spectrum in the UK and, of those, just 16% of autistic adults are in full-time, paid employment. With DMA Talent's help, businesses can learn how to become more 'neurodiverse friendly', ensuring they are able to choose from a wider talent pool and seek out the most capable individuals for their roles.
Matt has 15 years' experience working with autistic individuals and during the free-to-attend workshop, you'll explore:
What autism is
Neurodiversity in the workplace
Suggested adjustments for supporting neurodiverse talent, from job advertisements to line management training
d
Nicola Farwell, Consumer CRM Manager at VisitScotland, attended the workshop in Edinburgh earlier this year and told us:
"I knew a little about Autism before today but this workshop really opened by eyes to neurodiversity and how complex and varied individual's needs are. The more we can make adjustments for everyone in the workplace the more we can create inclusive places to work where everyone has a part to play and feels valued and included.
I think anyone involved in hiring or leading a team should attend this workshop. Actually it should be company wide".
d
Key details
When: Monday 23 September 2019, 09:00 – 14:00 (lunch is included)
Where: Bayes Centre, The University of Edinburgh, 47 Potterrow, Edinburgh, EH8 9BT
Tickets: Get in touch with Jessica Reilly to secure your free place
d
You can find out more about the initiative here or you can contact Jessica Reilly with any questions.
d
Want to find out more about all the events and programmes DMA Talent run? Click here to go to the home of DMA Talent for all the latest news and information about all of DMA Talent's programmes.
Hear more from the DMA