DMA Talent's Big Book Crit Goes Online This Spring
07 May 2020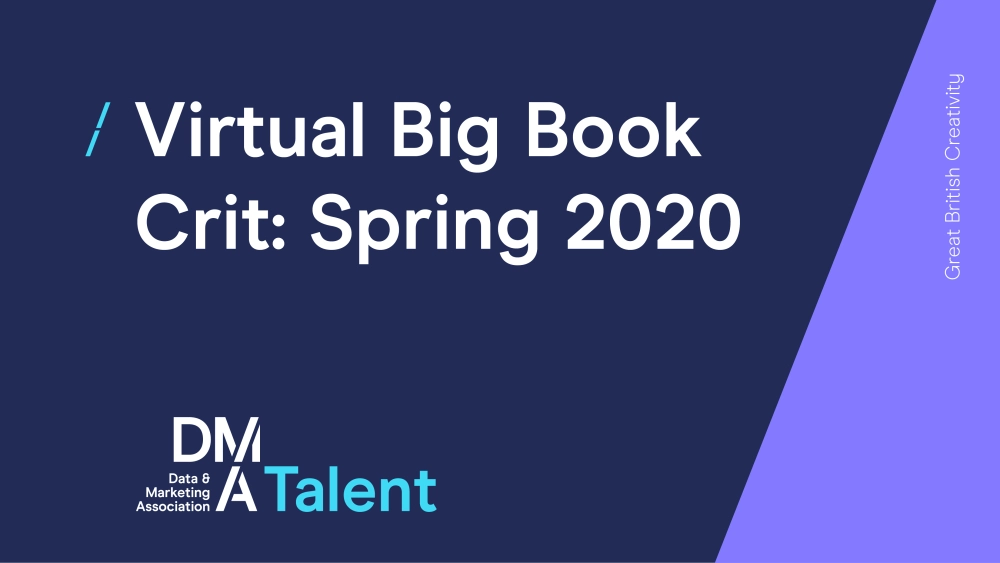 Run in collaboration with the Graeme Robertson Trust, The Big Book Crit helps students and aspiring creatives break into the advertising and marketing industry.
As we're staying at home, this spring the DMA Talent is taking the Big Book Crit online to ensure students don't miss out while they study at home. And, as always, it's completely free.
The Virtual Big Book Crit provides the opportunity to receive honest, constructive feedback from industry experts who have been there, done that, and got the T-shirt – all from the comfort of your home.
We've enlisted over 60 industry experts from across the UK – including creative directors, art directors, heads of copy, designers and more – who've volunteered their time to critique the work of aspiring creatives this May.
The opportunity is open to students at any stage of any course, from recent grads to those starting out their careers in creative advertising. All that's required is a portfolio, or at least three pieces of completed creative work.
To register for a virtual crit, aspiring creatives need to complete DMA Talent's online form, and they'll be paired with a professional creative best suited to them based on their answers. DMA Talent will then introduce them via email, so they can arrange a time to meet virtually in whatever way they choose.
If you know an aspiring creative, please share this with them, so they don't miss this unique opportunity.
.
Discover all of DMA Talent's events and programmes that aim to prepare aspiring marketers with the skills needed to break into the industry.
Hear more from the DMA