Creative Data Academy Scotland 2021: A look back at our three days
10 Aug 2021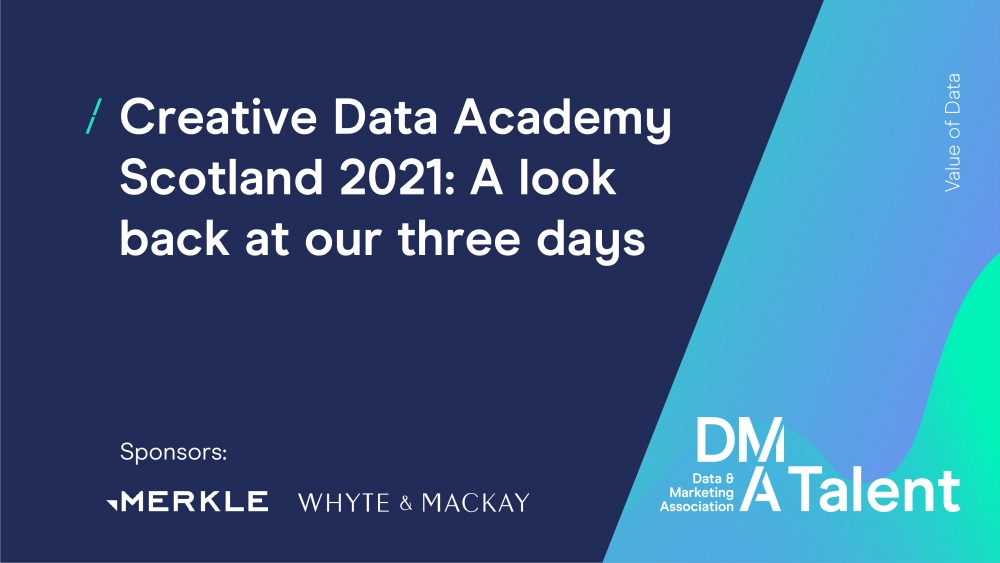 July 2021 saw DMA Talent's Scottish three-day Creative Data Academy take place virtually, where we were joined by graduates, students and career changers from rich academical and experienced backgrounds.
The main aim for the Academy is to assist in fuelling the talent pipeline first and foremost for our Scottish DMA members, so we were looking for participants who wanted to work in Scotland. We were also supporting the ambition of Edinburgh becoming the Data Capital of Europe through the DDI campaign, with the ultimate aim of encouraging the participants to pursue a career in the data and marketing industry in Edinburgh and the south east of Scotland.
Our Academy students got a taste of what working in the data and marketing industry is like, as we challenged them to find solutions to a brief provided by Scottish whisky distillers and sponsors, Whyte & Mackay, using drinks Award and consumer data to guide their response.
Gillian Docherty OBE, CEO of one of Edinburgh's innovation centres – The Data Lab - opened the Academy as our keynote speaker. A firm favourite speaker at the Academy, Gillian inspired and drew the students into the world of Big Data, showing how the world will look in 2042, alongside inspirational projects The Data Lab has been involved in.
Laura MacDonald, Communication and Media Relations Manager from Whyte & Mackay followed presenting the brief which asked students to identify any trends between performance at Awards v consumer consumption and if there were trends between ABV and consumer consumption. The teams were then asked to combine learnings to build an evidence based case on how to gain more consumers using alcoholic strength as the motivator and then present a communications strategy capturing learnings and a recommendation on the approach for consumers. They were given datasets to interrogate and were encouraged to do their own research.
We were then joined by Lorna Bruce, a Senior Marketing Manager at a financial services organisation in Edinburgh, who talked the students through how to break down the brief, explaining what outputs were expected from them.
We then broke the students into their teams to get started on the brief. Each had a rich mix of experience to ensure collaboration across disciplines, bringing their own strengths and problem-solving skills to the challenge.
Industry mentors were on hand to offer advice and guidance to each team, including The Data Lab's Executive Education Advisor Craig Davidson, Chris Beaton, Marketing & Communications Director from Kuro Consulting and Moment HQ agency's Delivery Director, Adam Bell.
Later that afternoon, we were joined by Dr Tim Drye, Data Scientist at LumiLinks, who gave an insightful presentation on Data, Targeting and Segmentation, and how to apply to their response to the brief.
Day two began with a session from the DMA's Director of Legal & Compliance John Mitchison all about using data ethically, which urged the students to consider not just compliance, but to go the extra mile and give more thought on best practice.
The second industry session of the day was delivered by MediaCom's Head of Digital Michael Thomson around media channels and how to best use them.
The final session of the day came from Caroline Parkinson, Sector Engagement Manager - Creative Industries at Edinburgh Innovations who inspired our students by demonstrating why Edinburgh is a fantastic destination for careers in data, with all the work that's being done to make Edinburgh the data capital of Europe.
Like the Creative Data Lab delivered in April, Whyte & Mackay were looking for creative responses that considered both the story that the data was presenting, as well as a communication strategy. We always ask that the brief demonstrates a real-life issue that the client is facing, possibly already working on, so our students experience what it's really like working in the industry, and that the client get a fresh ideas on the challenge they're facing.
After two days of hard work in their groups, the first part of day three comprised of the teams pitching their ideas to Whyte & Mackay's Laura MacDonald and Global Marketing Director, Steven Pearson. Each team had just 15 minutes to convince their audience that they had the best ideas. Chris Beaton, Marketing & Communications Director at Kuro Consulting and Jennifer Bailey, Creative Director at Dragonfly Agency were also on the judging panel.
The panel had a tough job selecting a winner as all five teams pitched professionally, and it was extremely close between two teams.After much debate, The Clyde 5 clinched victory for their solid awareness and articulation of market trends, their innovative recommendations to attract new audiences by using whisky products in cocktails, and thorough explanation of their targeting techniques.
The winners were awarded Amazon Gift Vouchers, and all Academy students were given DMA Student Membership, which includes free access to IDM Award in GDPR. We also gave them all free access to the IDM Award in Data & Analytics, allowing them to professionalise their academic knowledge, getting them ready for the workplace. All participants left with a unique learning experience and invaluable feedback on their work, hopefully peaking their interest to start a career in the industry.
Pitches done, our students could relax and learn how to make their CV's worthy of an invite to interview, and how to build their network from MBN Solution's Director of Academy & Client Services, Robin Huggins.
The students then got a quick tour of what agency life is like Campaign sponsor Merkle's Beckie Yeaman.
The final session of the Academy welcomed a group of industry practitioners who each sheared their career journeys, explaining how they have got to where they are. Izabella Mielewczyk was one of them, who attended our first ever Creative Data Academy in Edinburgh, which helped her get to her current position of Technical Data Analyst at Sainsbury's Bank. Iain Crawford, Senior Pricing Analyst, ThermoFisher Scientific – a previous DMA Talent Summer School attendee - told the Academy attendees about his bumpy ride through redundancies during COVID to where he is – happily – working now!
More career insight was gleamed from campaign sponsor Merkle's Matthew Sully - Junior BI Developer, Stuart Henderson - Solutions Architect and Beckie Yeaman – they were joined by Joanna Harrod, Planner at Edinburgh's Leith Agency.
Thank you to our sponsors Merkle and Whyte & Mackay.

If you're interested in attending one of our Academies or Labs, please complete our application form by clicking here and if you're successful, we'll let you know when the next events will be taking place.
If you're looking to recruit talent or raise your profile amongst aspiring marketers, our Creative Data programme provides the perfect platform. Get in touch with James here to find out more.
Want to find out more about all the events and programmes DMA Talent run? Click here to go to the home of DMA Talent for all the latest news and information about all of DMA Talent's programmes.
Become a DMA Student Member today. Being a Student Member shows employers you're committed to your professional development and that you're actively seeking to improve your skill set, making you stand out from your peers. Discover all of Student Memberships benefits and become one here.
Hear more from the DMA