Announcing OneTrust as our Responsible Marketing Campaign Partner
13 Aug 2019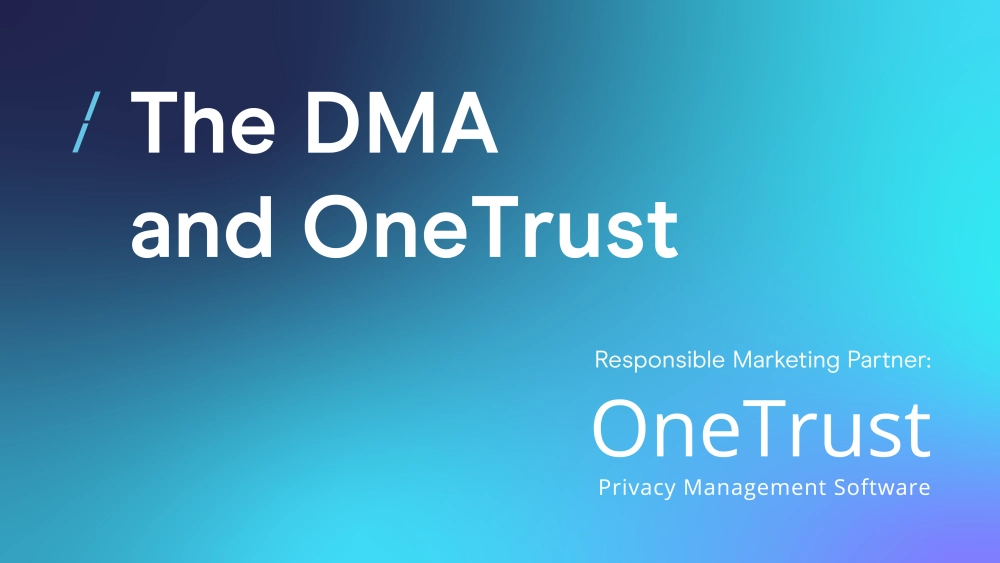 We're excited to formally announce our partnership with OneTrust.
As you know, we have a consumer-centric view of marketing. Alongside OneTrust, we hope to help marketers understand and deal with the regulatory requirements involved in responsible marketing.
We aim to advise and guide marketers as they improve their marketing and deliver personalised campaigns that ultimately respect the privacy of the consumer.
We're working together to collect data and build the Data Privacy: An Industry Perspective 2019 research, consisting of a survey that is open to everyone working in the data and marketing industry.
In tandem with OneTrust, we will also work to help equip marketers with the right tools and resources so they can succeed in all of their data privacy needs. As such, we're proud to announce that OneTrust will be headlining our Data Protection Summit, taking place on 28 February 2020 in London.
We're also working collaboratively on:
Joint surveys and upcoming webinars which will explore how marketers can easily comply with the GDPR and the latest regulatory amendment to the CCPA
Hosting free in-person workshops where attendees can network, discuss best practice, and learn from industry experts
Partnering on legal updates
Additional OneTrust thought leadership content on the DMA website, accessible to all members
OneTrust expert Privacy and Compliance webinars
And you'll soon see the DMA as a featured presence in OneTrust's PrivacyConnect events designed to explore industry best-practice through various webinars and local events, which also includes a certification program.
We look forward to a fruitful partnership and helping marketers improve their responsible marketing with a thorough understanding of regulatory requirements.
---
To learn more about OneTrust, click here.
---
To learn more about the Responsible Marketing campaign, click here.
Hear more from the DMA