Creative Data Academy - Silvia's Success Story
26 May 2021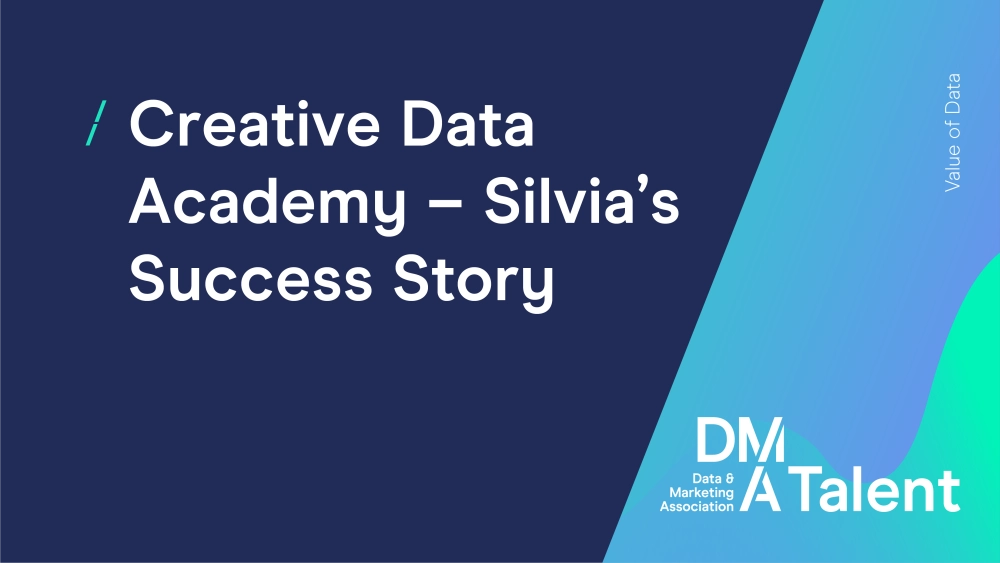 Thinking about applying for the Creative Data Academy?
Silvia Ivanova secured a job as an Analytics Consultant at Hyper Group after connecting with the companies Co-Founder & Director, Peter Denby, after he spoke at an academy last year.
We caught up with her and Peter to find out about their Creative Data experience, and how she ended up becoming part of the Hyper Group team.
.
Silvia Ivanova, Analytics Consultant at Hyper Group
Why did you decide to attend the Creative Data Academy?
I really liked the sound of taking part in a team challenge, as well as meeting new people who have similar interests and career aspirations as me. Another big draw was that I'd be able to hear from industry experts, and see the opportunities for career development you could have by choosing a career in data.
How was your Creative Data Academy experience?
It was a great experience, I really enjoyed the teamwork aspect and everyone on my team had a very different background and brought valuable knowledge and experience, ultimately leading to our team winning.
It was also great to experience working on a real-life brief from ASDA, being able to speak to key stakeholders from the company and having our ideas be considered for implementation. I'd recommend the Academy to everyone who is interested in learning more about the data and marketing industry, and wants to meet experts and fellow students/ young professionals who are just starting out and facing the same challenges as they are.
What advice would you give to someone attending the Academy?
Don't be afraid to ask questions and get involved, that's what you're there for! Also make sure to contribute to your group discussions as every unique point of view is highly valuable, and might even help your teammates learn something new.
Ask the event speakers what tools, skills and software have helped them on their career journey and pick out key ones to learn. You don't need to be an expert in everything but having some skills which are highly sought after will really give you an edge.
How did your job with Peter come about?
I added Peter and some of the other event speakers whose career journeys I found interesting on LinkedIn, and shortly after the Academy Peter posted about having a job opportunity at their startup company.
After researching what the company does, I reached out, slightly hesitant due to being a recent graduate and not having years of experience. Peter and the rest of the team liked my background and after a couple of interviews and tasks, I got offered the job.
What's your current role, and are you enjoying it?
My current role is Analytics Consultant, and it is the ideal blend of data analysis and client facing consulting. It's perfect for people who enjoy getting into the technical side of things but also being able to speak to people and solve their problems. This has been the perfect role I envisioned myself in ever since I was doing my degree!
.
Peter Denby, Co-Founder & Director, Hyper Group
Why did you decide to speak at the Creative Data Academy?
I'd studied Digital Marketing with the IDM, before the merger with the DMA, and found the course to be one of the most informative I've ever taken. I'm also a big supporter of helping people break into the data driven marketing world. Creative Data Academy is a fantastic initiative, and I was passionate about supporting it.
How did hiring Silvia come about after meeting her at the Academy?
Silvia contacted Hyper after seeing that we were recruiting to support our continued business growth. She was very proactive, has many relevant skills and looked to be a great fit for us. She performed really well through the interview process and we ended up hiring her.
How is Silvia doing and are you happy you decided to recruit her?
Silvia is doing great. She's learning quickly and demonstrating an excellent attitude.
Would you recommend to other businesses looking to find new talent to look at Creative Data Academy attendees as a first point of call?
Yes, 100%. There were many bright people attending the Academy, and the fact they were on it demonstrates their commitment to learning and progression. I'd strongly recommend getting involved.
The mix of quality speakers and brands taking part was also really impressive, helping to contribute to an excellent programme overall.
.
We'll be holding this year's Academies online via Zoom on the following dates:
Scotland, 27 - 29 July 2021 (Applications close 15 June 2021)
UK wide, 8 - 10 September 2021 (Applications close 30 June 2021)
If you want your very own Creative Data Academy success story, apply for a place here.
Hear more from the DMA