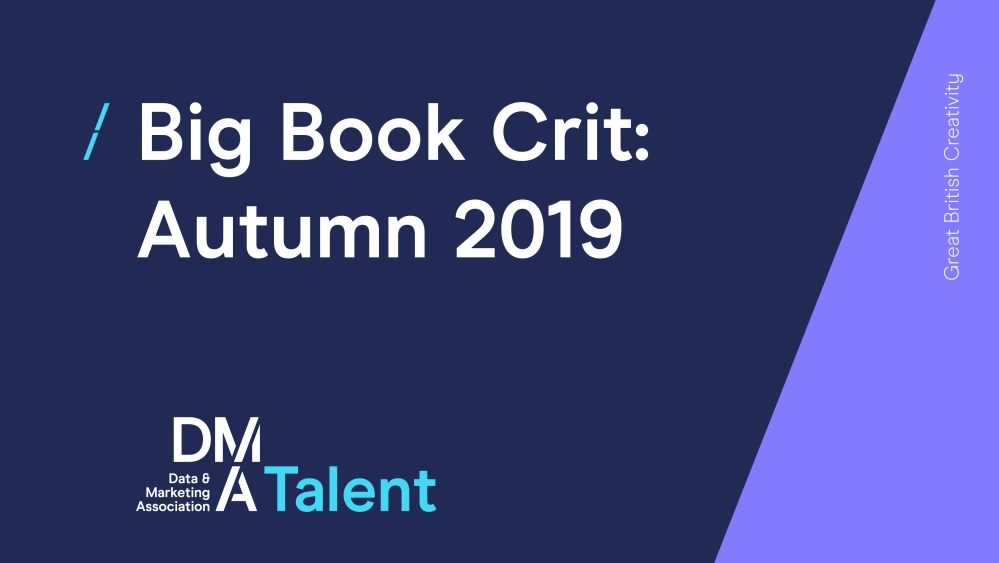 Get your diaries out, cancel your plans, it's time for autumn 2019's Big Book Crit Series.
The Big Book Crit runs in partnership with the Graeme Robertson Trust, the IDM, and the DMA to help aspiring creatives break into the advertising industry. An inspiring night, attendees receive honest, constructive feedback on their work from industry experts who've been there, done that, and got the T-shirt.
If you've got a portfolio, or at least three pieces of creative work ready to show, we want to see you there. The event is open to students at any stage of any course, recent grads, or anyone starting out in their career.
.
How does it work?
You need to turn up ready to show your best stuff. You'll meet a stellar selection of well-established professional creatives from a range of agencies, including Creative Directors at the top of their game, who are primed to critique your work and give you invaluable feedback, as well as advice on getting a job within the creative industry.
If that doesn't get you reaching for your laptop and clicking book now, we don't know what will.
You'll sit at the same critiquing station throughout, getting 15 minutes to speak to each creative as they move around each station at the sound of a bell. Kind of like a creative speed dating.
.
Save the dates
The dates of our 2019 autumn Big Book Crits can be found below. Click on your preferred location to get your free ticket. Please note that you must have at least three pieces of work to show.
13 Nov 2019, Leeds, Leeds Arts University, 17:45 – 20:00
14 Nov 2019, London, DMA House, 17:45 – 20:00
20 Nov 2019, Bristol, Zone Digital, 17:45 – 20:00
21 Nov 2019, Edinburgh, Edinburgh College, 17:45 – 20:00
28 Nov 2019, Norwich, Norwich University of the Arts, 17:30 – 21:00
28 Nov 2019, Manchester, BJL, 17:45 – 20:00
.Book your place now to:
Receive invaluable advice from some of the country's leading creatives
Be inspired by your peer's creative work
Network with industry professionals who could help land you that dream job
.We look forward to seeing you there.