When & Where?
Thursday, 21st November 2019
-
Edinburgh College
United Kingdom
Ticket Information
Tickets are free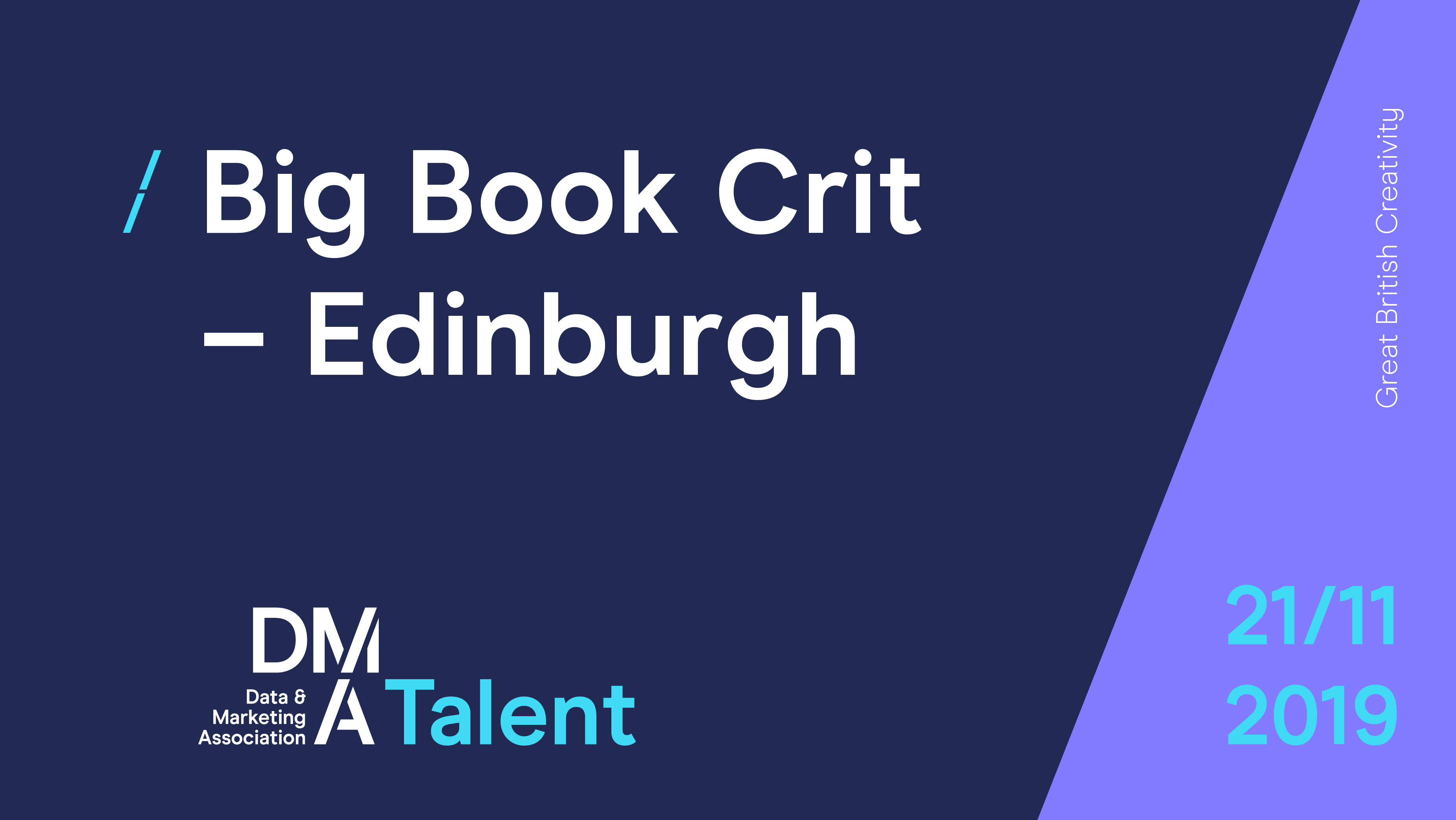 An inspiring night for individuals aspiring to get into the creative industry hosted at Edinburgh College in Edinburgh. Bring along your work to receive honest, constructive feedback from industry experts who've been there and done it!
The Big Book Crit runs in partnership with the Graeme Robertson Trust, the IDM and the DMA to help aspiring creatives break into the industry.
.
Bristol's Big Book Crit will take place on Thursday 21 November at Edinburgh College (Granton Campus, 350 West Granton Road, Edinburgh, EH5 1QE) from 17:45 - 20:00.
.
If you've got a portfolio or at least three pieces of creative work ready to show, we want to see you there! The event is open to students at any stage of any course, recent grads, or anyone starting out in their career.
.
Book your place now to:
Receive invaluable advice from some of the country's leading creatives
Be inspired by your peer's creative work
Network with industry professionals who could help land you that dream job
.
How does it work?
Turn up ready to show your best work. You'll meet a stellar selection of well-established professional creatives, including Creative Directors at the top of their game, from a variety of agencies who are primed to critique your work, giving invaluable feedback as well as advice on getting a job in the creative industry.
.
You'll sit at the same critiquing station throughout, getting 15 minutes to speak to each creative as they move around each station at the sound of a bell.
.
It's really important that you read our top tips for 'Getting It Right On The Night' here to make sure you make the most of the experience, and, you can find out how you can get a 4.5 star book review here.
.
If you have any questions, please email James Dredge
.
Please note: When booking you'll be asked to provide a Job Title and Company Name.
If you're a student, please put Job Title as the course you're studying and Company Name as the university/college you attend.
If you're not a student, put N/A in each box.
---
Book Now
Contact
For all enquiries regarding this event, including sponsorship opportunities, please contact James Dredge.