2019 Gold Best Use of Search
04 Dec 2019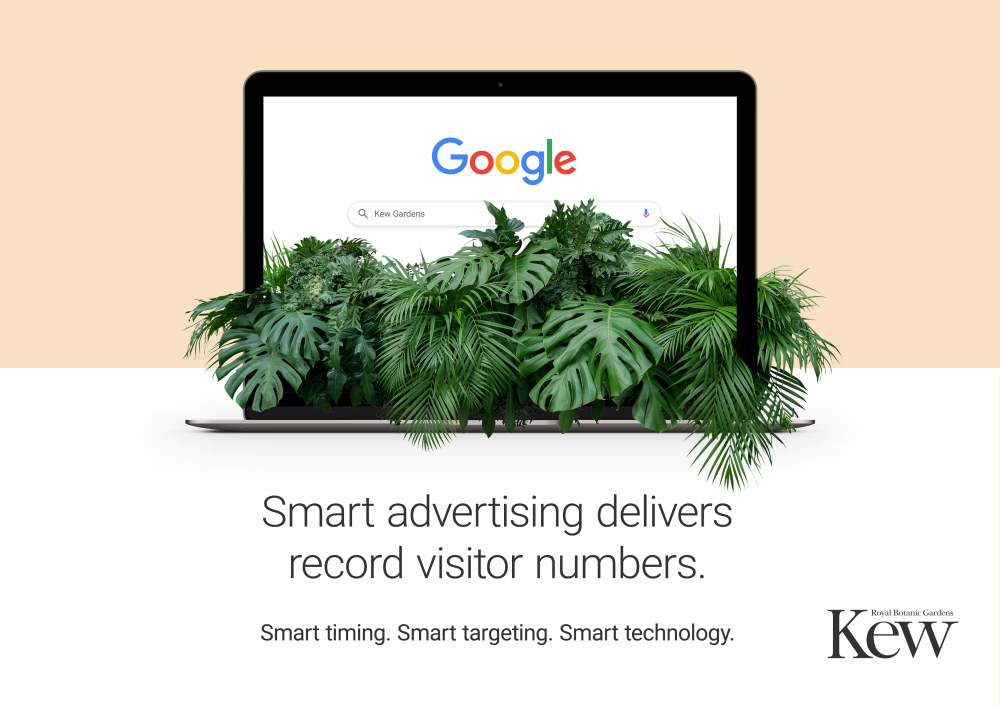 Agency: Anything Is Possible
Client: Royal Botanic Gardens, Kew
Campaign Name: Smart advertising delivers record visitor numbers
Campaign Overview
Kew Gardens was on a mission to increase footfall.
But it faced dual problems: the poor UK weather and a declining attraction market. How could a better search marketing strategy help?
Strategy
Royal Botanic Gardens, Kew has a Google Ads Grant of up to $10,000 per month.
Yet the attraction wasn't getting the most from the funding due to limited in-house experience.
To sow the seeds of a better search strategy, Anything Is Possible mapped out key times to boost activity.
The agency developed automated technology to analyse campaign insights and reduce manual optimisation.
It also created AdMonitor to track and improve Google Ad Grant campaigns, and boost search ROI.
This was all part of a successful single search strategy.
Brand awareness terms were deployed through the grant account, with specific event and lower-funnel keywords running via paid search to maximise budget allocation.
Creativity
With increasing levels of competition to attract a London and South-East audience, smart use of budget and technology was vital.
The search strategy was built around three pillars:
Smart targeting - a geo-targeted approach to target people in places likeliest to visit
Smart timing - understanding seasonality trends to weight search bids accordingly
Smart technology - bespoke tools, to target audiences in the right place and at the right time
Bespoke bidding scripts were drawn up for rapid respond to macro events such as weather and travel.
Ongoing analysis enabled tweaks to campaign messaging and testing to ensure peak campaign performance.
Results
Kew Gardens visitor numbers increased by 21% January to July 2019 vs 2018, with online ticket sales up 47% March to July year on year, from 119,628 to 226,255.
And all despite the attraction market being down 15%.
Google Ad Grant funding utilisation increased from 64% to 93%, hitting 100% in July.
Smart technology and AdMonitor ensured Kew's conversion rate jumped from a 4.2% average in March to July 2018, to 14.8% in the same period this year.
The Team
Rob Griffiths, Media and Automation Partner, Anything is Possible - Natalie Peckham, Strategy and Planning Partner, Anything is Possible - Sam Fenton-Elstone, CEO, Anything is Possible
Hear more from the DMA