2019 Gold Best Use of Mail
04 Dec 2019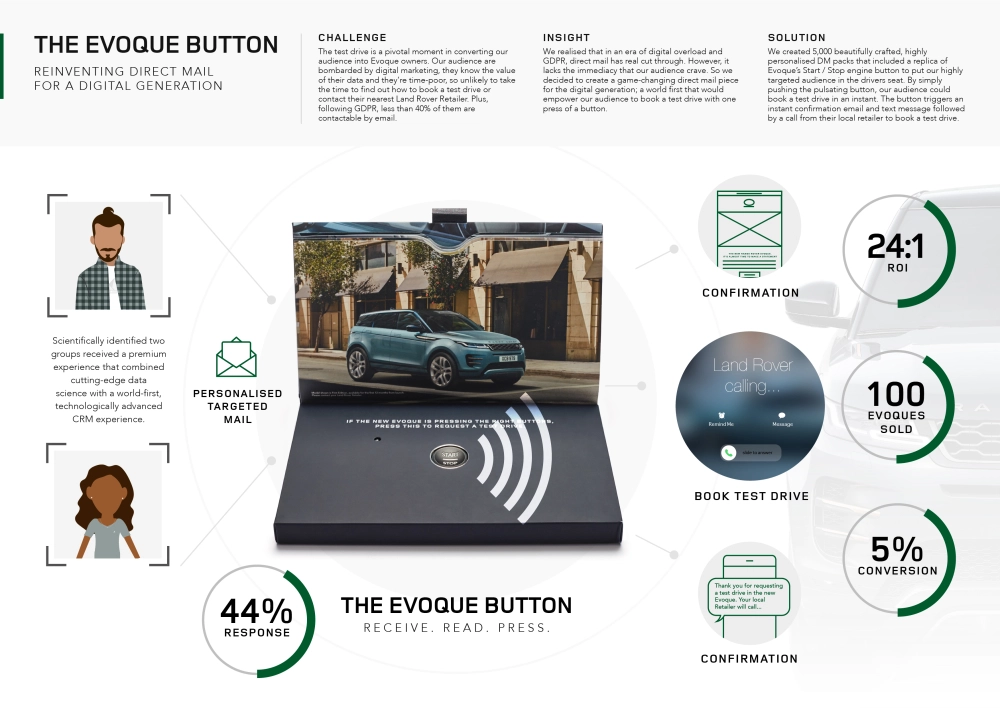 Agency: Edit and Spark44
Client: Jaguar Land Rover
Campaign Name: Triggering a reaction
Campaign Overview
JLR was on a mission: to get tech-savvy but time-poor people behind the wheel of the new Range Rover Evoque.
Strategy
Edit decided to re-imagine the test-drive booking process, making it as simple as pushing a button.
Two groups were identified: first, via machine learning, previous owners likely to upgrade in the 10 months following the campaign.
Second, Land Rover owners who might also like an Evoque, found by putting five years of data into a custom predictive model.
An audience that could buy the new Evoque was available.
But a connection had to be made with them.
It was a young, affluent, tech-savvy group that values design and premium brands.
However, they are time poor and unlikely to opt-in to email.
Direct mail would provide cut-through - but it had to be radical and technologically advanced enough to engage them.
Creativity
Edit created a game-changing mail solution for the digital generation.
It used pioneering technology to enable a mail recipient to book a test-drive with a single button push.
A luxurious direct mailpack revealed the car's alluring design and features via seductive images and copy, ending with a replica of the Evoque's stop-start button.
Pressing the glowing ignition button would book a test-drive, triggering SMS and email confirmation.
All this happened in real-time in a GDPR-compliant manner that required no customer sign-up, pre-interaction or Bluetooth, tethering, or Wi-Fi connection.
Results
Media ran across 36 publications, 32 websites and high-impact out of home media.
Of those 2,000-plus test drive requests, 5% purchased a new Evoque.
With a budget of £150,000, ROI at the last count stood at 24:1.
Beyond the metrics delivered, the campaign went viral. Recipients took to LinkedIn, Instagram and Facebook to share their experiences:
The Team
Gwyn Rodway, Marketing Architect, Edit - Kate Lovegrove, Senior Account Manager, Edit - Helen Daw, Senior Account Manager, Edit - Emma Watson, Business Director, Edit - Rosie Baynes, Special Projects Manager, Edit - Phill Haines, CRM Manager, JLR - Nick Edmonds, CRM Executive, JLR - Linda Cuncule, CRM Executive, JLR - Lesley Elliot, Advanced Analytics Consultant, Bluefin - Chris Newby, Head of UK Account, Spark44 - Matt Statham, Creative Director, Spark44 - Chris McDonald, Creative Director, Spark44 - Liz Wolstenholme, Strategy Director, Spark44 - Jeremy Tracy, Senior Account Director, Spark44 - Chloe Young, Senior Account Manager, Spark44 - Fiona Pilgrim, Account Manager, Spark44 - Ben Breathwick, Art Director, Spark44 - Rob Ganguly, Copywriter, Spark44 - Richard Morgan, Art Director, Spark44 - Cristopher McKee, Copywriter, Spark44 - Nikki Heathcote, Long From Copywriter, Spark44 - Nick Southwell, Editor, Spark44 - Slavica Delevic, Producer/VO, Spark44 - Tom Baker, Integrated Project Manager, Spark44 - Greg Berry, Designer, Spark44 - Charlie White, Art Director, Spark44 - Simon Hodges, Studio Manager, Spark44 - Danny Divina, Lead Artworker, Spark44 - Josh Hull, Principal Planner, Edit
Contributors
Easibind
Hear more from the DMA